Vol. VIII, No. 2, March/April 2008
---
---
Eat, drink and be famous
We continue to see the growth of eatertainment venues, including new concepts. The latest we ran across is New York City's Spotlight Live, where the world's unprecedented obsession with getting a shot at stardom gives new meaning to Andy Warhol's iconic adage, "In the future, everyone will be famous for 15 minutes." The future comes to life with a 21st century twist on the traditional dinner theater with an eatertainment experience and a chance for American Idol wannabes and karaoke fans to perform on Broadway and be discovered. On any given day, chart-topping artists, as well as people from big cities, small towns and places in between, perform at Spotlight Live. As they perform, the audience votes on their favorites and dines on a dazzling menu of signatures dishes. This includes a whimsical take of first-rate American comfort fare created by celebrity chef Kerry Simon, which is as much a part of the entertainment as the performances on stage.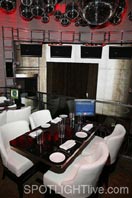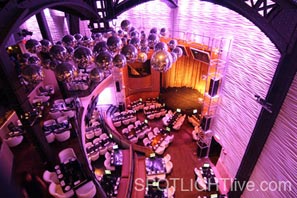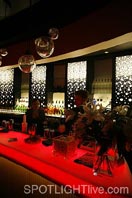 For customers who choose to perform, after selecting a song, they and their mates are escorted to a VIP area to sign a "record contract." Next, they're whisked upstairs to a posh green room, where they can relax in plush white leather couches with a stiff drink to calm the nerves. Finally, they're delivered to the mega-stage, where professional backup singers help accentuate (or even drown out) their tunes, which get streamed live to the web and showcased on a 25-by-40-foot Jumbotron in Times Square. Performers can also take home a CD or DVD of their performance.
At their tables, facing the main stage, customers can use an interactive touch screen to search through their song library or to IM another table.
Spotlight Live is 23,000 square feet and has four bars and five recording booths in addition to its stage. Founder Jennifer Worthington, who also developed Coyote Ugly Bar and Dance Saloon in Las Vegas, says, "Our goal is to give people the opportunity to experience stardom."
To see a video of the Spotlight Live experience, click here.
Vol. VIII, No. 2, March/April 2008
---
---