Vol. V, No. 8, October 2005
---
---
The pizza cone arrives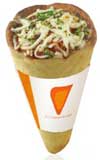 Culinary entrepreneur Nir Adar is coming to American's rescue by solving that proverbial problem of how to eat a slice of pizza, especially when you are walking around, without having it drip all over the place. Yes, as our headline indicates, the pizza cone has arrived. Nir is opening his first Crispy Cones shop in Los Angeles, California, this fall and also plans to market a frozen retail version in supermarkets. Using a partially prebaked cone, Crispy Cones plans to bake the pizza cones in just 45 seconds. Adar says, "Food should be as portable as a phone. Cone pizza will be the iPod of food this year."
However, Adar is not alone in his conical quest. In fact, a well-known Italian chef, Rossano Boscolo, has the jump on Adar with Konapizza, with shops in Spain, Kuwait, Indonesia and Greece. However, America still holds the fast food record for cooking pizza cones. Konapizza takes 3 minutes to bake, versus Crispy Cones' 45 seconds.
Pizza cones, if they catch on with consumers, will be a perfect food offering for location-based leisure facilities that offer walk-around foods.

Vol. V, No. 8, October 2005
---
---