Vol. V, No. 1, January 2005
---
---
Fisher-Price teams up with Royal Caribbean
Although we focus on the community-based leisure facilities, we keep our eyes open for what is happening with families and children in other industries such as retail, hotels and resorts. You might call this a story about the mobile location-based leisure industry.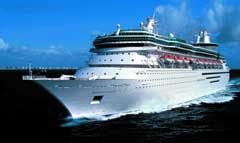 Cruise ships have learned about a profitable market niche, the same one that many non-mobile location-based leisure facilities pursue: families with very young children. Royal Caribbean International has partnered with toy-maker Fisher-Price to offer interactive, educational programs on cruise boats for kids from 6 months to 3 years and their parents. The daily, 45-minute playgroups will offer age-appropriate activities that aim to expose children to new experiences and to teach parents useful tools for incorporating skill-building into playtime. This is accomplished through storytelling, creative arts and music, and, of course, a variety of Fisher-Price toys and games. The sessions, with names such as Aqua Babies, Aqua Tots, Fun on the Farm and Learning Fundamentals, will be offered for free and hosted by Royal Caribbean's specially trained youth staff.
Parents who participate in the programs will receive a special newsletter that explains the theme and objectives of each session. Content includes "Playtips to Go", which are related ideas for continuing to strengthen their child's newly found skills through themed play activities back at home.
Dan Hanrahan, senior vice president of marketing and sales for Royal Caribbean, says, "Since 2000, we have seen more than a 50% increase in the number of children under three cruising with their parents aboard our ships. And, our research likewise reveals an increase in family travel and with that trend, a strong desire among today's parents to use vacation time to strengthen family bonds and create lasting memories."
Additional reading:
Vol. V, No. 1, January 2005
---
---