Vol. V, No. 1, January 2005
---
---
Change is sweeping the restaurant industry, leaving most LBEs in the dust
I am amazed at how fast things are evolving in the restaurant industry. In particular, both the ambiance and food is becoming increasingly sophisticated, reflecting consumers' changing tastes (in both food and décor).
About two weeks ago, I had a chance on a Sunday afternoon to visit a new chain restaurant that recently opened in Kansas City, Brio Tuscan Grille. The décor and ambiance were awesome. Exquisitely done. I'm sure the interior finish cost in excess of $200 per square foot. So you may be thinking that based upon my description, the food was also on the expensive side.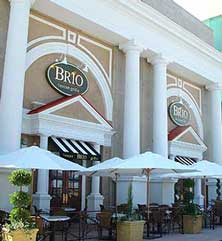 No. It was very moderately priced. With two exceptions, all the main menu items were priced between $10 and $12. Yes, that's right, not all that much more than what you'd pay at a grill-bar concept like Applebee's. And the quality of the food and service was outstanding. Furthermore, the menu items were sophisticated in their flavors - not your run of the mill Italian pastas, salads, sandwiches, pizza and other entries. For example:
Arugula Classico Salad - arugula, frisee, Gorgonzola, pine nuts, tossed with sherry vinaigrette
Pasta Brio - Wood-grilled chicken, seared mushrooms and roasted red pepper sauce
Chicken Milanese Pomadoro - crispy Romano breaded chicken with herbed pasta, fresh Mozzarella, Pomodoro sauce and freshly shaved Parmesan cheese
Mushroom Florentine Flatbread Pizza - with spinach, caramelized onions, fresh thyme and roasted garlic Alfredo sauce
You can only be amazed at how restaurants like Brio Tuscan Grille are raising the expectations of consumers for ambiance, food quality, flavors, selection and service.

Brio is only one restaurant in an emerging trend of nascent sophisticated cafes, grills and restaurants marching across the landscape of consumers' dining experiences. Even restaurants that have been around for years are raising the bar with new menu items and ambiance makeovers. For example, the great American staple of the hamburger is moving into new territory. Red Robin has introduced:
Banzai Burger -- teriyaki-marinated beef topped with grilled pineapple, cheddar cheese, lettuce tomato and mayo
Santa Fe Burger -- fire-roasted poblano pepper, guacamole, sautéed onions, house-made fried tortilla strips and pepper Jack cheese with ancho-chile mayo and cilantro on a caramelized-onion bun
They've also introduced a fish taco entree with hand-battered cod, fried and stuffed inside corn tortillas with Chipotle tartar sauce, shredded cabbage and chunky salsa.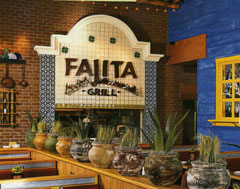 When it comes to what's happening with the design of interior finishes, ambiance and architecture in popular mid-price restaurants, the On the Border Mexican Grill & Cantina 120-unit chain is joining the upscale movement. The company's new prototype design is modeled after authentic Mexican casas or haciendas, and it features a display-cooking Fijita Grill where fajitas ingredients are cooked fresh and fajitas assembled in full view of all diners. On the Border is moving to the new design to help differentiate the chain from generic Mexican restaurants. Guests enter a stone-walled courtyard with a vaulted timber ceiling, wrought-iron balcony and windows. The dining areas evoke the warm feeling of a casa with sepia-tone photos and authentic Mexican artwork.
These restaurants are only three of dozens of examples we could cite of recent leaps in the sophistication of mid-priced dining facilities and of their diners' palates, which are raising the bar of expectations with the new standards they are setting.
Michael Silverstein and Neil Fiske, examining the modern consumer psyche in their book, Trading Up: The New American Luxury, wrote:
"Wherever they go for their food, middle market consumers [$50,000+ incomes] think of eating as more than an exercise in satisfying hunger or filling up. 55% of the respondents to our survey told us... they are willing to pay a premium for food that tastes better, looks more appealing, is served in a pleasant environment and engages them emotionally."
This means consumers are willing to pay a premium -- in fact, many want to pay a premium -- to pamper themselves with quality food in a quality environment.
The implications for the location-based leisure (LBE) industry are that every day, most LBEs are being rendered more irrelevant to modern-day consumers due to out-dated menus and ambiance. Now that consumers are getting the quality-of-place, exotic and sophisticated flavor profiles and exceptional experiences that mid-priced restaurants offer, with the average per guest check in the $12 to $15 range, you can only wonder what guests think when they walk into most LBEs. They will spend about the same per visit, only to be treated to warehouse finishes and exciting food and beverage offerings of hot dogs, nachos and cheese and pre-frozen pizza. This perception isn't limited to consumers' experiences in restaurants with mid-price guest checks. You need only to look to the quick-casual segment of the industry, which includes the run-away phenomenal success of Panera Bread, to see the same thing happening, with guest check averages in the $6 to $8 range.
And if you think rising expectations are limited to only adults, you've probably been living on a remote island. Red Robin is a favorite with Generation-Y tweens and teens. And quesadillas are more popular than grilled cheese with young children today.
For several years we have been preaching how critical and essential that quality food and beverage and appealing ambiance are to the success of LBEs. If you're in the LBE industry, or thinking about getting into it, go out to eat at some of these exciting and affordable restaurants. You'll start to understand the mindset of today's consumers and understand why so many LBEs are becoming relics of the past, or worse, the road-kill fossils of yesterday's world.
Additional reading:
Vol. V, No. 1, January 2005
---
---