Vol. IV, No. 7, July 2004
---
---
Reality Restaurant Video Game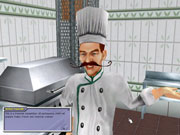 Thinking about getting into the entertainment business, but not experienced with food and beverage? Programming whiz kid Trevor Chan from Hong Kong has come to your rescue. Trevor has developed Restaurant Empire, a computer game that allows players to slip into the apron of chef Armand LeBoeuf as he tries to run a failing bistro in Paris. Every decision you make, including the design of the restaurant, and yes the toilets, affects how pleased diners are and the restaurant's ultimate success. Presented in real-time 3D, Restaurant Empire allows players to interact with their virtual establishments balancing the books, being a smart interior designer and maximizing the comfort level of customers, while keeping track of the attitudes of patrons and employees alike.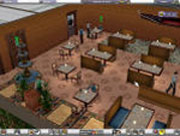 The game uses cartoon-like scenarios and interactive dialogue as Chef LeBoeuf strives for excellence and to open additional outlets in Rome and L.A. For example, as part of the process of starting the restaurant in Rome, players have to deal with the Mafia. Other times, a food critic might show up to rate the restaurant. Each restaurant patron comes with a profile of their expectations expressed in percentages, and the challenge is to meet or exceed their expectations. Other challenges include creating menu items while dealing with the cost of ingredients. Scores are based on an increase or decrease to profits. The goal is to accumulate enough cash to expand the restaurant empire (sure sounds like the game is truly about capitalism and entrepreneurmanship.)
The game seems to have a large following as there are Web forums for it where players swap tips on how to increase profitability, such as with live music, adding children's booster seats and the type of décor to use.
Restaurant Empire is available at computer-game stores and on-line for about $14.99. Learn more at www.restaurant-empire.com. Not a bad investment to see if you are really cut-out to master running a restaurant, which as you know from our constant advocacy, is an essential component of any community-based entertainment facility that wants to succeed.

Vol. IV, No. 7, July 2004
---
---