---
Kid-Friendly Dining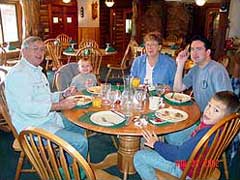 Last month we discussed family dining out in our article Kids Like Going Out [to Eat] with their Families. Because dining is such an essential ingredient of a successful community LBE, (see preceding story Want to Be In the LBE Business?), family- and kid-friendly food service are critical to making an LBE a family dining destination. And as important as parents are to the where-to-eat decision-making process, the children must be won over during the experience or a return visit will be quickly vetoed. Research shows that 79% of family dining-out decisions are influenced by children, and households with kids account for 56% of away-from-home spending on food. Most LBEs target families, which means kid-friendly dining (here defined as, "Mommy, let's go back there!") gets to be a very serious matter when it comes to bottom-line profit.
For years, children were mostly afterthoughts at best in American dining destinations, with the exception of fast food restaurants that catered to kids with soft-modular play areas and kids' meals with prizes. When it came to casual dining, the most families could expect was a box of crayons and a simple children's menu. There is now a growing emphasis on family and children in America, which is reflecting itself in an increasing emphasis in the restaurant industry on the family market, and more specifically on capturing the mindshare of children. The restaurant industry is raising the bar on capturing the family market, and with it, raising the expectations of both children and parents. This results in making the food offerings of many LBEs no longer appealing to families.
So what makes a restaurant or food service kid-friendly at an LBE? That varies, based upon the children's ages. Here, we will discuss kid-friendly for the market of 2- to 8-year-old children.
One thing all children want is to gain control over their lives. They spend the large majority of their day directed by adults, being told what to do and when to do it. A chance to be in charge turns kids on. The first way to give them control is to give them choices, and to communicate the choices to them in a way they can understand. Remember, children don't really start to become competent readers until they are around age 7. Rather than just listing the children's menu choices on the standard menu, nothing is better than a separate children's menu that uses both words and photos to communicate the choices. Having their own menu also makes children feel special and that your facility values them as guests -- and not just as little people who tag along with the real customers.
Many restaurants are now going beyond the traditional five standard children's meals. They are offering children options not only for the main dish, but the side dishes, as well. And restaurants are responding to an increased sophistication in children's tastes. The standard choices of hamburger, chicken fingers, hot dogs, macaroni and cheese or pizza are becoming passé to some younger diners. "Young people today have increasingly sophisticated palates," Red Lobster executive chef Keith Keogh said when the chain unveiled its new kids menu. The young diners at Red Lobster now get a free appetizer of applesauce or fresh carrot sticks and cucumbers with ranch dipping sauce. The new entrees include snow crab legs, grilled mahi-mahi and grilled chicken, all with steamed vegetables (a parent-pleasing nutritional plus). However, Red Lobster has not deleted traditional children's favorites like fried popcorn shrimp, breaded chicken tenders and macaroni and cheese from its kids' menu. Keogh says it makes good sense to mix the familiar with the trendy. "It gives children a chance to self-select food just like adults do, choosing what they crave at that particular meal."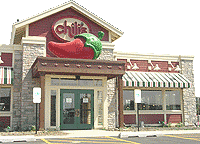 Chili's recently introduced its new children's Pepper Pals menu in its 900 restaurants, which allows kids to select from 11 entrees, seven side vegetables and eight drinks. This gives children a chance to feel a bit more grown-up by making their own meal choices and then allowing them to customize it. "With the abundant entree, side item and beverage options, there are hundreds of different ways to order a kids meal at Chili's," said Wilson Craft, president of Chili's.
Even the Ritz-Carlton hotel chain, typically thought of as an adult rather than a family haunt, has revamped its children's menu. The chefs at the 57 Ritz-Carlton Hotels & Resorts around the world have introduced "Healthy Taste" Ritz Kids Menus. Menus differ by location and include such items as steamed fish with rice and vegetables in Cancun, Mexico, and a chicken-and-veggie kabob in Marina del Rey, California.
The most popular item on the new Red Lobster kids' menu is the snow crab legs. Chef Keogh said, "There are several reasons this tested off the charts. They're unique, fun and you can eat them with your fingers, something kids are really into."
Dipping is a great way to make kids feel in control of their food. Dipping has multiple dimensions of control, including choosing what to dip, mixing flavors, volume and shape. And having their personal dipping cups in front of them gives kids a sense of ownership. Dipping is becoming very hip. McDonald's has joined the bandwagon with its recently introduced Apple Dippers, peeled apple slices with a caramel dip that can be substituted for fries in Happy Meals at no charge (another parent-pleaser since the dip has only 1 gram of fat.) It was McDonald's that first introduced fast food dipping to the world in 1983 with Chicken McNuggets. McDonald's currently sells 4.8 million individual McNuggets per year. That's a lot of dipping!
Children are also showing a growing appetite for bold flavors. When the 365-unit chain Panda Express tested "middle-of-the-road" flavor profiles for children, the company found that kids prefer bold flavors. The favorite entrée for the children's meal was orange-flavored chicken, which the chain describes as "crispy chicken pieces cooked with ginger, garlic and chili peppers...and served with a tangy flavored sauce."
"Kids have a more cosmopolitan palate because [adults] have a more cosmopolitan palate," says Vicki Gelberg, vice president of marketing for the parent company, Panda Restaurant Group. "Like us, they want to try new things... Focusing on the menu to entice children and their parents is a smart move. We see more and more kids interested in bold flavors. Children are discerning customers."
"We don't have any hard data, but the spicy trend is pretty broad across age groups," says Jeffrey Davis, executive vice president of Sandelman & Associates, a food research and marketing company based in Villa Park, California. "It makes sense that younger people are adventuresome eaters and into spicy food."
Panda Express' research also counters the myth that children are averse to almost any vegetable. "Noodles with wok-fried vegetables is very popular," Gelberg says. "Children will pick out cabbage but they eat all the broccoli. Kids' palates are more experimental, but they still want to have it the way they want it."
Besides choice and control, kids also love fun. This is an area where LBEs could take the lead, and we aren't referring to the entertainment attractions. Fun food means many things to kids. It can be a strange color, i.e., Heinz's purple and green ketchups. It can be something that grosses out adults, like worms in pudding. It can be colorful, like multi-colored cubes of Jell-O. It can be a happy face made with vegetables on a pizza. It can be a kid flavor like bubblegum. It can be animal shaped, like fish-shaped ravioli (to kids, it's just a kid-friendly variation on spaghetti with a little sophistication.) It can be special funky-looking dishes for children's food. The options are unlimited and very easy to execute.
Troy Thompson, executive chef at Jer-ne in The Ritz-Carlton, Marina del Rey, says, "Sometimes with kids it's not what they eat, but how it looks, that can make them more willing to try something different," he explained. Thompson's new "Healthy Taste" Kids Menu items include entree choices of either "ants on a log" (celery stuffed with peanut butter and studded with raisins) or a chicken and veggie kabob, served with air-popped popcorn, fresh fruit, and low-fat yogurt.
Other things that create kid-friendly dining destinations include:
Décor that keeps kids attention.
Immediately serving a snack or appetizer (young children don't want to wait for the main meal to satisfy their hunger.)
Giving kids something to do, and not just crayons, which has become passé with kids.
Not dumbing down the children's menu with silly names.
Training staff how to interact with children and not talk down to them or defer to their parents.
Making children feel competent and in control with ergonomically and anthropometrically child-correct furniture, self-serving areas, trays, dishes, straws, etc.
Yes, children have clout went it comes to where their families dine out. And it takes some special effort to please these youngest diners. But doing so can win their hearts, and along with it, return visits and dollars from their parents.
---