---
Baby Boom on the Horizon & Changing Values
According to The US Mom Market, a nationwide study conducted in September and October of 2003 and recently released by Silver Stork Research, a Generation-Y baby boom may rival the baby boom following World War II. The study found that 92% of women aged 18 to 24 - part of what is referred to as the Generation-Y cohort - are or plan to be mothers, with one in three already mothers. Nearly all the 18 to 24 year olds who are mothers or plan to be mothers plan to give birth by 2008. Given the size of the Gen-Y population, this indicates there could be a 17% increase in the birth rate over the next 10 years. Marta Loeb, president of Silver Stork and the report's author, said, "Never before has motherhood been celebrated as it is today. A new generation of self-sufficient, successful and family-focused women is reinventing motherhood and we are seeing the impact of this change everywhere."
This prediction is consistent with a recent trend of an increase in the U.S. birthrate. According to the Census Bureau, the number of births in 2001 was over 4 million. Since 1950, the only years when there were more than 4 million births were 1955-1960, 1989-1993 and the year 2000. The number of births has been climbing steadily since 1996.
Demographic companies are also projecting an increase in the number of births. One of the most respected companies, Claritas, is predicting a 4% increase in the number of children between the ages of 0-4 over the next five years. As more Gen-Y'ers move into motherhood age, that is sure to increase.
This bodes well for LBEs that target younger children. The market will be increasing. But not everywhere. These predictions are an average for the entire U.S. Our market research in different areas of the country shows that in some communities, typically the more mature ones, the number of children is projected to decrease. Whereas in other areas, the growth in number of children will be at an even greater rate than average.
Society is becoming increasingly educated, which affects how parents, and especially mothers, view children's leisure activities. Between 1960 and 2002, the percentage of the population 25 years or older that graduated from high school has more than doubled, from 41% to 84%, and the percentage of college graduates with four or more years of college has more than tripled, from 8% to 27%.
Younger adults, those between 25 and 34 years old, have an even higher graduation rate than the average graduation rates for all adults: 84% for high school and 27% for a four-year or greater college degree. In 2002, 87% of 25-34 year olds had graduated from high school and 31% had earned a bachelor's or advanced degree.
Educational Attainment - Population 25 Years & Over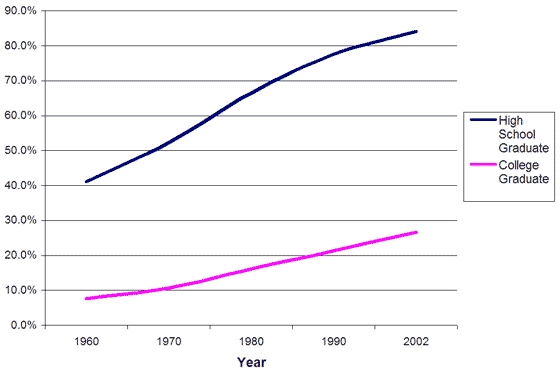 Percentage of Graduates
| | All Adults 25 Yrs.+ | 25-34 Year Olds |
| --- | --- | --- |
| High School | 84% | 87% |
| Bachelor's or Advanced Degree | 27% | 31% |
Educated mothers, which includes Gen-X mothers and the rapidly emerging group of Gen-Y mothers, (also called Millennial or the echo-boomer generation with birth dates from 1977 and 1980s to about 1995, depending on which definition you use) are showing a much different attitude about their children's leisure than was exhibited by Baby Boomer parents. Market research by Fischer-Price, the well-known manufacturer of children's toys, found that unlike Boomer moms, who see their children's play and learning as separate activities, Gen-X moms in their later 20s and 30s want their children to learn as they play. This is echoed in research by The Generational Imperative, Inc., a generational consultancy based in Cincinnati, that found Gen-X parents take a very different approach than Baby Boomer parents when it comes to selecting products for their children. Chuck Underwood, its principal, says, "When it comes to toys, for example, they put a premium on those toys that are both educational and fun. Boomer parents tended to separate playtime and learning time. Gen-X moms now make up two-thirds of all moms with infant and preschool children.
20th Century Generation
| Cohort Name | Born | Roughly Formative Events |
| --- | --- | --- |
| GI Generation | 1901-1924 | WWI, the Depression & WWII |
| Silent Generation | 1925-1945 | WWII & postwar boom |
| Baby Boomers | 1946-1964 | Civil Rights movement & Vietnam |
| Generation X | 1965-1976 | Rise of divorce rate & HIV spread |
| Generation Y | 1977-1995 | Columbine & 9/11 |
William Strauss and Neil Howe, authors of the recently published Millennials Rising, also predict there will be an echo boomlet based upon Millennials reversing the 1990s trend towards smaller families. They have also observed that Millennials show a greater interest in family, religion and community and a rising obsession with the safety and education of children. This observation is seconded by Yankelovich Partners, a highly respected market research company. Ann Clurman from Yankelovich describes Millennials as "family-oriented... The yearning for a good marriage is a dominant value among Millennials, and 30% of those surveyed say they want three or more children."
Strauss and Howe's observations about Millennial parents increased interest in their children's education is supported by data from the U.S. Census Bureau. For children of parents with a high school education or less, only 25% of their 6- to 11- year-old-children participated in extracurricular lessons, whereas 50% of children with bachelor degreed parents did so, double the rate. This makes sense, because Millennials are the most college-educated generation of all time. Well-educated parents naturally want to see their children become well educated.
Additional Census Bureau research found a correlation between parents' education and how much their preschool children are read to, a further indicator of parents' interest in their children's education.
Reading to Children 1 to 5 Years Old by Any Family Member
Parents
Educational
Level

Never Read
to During
Last Week

Aver. Times
Read to During Last Week

Read to 7
or more
Times per Week
High School or less
12.7%
6.1%
41.8%
Some College
5.1%
7.4%
54.7%
Vocational/Assoc. Degree
4.5%
7.3%
55.4%
Bachelor's Degree
3.1%
8.3%
63.2%
Advanced Degree
2.6%
8.8%
66.0%
This data is also consistent with the findings from the 2002 National Survey of America's Families, which found that for low-income families, 20% of their children 1-5 were read to or told stories fewer than three days per week versus only 10% of children from high-income families (there is a direct relationship between income and education.) More children of college-educated parents are read to each week and with greater frequency than are children of less educated parents.
The increase in number of births, parents' increasing interest in their children's education, and changing attitudes about their children's leisure bodes well for children's edutainment and enrichment centers, which have become the rapidly emerging venue of choice for college-educated white-collar parents and their youngsters. That doesn't discredit the continued success of Chuck E. Cheese's in any way. However, CEC has a more blue-collar than white-collar appeal, and there is no way an independent entrepreneur can be successful competing with CEC by trying to imitate its formula. Edutainment and enrichment centers offer educated parents with young children an alternative to the mindless amusement of a Chuck E. Cheese's with fun for children that is also educational and enriching.
---