---
Cloning Dinosaurs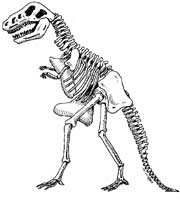 Extinct species end up as nothing but bones.
In a number of articles in our eNewletters we have expressed our opinion that much of the LBE industry suffers, entrepreneurs and corporations alike, by continuing to "clone dinosaurs" - in other words, developing facilities based on models fast becoming extinct. Most LBEs are not unique in that they are no longer in sync with modern consumers. Here's what's happening with retail, and specifically with enclosed malls.
In 1995, 39% of retail dollars were spent in shopping malls. According to Customer Growth Partners, a retail consultancy, from 1995 to 2003, enclosed malls' market share dropped by half to only 19% of all retail spending. Much of this can be attributed to the decline of the once dominant anchor tenant for malls, traditional department stores, which are themselves losing market share to big-box retailers such as Wal-Mart, Target and Costco. Since 1990, department stores' share of total retail sales has declined from 5.5% to 3%. As department stores become less relevant to the modern consumer, so to do the enclosed-roof malls.
Shopping center developers have realized that the future isn't what it used to be and have evolved a whole new breed of shopping center in response. "Lifestyle centers" are achieving sales for retailers of $400 per square foot at a lower occupancy cost than regional malls, which average sales of only $330 per square foot. Lifestyle centers are open-air centers with plazas, lots of landscaping and without traditional department store anchors. What anchors they have are the mid-sized big-box retailers and restaurants. During the past two years, 70 lifestyle centers have been built, versus only about 15 enclosed malls.
Research by the International Association of Shopping Centers and shopping center developers shows the importance restaurants play in increased frequency of visits and length-of-stay, which can increase by as much as 20%. Restaurants also make lifestyle and other shopping centers, including malls, less dependent on weekend and holiday business. Destination restaurants significantly increase weekday evening business, often increasing their percentage of overall business from 20% to as high as 35%. "With people working longer hours and more women with full-time jobs, dining out has become part of the American lifestyle," says Sharon Zackfia, an analyst with William Blair & Co.
The location-based entertainment industry can learn a lot from the shopping center industry, which has quickly reacted to a changing consumer by evolving a new concept of lifestyle centers, as well as changing the tenant mix to use destination dining as an anchor. In today's world, as the shopping center industry has learned, conventional wisdom can quickly become obsolete.
---