---
Are you ready for hygge?
Hygge is now officially a worldwide phenomenon. Hygge was shortlisted as the Oxford English Dictionary's "Word of the Year in 2016." The December 24 issue of The New York Times featured a story on it,Move Over, Marie Kondo: Make Room for the Hygge Hordes.
Books are offering to teach people the art of hygge, advice columns are advising people to hyggelig their offices and homes. At least two-dozen books about hygge have been published in the U.S. so far. There's now even hyggelife.com, a Colorado-based website that sells things to hyggelig your life such as soft, furry Nordic home goods and an assortment of candles and candleholders. And a few months ago, the Great Northern Food Hall opened in New York's Grand Central Terminal with a collection of hyggelig food stalls serving New Nordic offerings such as smorrebrod (open-faced sandwiches), porridges and craft beers.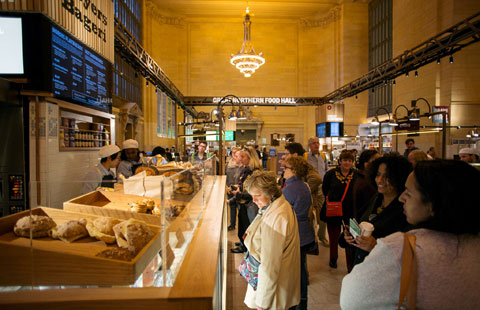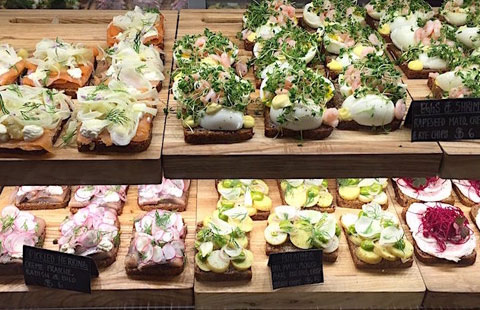 1) Great Northern Food Hall; 2) Smorrebrod open-faced sandwiches
Hygge is a word you'll be hearing a lot more in the U.S. very soon.
Hygge is actually a lifestyle concept, one that's been around for a very long time in Denmark where it is an obsession expressed in the constant pursuit of homespun pleasures involving candlelight, fires, fuzzy knitted socks, porridge, coffee, cake and other people. It's most commonly pronounced "HOO-gah," like a football cheer with a Scandinavian accent. The Oxford English Dictionary defines it as "a quality of coziness and comfortable conviviality that engenders a feeling of contentment or well-being." Broadly it means an approach to living that embraces positivity and enjoyment of everyday experiences, said to be core concepts of attitudes to life in the Nordic region.
Hygge basically is about building in elements of togetherness, of savoring simple pleasures, of relaxation, of comfort on an everyday basis. Another definition of hygge is the "complete absence of anything annoying or emotionally overwhelming," with a focus on togetherness and prioritizing the people in your life.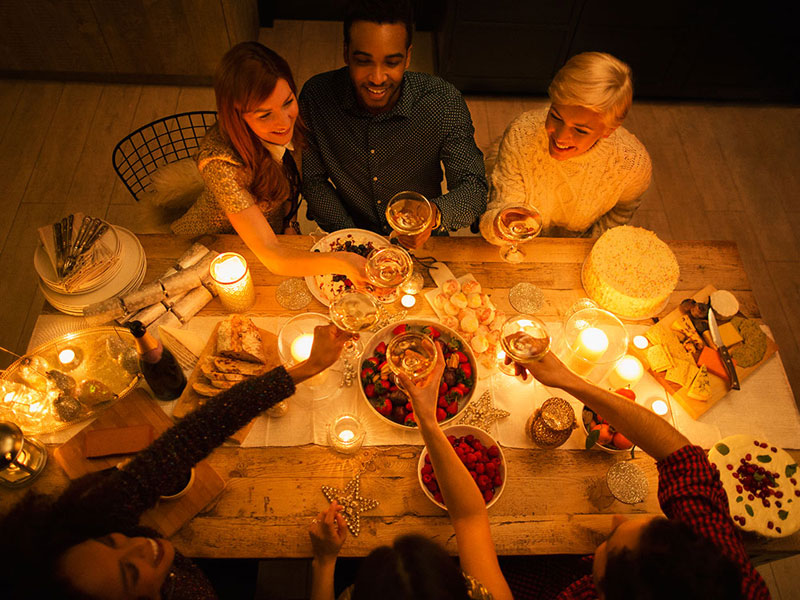 It appears Hygge is not really possible without golden light from candles or a burning fire. Things like reading in front of the fire, getting together with friends all qualify as hygge living. Lighting candles, enjoying a cup of tea, reading a book by the window alone can also be hyggelig.
London-based market research company Mintel's recent report on families in the U.K. emphasized the impact that busy lifestyles are having on family time; 57% of parents agree that families are not as close as they used to be. With families feeling like they are growing apart, hygge and its emphasis on togetherness and spending quality time with loved ones has provided a welcome antidote.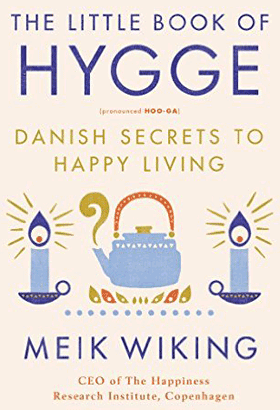 There may also be deeper reasons why hygge is having a moment. Meik Wiking, author of The Little Book of Hygge, said, "I think it's because a lot of people in different countries are having the experience of growing richer but not necessarily happier." Signe Johansen, author of How to Hygge: The Secrets of Nordic Living, agrees, reflecting on the past year as a time of great uncertainty. "2016's events in the world have been extraordinary," she says, referring to Brexit and the unexpected victory of Donald Trump in the presidential election. "People are feeling very nervous about the future, and feel a deep primal need to start looking after themselves. We can't control outside events, but we can control ourselves – hygge is about savoring that and not getting drawn in to the maelstrom of craziness that's going on in the world."
The coziness and comfort of hygge are primarily qualities that can best take place at home in front of a fireplace or at a candle-lit meal with family and friends. As such, people who embrace practicing hygge in their lives will be more than happy to just bunker away in their homes, preferably in a hyggekrog – a.k.a. "cozy nook" – wrapped in a blanket, drinking a cup of coffee or hot chocolate, maybe having some comfort food, and binge watching on Netflix with their friends. Public spaces, like coffee shops and corporate conference rooms, can be hyggelig, but they can never compare with a hyggelig experience in the comfort and coziness of one's home.
The U.K.'s adoption and the emerging interest in the U.S. of the hyggelig lifestyle, of course, presents a new challenge for community-based leisure venues (CLVs) on how to attract hyggeligers out of their home cocoons, as most CLVs, and especially FECs, exhibit the exact opposite of hygge qualities, they're busy, noisy, large and highly stimulating. As more and more Americans adopt the hygge lifestyle, CLV's will need to totally rethink their experiences and how to adapt to offer hyggelig coziness and comfort if they want attract the increasing followers of hygge to their venues.
---