Vol. XVI, No. 2, February 2016
---
---
Raising the fidelity of LBEs with food and beverage
As we have discussed in our two most recent white papers:
incorporating what we call destination dining is becoming essential to the success of location-based entertainment venues. In fact, for many of the newly evolving concepts, the food and beverage is the anchor rather than the impulse revenue.
Our company now spends about half of our production, design and consulting work with clients on the development of the food and beverage facilities and offerings for their FECs and other type location-based entertainment (LBE) venues.
One of our current projects now under construction in the South Puget Sound area of Washington state for a Spring 2017 opening will include a separately branded destination restaurant. We have been working with our food and beverage Alliance members on all aspects of the offering, including full concept and brand development; full kitchen, bar and interior design and development of the menu. As part of our work on the project, we recently held a two-day workshop with our client and production team members that focused on brand and management development, and concluded with all our Kansas City team members attending a chefapaloosa, a tasting of possible menu offerings created by four executive chefs we are working with. Each chef created three different dishes based on a different theme, with one of each chef's dishes required to be vegetarian. And in between each chef's food presentation, we sampled craft cocktails prepared by a spirits mixologist. Craft cocktails are becoming important to the bar side of the business.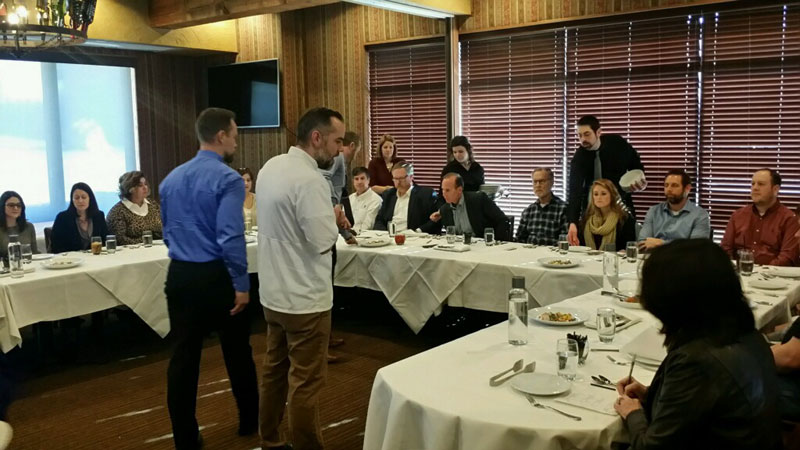 Chef Kevin explains one of his dishes at our Chefapalooza


Three of the Chefapalooza chef-created dishes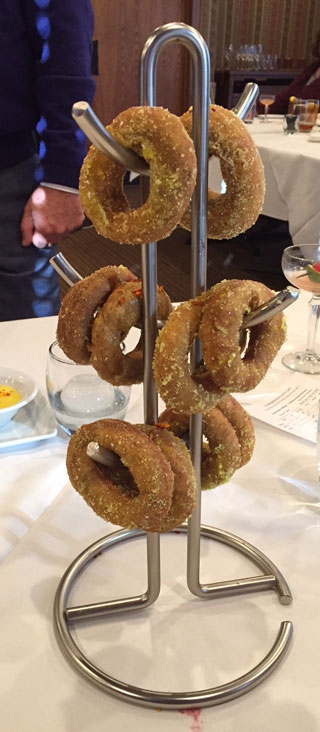 The 22 attendees rated each dish for creativity and whether they would order it at a restaurant. The winning dish showed that you can still win the hearts of diners with something on the indulgent sweet side, but this time with a little health thrown in. The winning dish was Chef Kevin's Peruvian squash donuts.
We are also working with our client of over twenty years, Davis Farmland and Davis MegaMaze, on a total upgrade of their menus and restaurant management that will include healthy Kids LiveWell offerings and Kansas City style barbeque.
Want to learn more? Our CEO, Randy White, will be one of the presenters at this Wednesday, February 10th 1PM EST IAAPA webinar on eatertainment. Although attendance at the webinar is exclusive for IAAPA members, we have arranged for our non-IAAPA member readers to also be able to attend for free. To register for the webinar, click here, and then use this access code where it asks for your IAAPA member ID - "RW22016"
Vol. XVI, No. 2, February 2016
---
---