Vol. XVI, No. 10, December 2016
---
---
What's driving the evolution and success of the new school CLV models?
New school community leisure venue (CLV) models are fast appearing throughout the U.S. These venues have a completely different positioning, emphasis and design than the traditional family entertainment center (FEC) model. They are focused on providing a highly social gathering space centered on great food and drink and tactile, real world, interactive social games.
These new school CLVs are finding great success due to the many social, demographic, cultural, and other megatrends that have taken place since the emergence of the traditional FEC model back in the mid-1990's. The way people view the world, conduct their lives, interact socially, their aspirations and their entertainment preferences have significantly changed over the two decades. Here's a few of the megatrends our company's research shows are contributing to the evolution and success of these new school CLV models and the decline of traditional FEC models.
Growth of singledom
People are marrying later. The median age of first marriage has increased significantly since 1996 from an average age of 26 to an average of 28.5 today.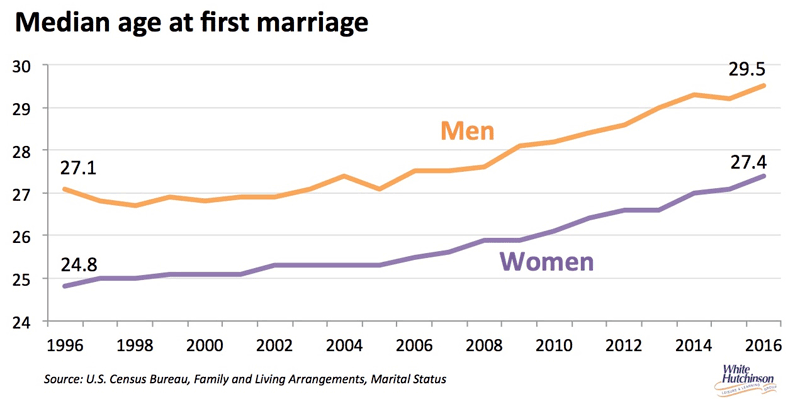 As a result, single adults now make up a majority of the age 25-29 population.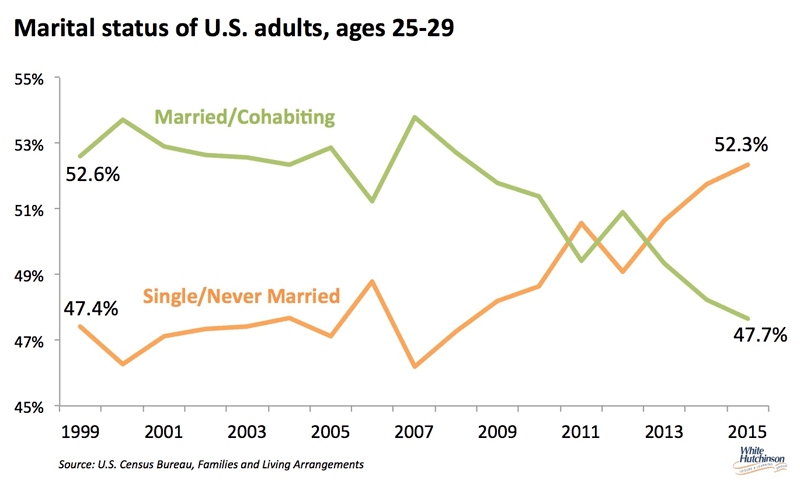 Increase in young adults living at home
More and more young adults are living at home. Without the full financial burden of renting or owning a home, they have more discretionary money to spend on leisure and entertainment.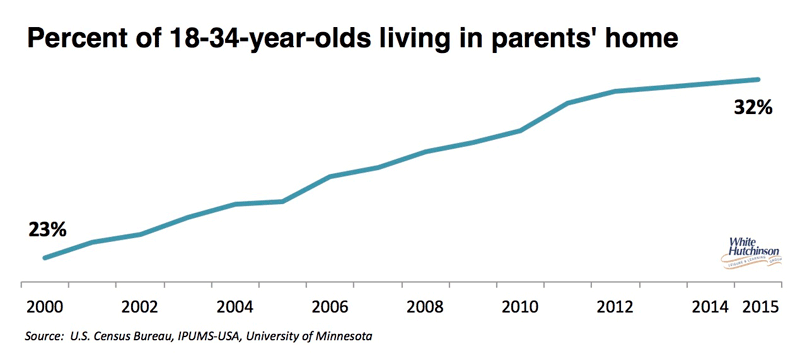 Increase in childless couples
When singles do hook up and cohabitate or get married, they are delaying childbirth. The median age of women having their first child has increased from 24.5 years in 1995 to 26.3 in 2014.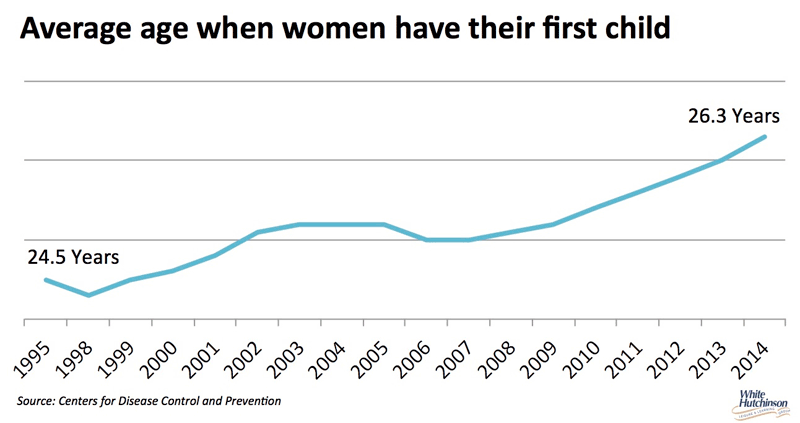 Childless couples not only have more freedom to go out (no need for babysitters), but also don't have the financial burden of child expenses, giving them more discretionary money to spend on leisure and entertainment.
Decline of families with children
As a result of a declining birthrate, we are seeing a continued decline in the percent of households with children. Back in 1996, 38% of all households had children. That has now declined to 31%. Childless households now make up more than two-thirds of all households.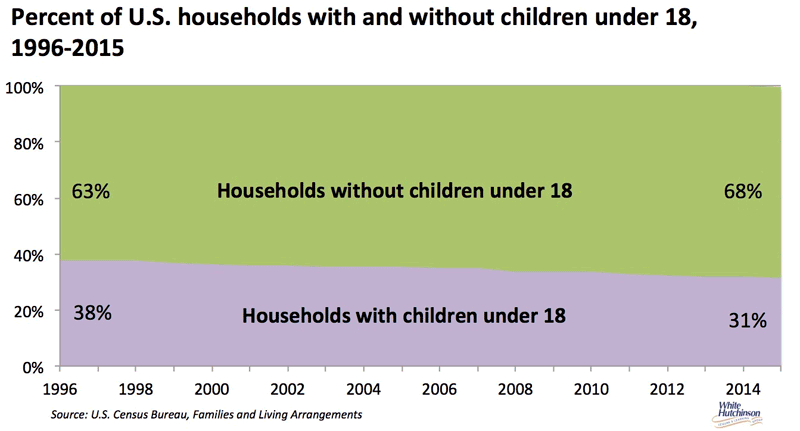 Increase in adults with college degrees
More and more adults now have a Bachelor's or higher college degrees. In 1996, almost one-quarter of adults age 25 and over had a Bachelor's or higher degree. That has now increased to almost one-third. Along with it come higher incomes and more sophisticated tastes.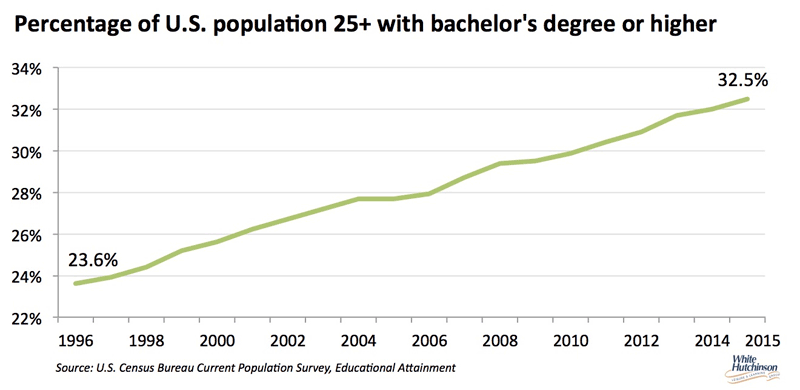 Aging population
The population is aging. The median age has increased by three years from 34.7 in 1996 to 37.9 in 2015. Adults age 50 and older are now one-third of the population (34%). The percent of children and mid-age adults (age 30-49) have decreased significantly.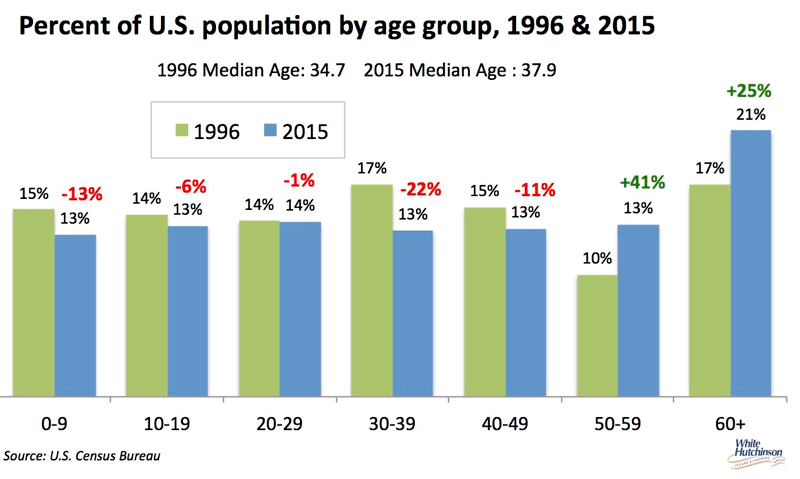 Shifting socioeconomic distribution
The middle class is not only shrinking, but becoming more financially challenged due to increasing costs for necessities, including housing, energy and medical. Back in the 1990s, they were a primary target market for FECs. While the middle class is shrinking, we are seeing a growing upper-middle class.
Although all socioeconomic groups have decreased their spending on OOH entertainment over the past 20 years, the decrease is greatest with the lower socioeconomic groups who have shifted a greater share of their leisure time and limited discretionary spending to digital screen options.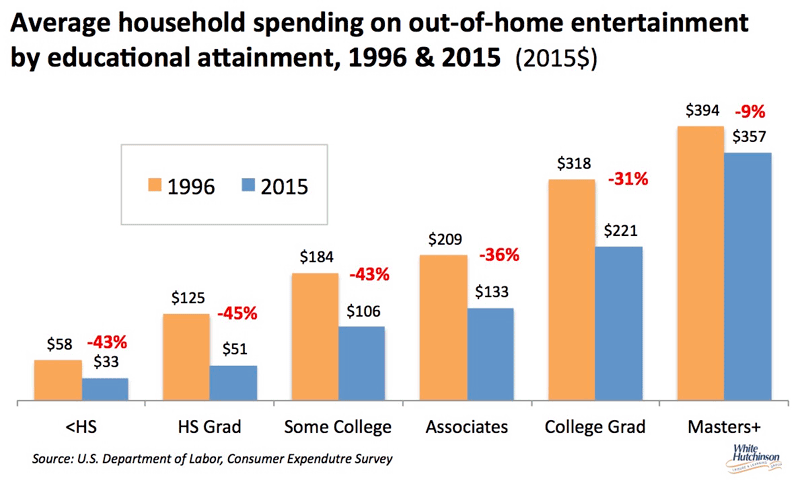 This combined with the growth of college degree households has resulted in a shift of market share for out-of-home leisure experiences to the higher socioeconomic households. Higher socioeconomic households' share of out-of-home entertainment spending has grown from less than half (45%) in 1996 to over two-thirds in 2015 (69%).
Triple revolution
Change used to be rather slow. The digital revolution has rapidly changed the world since the early days of indoor FEC development. On the consumer front, first came free public Internet in 1993, then social media in 2002, and in 2007 constant mobile connectivity with the smartphone. Think about it; the smartphone is only nine years old and now we take directions from a machine as well as ask it for information and advice. In an exceedingly short time, the Triple Revolution has brought about a rapid disruption and transformation of just about every aspect of our lives, culture and society. The Internet, social media and the always-on-connectivity of now-ubiquitous mobile devices have totally disrupted and transformed entertainment, socialization, access to information, shopping, banking and just about every other activity we humans undertake. And our at-home and mobile digital technology options, including those for entertainment and social connections, are rapidly expanding in availability, selection and quality while declining in price.
The emergence and growth of the Triple Revolution in just a little over the past two decades is as significant and as much a game changer as the changes that occurred over the 100-plus-year Industrial Revolution.
Foodie culture
There has never been a time in the history of man when food hasn't been an integral part of our daily lives. Though its main purpose has always been fuel for survival, today the role food plays has evolved into so much more. Today the eating and drinking experience has taken on many more dimensions and values than just nourishment.
A big factor in this recent change is the unlimited access consumers have to large amounts of information via the Internet plus the explosion of food and cooking shows on TV, YouTube and the Internet. This is sometimes referred to as the Food Network effect.
America and many other countries can now be called foodie nations: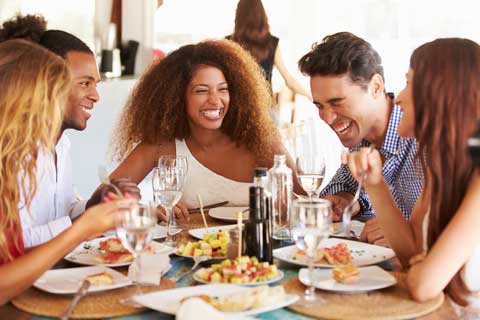 Now a significant part of the population across all ages is looking for deeper connections to their food and drink experiences. The act of eating is expected to yield a heightened sensory experience one can enjoy. It's become a vehicle for adventure and discovery, for self-expression and social identity; an excuse to get together; a way to learn, listen and bond.
As a result of our foodie culture, the quality, healthfulness, selection and presentation of both food and drink are driving the decision of what destinations to visit in addition to going out to restaurants. Food and beverage offerings have now moved center stage as a destination determinant and a critical part of any out-of-home leisure experience.
Share-worthy experiences rather than possessions
We have entered the experience economy where experiences have taken priority over owning stuff. We now live in a highly connected society, where " ... if an experience isn't shared, it didn't happen," according to Brian Solis. This of course means an experience has to be great and worth sharing and bragging about to become part our social capital. Today, it isn't worth doing or sharing if you can only say you went bowling. But if you can say you went bowling at this really cool place with a great vibe with incredible handcrafted cocktails and incredible food (that you shared on Instagram or other social media), then it is worth doing.
The rise of digital connectiveness
We humans have lived as social creatures interacting face-to-face throughout the vast majority of our existence. As evolutionary anthropologists tell us, it was living in a family and tribe with all its social connections that bonded humans and enabled our species to survive in its earliest days. Evolution has hard-wired the desire for socialization into our genes and our programmed behavior. It is the primary motivator of why we constantly connect with each other.
Despite continuing growth, advances and a shift to online social connectedness, the digital world will never totally replace real world face-to-face socialization. People still desire to visit a physical place for a communal gathering. The difference today is that it is not the only means for socialization. Digital online connectiveness is the new competition for much of yesterday's face-to-face competition. It has displaced some of the time we used to meet up face-to-face. Today, to get people away from their screens and out of their homes requires a higher quality, a higher fidelity social experience than in the past.
Research clearly shows that when people socialize in the same space face-to-face, it supercharges the positive emotional impact and the strength of social bonding that takes place. We also know from research that we don't feel better after a passive activity like watching a movie, but we are happier after being physically involved in an activity with friends. It causes the release of oxytocin into our bloodstreams, a neurochemical that makes us feel good and strengthens bonding. That explains the timeless appeal of bowling, billiards, golf, miniature golf, the growing popularity of bocce and other interactive social games.
Most singles are isolated in their homes. Most don't live with anyone they can socialize face-to-face with (the ones living in their parent's home don't have any of their age peers there to socialize with). So with the rare exception of the extremely introverted, they have a greater need and desire to go out and meet up with friends for face-to-face social experiences.
Megatrends have shaped the new school CLVs
All these megatrends plus a number of others have come together to shape the direction in which the new school CLVs are going. They are no longer focused on targeting households with children as the FEC model does. Instead they are targeting the adult population. Some target Millennials and others are targeting an older age group of adults. They are not using amusements as their anchor attraction as the FEC model does. Instead they are offering a high quality social experience facilitated with great food and drink and social interactive games. In fact, the food and drink has shifted from a secondary status such as FEC snack bars and concessions to the primary draw. And as the desirable target market has shifted from the middle class that FECs targeted to the higher educated, higher socioeconomic consumer, it has raised the expectation for ambiance, design and hospitality. The new model CLVs understand that out-of-home leisure options no longer own consumers' entertainment, leisure and eating and drinking choices as now there are so many attractive options that the digital world has brought us to just stay home and chill out. The new school CLVs are creating high fidelity experiences to compete with today's growing selection of stay-at-home and digital screen options by addressing the new leisure consumer.
Vol. XVI, No. 10, December 2016
---
---