Vol. XVI, No. 10, December 2016
---
---
Editor's Corner
Each November everyone in the location-based entertainment industry makes his or her annual trip to Orlando, Florida for the mega IAAPA Convention. This year was no exception. One outcome of attending was sore feet from walking all the aisles. This year the convention covered 578,460 square feet of convention floor. That's 13.3 acres!

Attendees are always looking for the next big thing to add to their venues. For community-based entertainment (CBE) venues, this year there were expanded virtual reality offerings, all early stage and too expensive for most community leisure venues. There were also five live escape room vendors, including one offering a mobile option. But the NEXT BIG THING for CBEs was not to be found at the show.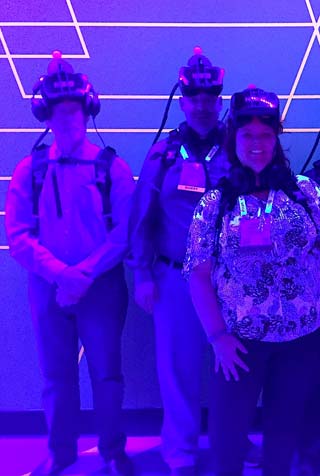 Suited up for
Zero Latency
. That's me on the left, Linda on the right & her husband Bob in the back.
The NEXT BIG THING for CBEs is food and drink. For that you need to attend the Nightclub & Bar Show in Las Vegas March 27-29 where I'll be speaking on Grow Your Business with Bar-tainment, and the National Restaurants Association Show in Chicago May 20-23.
Zero Latency has brought their free roam virtual reality experience to Orlando at the new Main Event Entertainment center at Pointe Orlando. Linda from our company, her husband, Bob, and I got to give it a try with three other people. Although the resolution was on the low side, I was really surprised how it did deliver an experience of presence, as I definitely had the sensation of being in a completely different space.
I was pleased to be featured in two RePlay Magazine articles in their November issue. One was an article I authored, Change is Coming Fast. It's Going to Take a New Business Model to Attract and Keep Customers and the other, FEC Trends: "Eatertainment" that summarized the IAAPA webinar on eatertainment that Kevin Williams, Mike Abecassis and I presented earlier this year.
I've been traveling every week to our projects around the country. We currently have projects underway in various stages of development from feasibility to design to construction in:
As always, we have collection of informative and thought provoking articles in this issue including on hatchet throwing, healthy food and mega trends impacting community leisure venues.
Wishing you an enjoyable and cheerful holiday season.

Vol. XVI, No. 10, December 2016
---
---