---
The trade show everyone should attend, but few do
For anyone in the location-based entertainment (LBE) industry, it is inconceivable to not attend the Orlando IAAPA trade show at least every few years to stay up to date on what equipment and products are available as well as industry education. Unfortunately, the IAAPA show is only half the story. Other than a few pizza, soda, drink, hot dog and miscellaneous food vendors and a few foodservice equipment vendors, the trade show does a very limited and distorted job of addressing food and beverage. It gives the impression that pizza and fast food is the way to go for LBEs and FECs.
As we discuss in this issue's article Chasing the next BIG Thing, food and beverage is taking a predominate role in the success of many new LBEs. In fact it has had a dominant role in many evergreen LBEs such as Dave & Buster's where F&B is half of sales, Peter Piper Pizza where it is 75% of sales and up until a few years ago when it failed to keep its food up to contemporary standards, Chuck E. Cheese's where it was 50% of sales. Today food and beverage is THE anchor attraction for many of the new successful concepts such as Level 257, Punch Bowl Social and many others.
If you check out any of the newer concepts, you'll find that they have moved beyond the concession food approach of so-so pizza and hot dogs to contemporary destination dining, both table service and fast casual.
This is where the IAAPA show is giving a very distorted picture of the role of F&B for LBEs and FECs.
Where do you learn about what is really happening in the restaurant industry, trends and see available products and equipment? Where can you sample the foods offered by food suppliers? Where can you attend seminars and demonstrations on every aspect of running a restaurant, including how to market with social media? It's the National Restaurant Association show held each year in Chicago. The 2015 show just concluded on May 19th. Unfortunately, of all the people that attend the IAAPA show, only a few, probably a single digit percentage, attend the NRA show.
This year's show had over 2000 exhibitors. There were over 100 seminars not including demonstrations and presentations offered on the show floor. The trade show floor covered more than three times the IAAPA Orlando show space.

The lack of attendance by LBE and FEC operators and management unfortunately speaks to the continuing paradigm paralysis of so many LBE and FEC operators that they are in the entertainment business. That might have worked several decades ago before the explosion of the internet, digital entertainment and the now ubiquitous smartphones, celebrity chefs and a foodie public. But it doesn't anymore. Any venue that hopes to succeed long-term needs to consider itself in the hospitality industry, and among other things, that requires offering great food and beverage. Many of the most successful venues are in fact offering destination dining first and the entertainment second.
No matter what type of LBE or FEC you havr, even if you still offer concession/snack bar food, attending the NRA show can move your F&B up a few notches. Let's say you want to upgrade from offering some generic soft serve ice cream. This year's show had over 20 ice cream and gelato suppliers where you could sample their products. Want to offer ice cream cones? There were four suppliers. Need an ice cream or gelato cabinet? Twelve equipment suppliers had their equipment on display. Looking for gluten-free foods? There were over 100 food suppliers with gluten-free food products, most of which you could sample.
Here's some photos of just a small number of the copious food tasting and sampling at the show. It's truly a never-ending smorgasbord of food.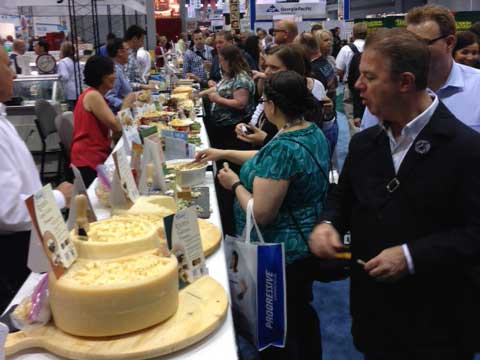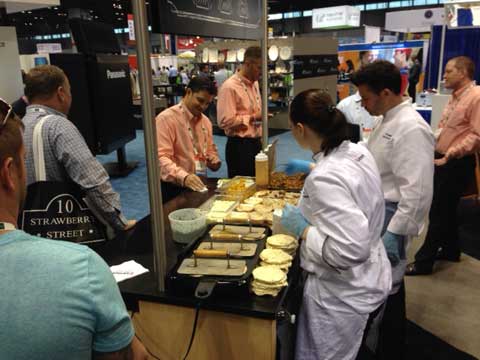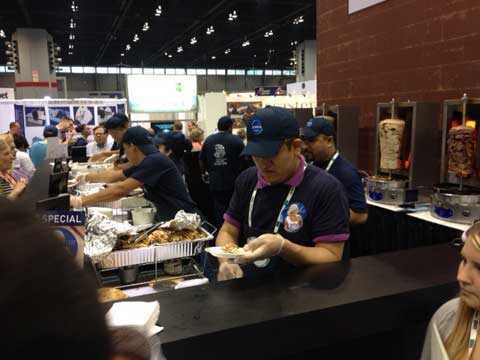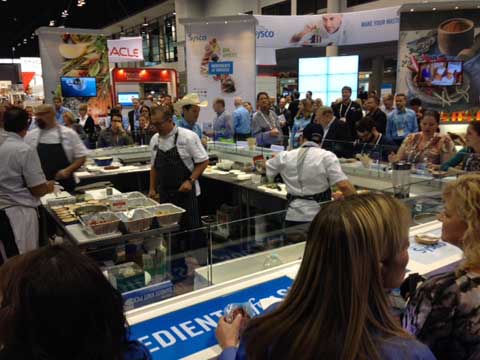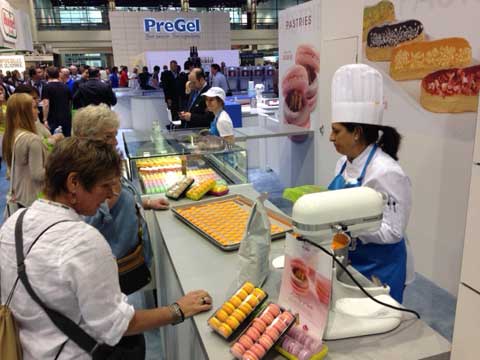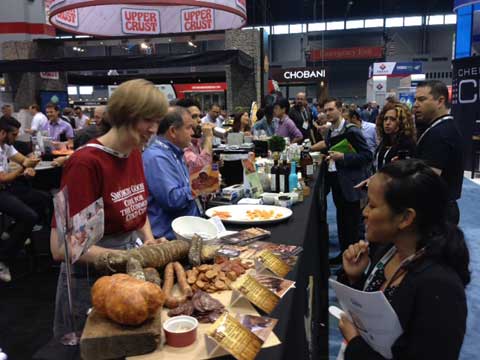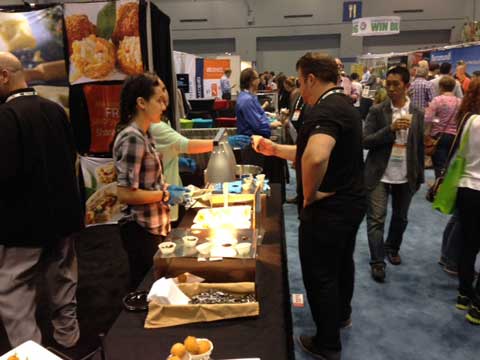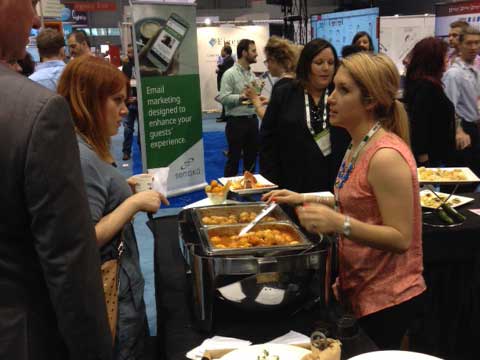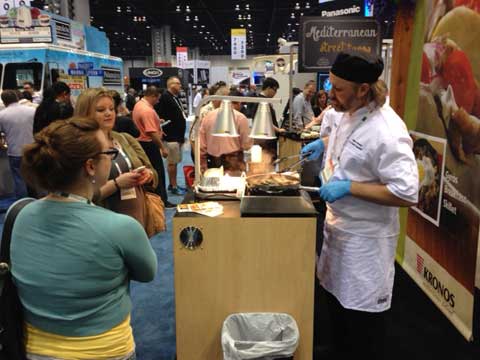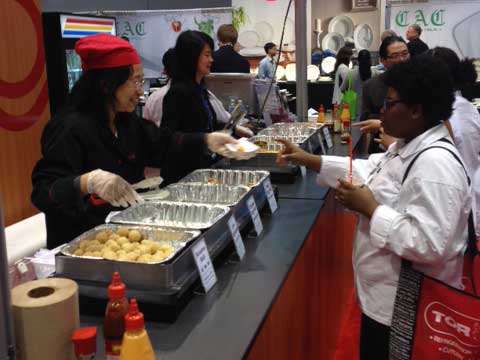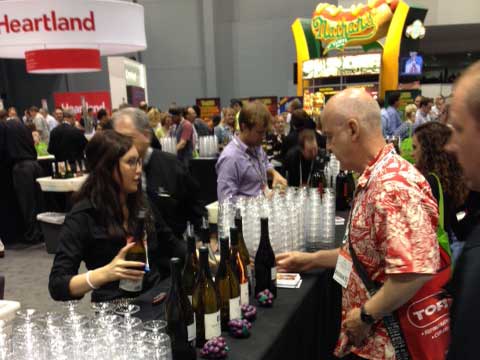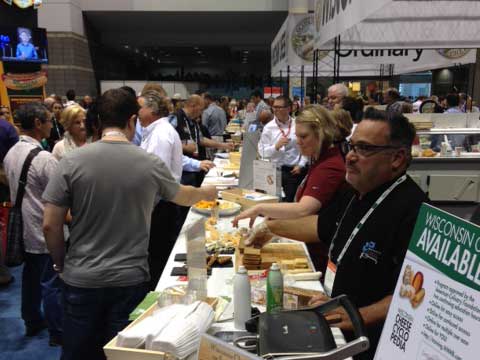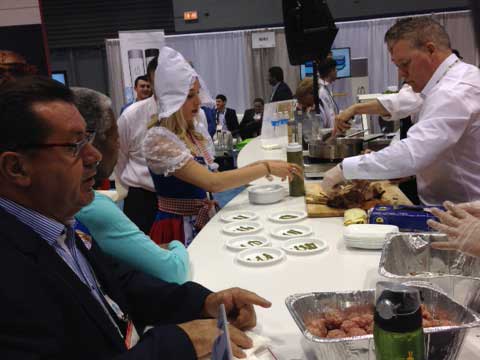 The National Restaurant Association show was a smorgasbord of sampling
We believe given a choice of only attending one show a year, people in the LBE and FEC industry would greatly benefit by choosing the NRA show over the IAAPA show.
Also, see our articles in this issue:
---