Vol. VIII, No. 3, May/June 2008
---
---
Review of National Restaurant Association Show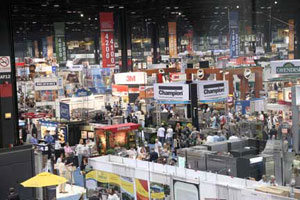 During the four days of May 17-20, over 74,000 attendees descended on McCormick Place convention center in Chicago to see over 2,150 exhibitors displaying 890 categories of food, beverage and all types of restaurant equipment and supplies. The food and beverage exhibitors served up a smorgasbord of samples that could seduce you into gluttony if you weren't careful.

Trends evident at the show could be summarized as organic, natural, sustainable and energy saving. The number of gelato exhibitors was greater than last year. And sustainable packaging, cups and other "paper" product options were plentiful.
At one of the many educational seminars, Nancy Kruse, President of the Kruse Company and a menu trend expert, spoke on trends she says are "here today and here tomorrow." The three mega trends she identified are:
She also discussed two of what she calls "menu zations" - miniaturization and premiumization.
She sees beverage trends moving in sync with menu trends with:
Freshness
Flavor
Ethnic
Healthful
Premium
Sampling
Three new products (there were hundreds exhibited) we found that might be of interest to our readers are:
Podia Tabletop Displays
These allow you to print your message in a two-column format on letter-size paper. Then you fold the paper lengthwise and slide it into the clear tabletop display frame. Click here to see a demonstration video.
Lolli Straws
These drinking straws made of candy are great for martinis, soda and milk shakes. They come in cherry, strawberry, green apple and caramel flavors in two lengths - 5.5" and 8.5." The company hasn't yet posted information on the website. Contact 800-234-1804 or info@squireboone.com.
AppleSweets are prepackaged fresh-cut apple slices. Two varieties come with caramel or wild berry flavoring using all-natural ingredients without adding calories or fat.
At the convention, the National Restaurant Association launched Conserve: Solutions for Sustainability, an initiative designed to support the nation's nearly 1 million restaurant and foodservice locations as they become more eco-friendly. The Conserve website will educate restaurateurs on how taking small steps over time - or bigger steps for those who choose to do so - can make a difference for the future of our planet, as well as be positive for business.

"We are launching Conserve to raise awareness and provide resources and information about eco-friendly practices to the entire restaurant and foodservice community," said Dawn Sweeney, President and CEO of the National Restaurant Association. "We believe this initiative will prove to be a great step toward an environmentally sound future while preserving the vitality of our industry."
The website, conserve.restaurant.org, will serve as one of the initiative's primary resources for helping restaurateurs move toward sustainable or "green" operations. In addition to providing tips and resources, the site will feature stories from several restaurants that have successfully implemented environmentally friendly practices. As restaurants develop new methods of decreasing their environmental footprint, new case studies will be added to provide insight into best practices and lessons learned through the process of going "green." Initially focused on energy, water and construction, the site will grow over time to include other aspects of sustainability, including recycling, packaging, cleaning supplies and food and beverages.
Not all restaurants can commit financial resources to environmentally friendly upgrades, which is why the Association aims to provide tools and resources through the Conserve website on ways to "go green" at little or no cost. Some steps are simple, such as turning off lights, unplugging equipment not in use, and running only fully loaded racks of dishes through dishwashers. Regardless of the size and number of locations, all restaurants can implement some no-cost or low-cost practices that will reduce their environmental impact, conserve natural resources, and potentially decrease energy and water consumption expenses.
Vol. VIII, No. 3, May/June 2008
---
---