Vol. VIII, No. 3, May/June 2008
---
---
Kids menus continue to evolve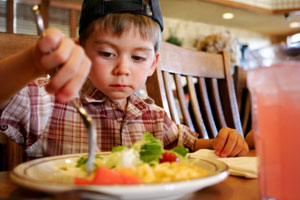 Parents' concerns about food additives, saturated fats and child obesity are driving a lot of changes to kids menus. Food service operators are offering alternatives to fried foods and trans fats by providing more fresh fruits, vegetables, whole grains and even organic foods.
At the same time, kids menus are moving in the direction of offering more choices. Darren Tristano, executive vice president of the research firm Technomic, says, "[Restaurant] chains have looked at the fact that not all kids are the same. You're starting to see more sophistication and more options." Children want to eat what their parents are eating, so restaurants are offering kids variety and interesting flavors. Tristano says, "They're eating more ethnic foods, and they're enjoying it."
Sliders have become popular on many adult menus, so Friendly's has introduced both cheeseburger sliders and chicken sliders on the new kids' menu.
The Walt Disney Co. understands kids eat first with their eyes. One feature of the company's Well-Balance Food Initiative is to offer more healthy kid meal options at Disney theme parks. Meals are served on plates shaped like Mickey Mouse with the ears having spaces for healthy side items. Juice comes with a color changing straw. At Disneyworld, when Disney tested its new kids menu program that features fruit or carrots as the side rather than French fries, 77% of parents stuck with the healthy options -- even though there was no additional cost for fries.
Environmentalism is starting to creep into children's menus. Hard Rock Cafe has partnered with the Arbor Day Foundation with the launch of its new Lil' Rockers Menu. It features kids meals packaged with fun activities that show youngsters how they can help protect the environment.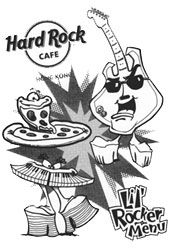 Beginning Arbor Day, April 25, each kid's meal at Hard Rock Cafes throughout North America and Puerto Rico included tree seed packets, encouraging children to plant trees to help produce more oxygen and preserve wildlife habitats. Hard Rock International has also teamed up with the Arbor Day Foundation, making the commitment to plant at least 25,000 trees this year. Additionally, with the help of the new Lil' Rockers Menu, Hard Rock and the Arbor Day Foundation hope to help plant an additional 1 million trees in 2008.
Hard Rock's new kids' menu also teaches children how to "Rock. Reuse. Recycle," as each meal is complete with four pages of fun eco-friendly activities, as well as recyclable "Save the Planet" cups and lids.
"Kids are an important part of our fan base and we want to ensure that their Hard Rock experiences are memorable -- from the food and drinks, to the memorabilia on our walls, to teach them about saving the planet," says Sean Dee, Vice President and Chief Marketing Officer, Hard Rock International. "It is important to educate children, not only about the history of music, but also about the environment and how they can help make the world a safer, healthier place."
Kids menus at many hotels are also undergoing changes. All over the world, hotel restaurant menus are becoming surprisingly adventurous.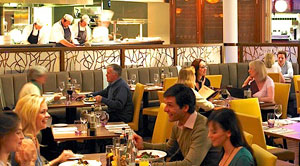 At the Gleneagles Resort in Perthshire, Scotland, the new children's menu at Deseo, one of their restaurants, has a Spanish/Mediterranean theme. Kids choices on their Young Person's Menu include garlic dough balls, honey-style chicken wings and cherry tomato and mozzarella balls. The kids menu also offers a rib-eye cheeseburger and fries for children who are not as adventurous.
David Burke's Primehouse at the James Chicago Hotel has started a Dim Sum Brunch with kid offerings like Kobe corndogs, stuffed French toast and cheesecake lollipops.
At a few hotels, the focus has been on changing the menu itself rather than the menu items. The children's menu at the Roosevelt Grill in the Roosevelt Hotel in New York City comes in the form of a puzzle made from the finest Swiss chocolate, wrapped in cellophane with a gold bow.
There is little doubt that the sophistication of children's menu offerings will continue to spread throughout the restaurant industry.
Vol. VIII, No. 3, May/June 2008
---
---