Vol. VIII, No. 3, May/June 2008
---
---
What's happened to movie theater attendance?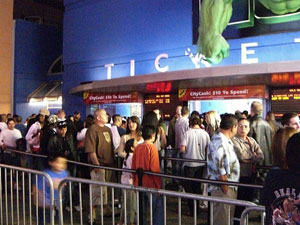 In our two-part article that ran in the last two issues, The shifting nature of leisure time and expenditures, we examined significant systemic changes occurring to both away-from-home entertainment and restaurant expenditures and visits. Since then, two of the factors we identified as impacting these two industries, mainly the price of food and energy costs, are climbing to new highs and gaining much attention in the press, as well as with consumers worldwide.
We thought it would be a good idea to examine movie theaters, a segment of the out-of-home entertainment industry in which detailed data is available. That way, we can determine if trends there support our basic conclusion that electronics are garnering an increasing share of consumers' overall entertainment expenditures. And when consumers do leave their homes for entertainment, at least for the top 30% of households by income and education, their discretionary time will become an increasing driver in their decision-making. They are increasingly demanding high quality entertainment experiences and are willing to pay a premium price for it - what we might call affordable luxury out-of-home entertainment.
The Motion Picture Association of America (MPAA) and the National Association of Theatre Owners (NATO) recently released box office figures for 2007. On the surface, their press releases sounded positive. The U.S. box office climbed from $9.1 billion in 2006 to $9.6 billion in 2007, and attendance grew from 1.395 billion to 1.4 billion. Well, public relations firms are good at putting a positive spin on just about anything! However, as with all statistics, the devil is in the details. So we decided to dig in to see what real trends could be discerned.
There are two flaws in the alleged publicized growth in movie-going, which didn't take into consideration 1) the growing U.S. population, or 2) continued inflation. So what we did first is adjust the annual movie admissions for population growth by computing them on a per capita basis. And to look for possible trends, we went back to the pre-9/11 year 2000.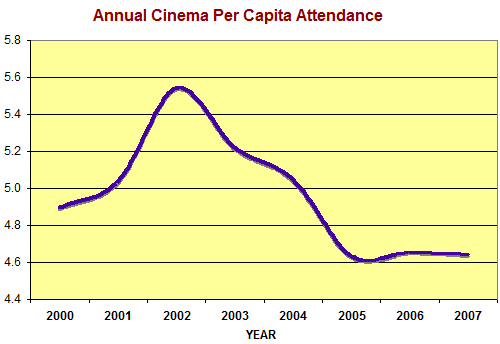 The trend sure looks different when you adjust to reflect a 7% population growth from 282 million in 2000 to 303 million in 2007. Contrary to MPAA and NATO claims, when you use a per capita analysis, annual attendance actually fell from 4.7 times per person at the movies in 2006 to 4.6 times in 2007. That's still below the 4.9 times per person in 2000 and the peak of 5.5 times in 2002.
What is particularly significant is the average moviegoer spent less time at the cinema in 2007 than in 2000. If we figure that the entire movie-going experience requires 2 hours and 40 minutes of time (2 hours at the movie and 40 minutes driving to and from the cinema), then the average moviegoer spent 41 minutes less time at the cinema in 2007 than in 2000 and 2 hours and 24 minutes less time than in 2002.
We then looked at annual per capita box office expenditures adjusted for inflation, because 2007 dollars are worth only $0.83 in 2000 dollars.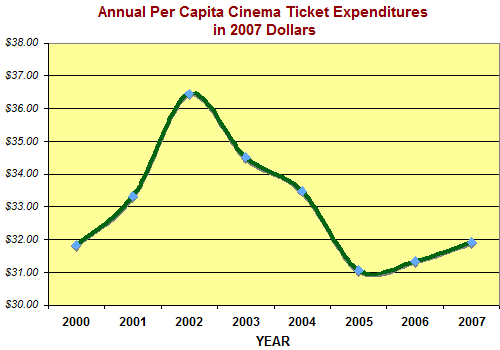 Here, we found an uptick in annual per capita expenditures from $31.35 spent on movies in 2006 to $31.92 in 2007. Annual per capita expenditures are still significantly below the peak of $36.46 reached in 2002.
Part of the reason annual per capita expenditures show an increase is the average cost of a movie ticket has increased faster than inflation. From 2006 to 2007, average ticket prices increased 5%, when inflation was only 3%. And average ticket prices are up 28% from $5.39 in 2000 to $6.88 in 2007, compared to a 20% increase for inflation for the same time period.
The movie industry might argue that movie attendance is declining due to the lack of blockbuster films. However, the decline is too consistent over too long a period for that argument to hold water. It appears quiet obvious that both "time poverty" and at-home entertainment systems, movie rentals, high-definition television, iPods, the Internet and other electronic-based entertainment options are cutting into the cinema industry's business.
The cinema theater operators and Hollywood film industry are starting to understand that to stop this downward trend, they need to make the movie-going experience more attractive and compelling. They are starting to fight back on two fronts: the quality of the movie format and projection system and the quality of the theater. Initial results look very promising. First, let's look at what is happening with film format and projection system.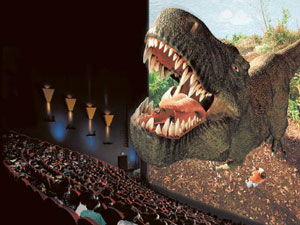 AMC Entertainment, operators of AMC theaters, recently inked a deal to convert 100 of its screens into IMAX 3-D digital projection systems in 33 major U.S. cities. The conversion will include retrofitting auditorium seating and enlarging screens to accommodate the IMAX experience. The IMAX deal is separate from AMC's decision to convert all screens from celluloid 35mm film to digital projection.
AMC is not the only cinema chain going digital. It is a major movement across the industry and is being driven by the release of more 3-D movies.
Last issue we reported results from the 2007 film Beowulf that clearly showed consumers are willing to pay a premium for a better movie-going experience. Beowulf was simultaneously shown in three versions in movie theaters: giant screen IMAX 3-D, 3-D on regular theatre screens and without 3-D at cinemas. Here are the grosses per screen for its first week of distribution:
3-D IMAX, $43,000
3-D in regular theaters, $13,000
Non 3-D in regular theaters, $7,000
In regular theaters, the 3-D version cost at least $2 more than the non 3-D version. The IMAX 3-D showings were priced $3 to $5 more than the others.
In February, the 3-D movie Hanna Montana & Miley Cyrus: Best of Both Worlds Concerts pulled in $31 million in its opening weekend, an impressive feat considering it played on only 683 screens. Total sales ran $70 million.
The experience with 3-D films to date shows they can attract two to three times more moviegoers who are willing to pay about $3 more per ticket. Within a year, about 2,000 theaters are expected to be outfitted for 3-D. Within 3 years, half of America's 42,000 movie screens could be converted to digital. The cinema industry hopes 3-D movies will make the expensive home theaters look antiquated and quaint and will draw customers back out of their homes.
At least 30 3-D movies are in the pipeline from Hollywood, including this summer's Journey to the Center of the Earth 3D and Fly Me to the Moon, the March 2009 release of Monsters vs. Aliens and the July 2009 release of Ice Age 3. Walt Disney has announced it will release all feature animation films from its Pixar unit in 3-D starting next year. The first release will be Up. Likewise, DreamWorks Animation has announced that starting in 2009, all its fare will be produced in 3D.
It's not just the movies and projection systems that operators are upgrading to bring moviegoers back. Pioneering movie exhibitors across the country are tempting audiences with new enhanced architecture and design with offerings that cater to increasingly sophisticated tastes. Valet parking, bars and restaurants, and bowling and other entertainment additions are replacing parking lots, box office lines and popcorn.
At the Landmark Theatres chain new flagship cinema in Los Angeles, the box office is no longer literally a box, but instead looks like a boutique hotel's check-in. Standard movie theater décor such as the neon and life-size star cutouts are missing. Over the concession stand, LED screens display an upscale menu of items like Peet's Coffee and specialty candies from Japan. There's a wine bar. Commercials and movie trivia are missing before the film. The restrooms have flowers. Ted Mundorff, Landmark's CEO, sees the new flagship as a nod to the past, "It's a return to service, a revival of the customer experience that was around in the 1930s but has since diminished."
Muvico Entertainment pioneered over-the-top designs in 1997. Muvico has ancient Egyptian, Beaux-Arts Paris opera house and even a 1950's "drive-in" theater. Its 24-screen Egyptian megaplex at the Arundel Mills mall in Maryland is the highest attended cinema in North America. In addition to its design, Muvico offers supervised childcare and for an added charge, a premium experience that includes valet parking, reserved seating and free concessions.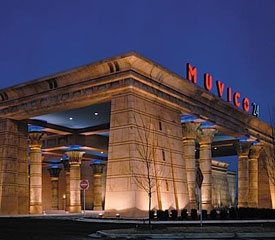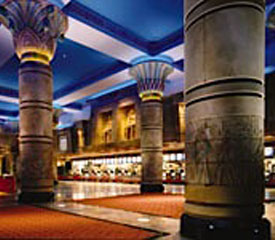 Muvico's Egyptian Mega-Plex at Arundel Mills
Other chains reviving the movie palace concept include Pacific Theatres in California and Robert Redford's Sundance brand that opened its first theater in Madison, Wisconsin.
Even the Aussies are coming to America to revive the movie-going experience. Melbourne, Australia-based Village Roadshow Gold Class Cinemas is planning to build 50 upscale cinemas over the next five years for affluent moviegoers in 50 U.S. markets. The first to open will be a $7 million, 40,000-square-foot, eight-screen cinema in the new Arboretum lifestyle shopping center in the wealthy South Barrington Chicago suburb.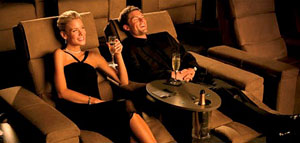 Gold Class Cinemas have small, fully-carpeted facilities with between 24 and 40 three-foot-wide, suede-covered recliners and offer restaurant quality food and alcoholic beverages served by waiters who can be summoned by a personal call button at each seat. Patrons receive valet parking, and when they arrive, they are greeted by a concierge who escorts them to a lounge that looks like a plush hotel lobby. Tickets for the luxury experience will be priced at several multiples of current U.S. movie ticket prices.
In past issues we have reported about the growth of the movie-and-dinner theaters and the new iPic chain that offers a restaurant, bowling, bars, reserved seating and valet parking. There are now more than 400 theatres in North America that serve alcohol.
Frank Family Entertainment Group plans to open a 60,000-square-foot E-Town in Leland, North Carolina. The E-Town concept will combine the company's two division concepts, Frank Theaters and Superplay USA, under one roof. The first E-Town will have 24 bowling lanes, a laser tag arena, arcade, café, WiFi bar and 14 movie screens with seating for private dining. The company has announced the development of 34 E-Towns.
Movie operators are reinventing the movie-going experience to draw people out of their homes and away from electronics, which have been capturing a larger share of their entertainment dollars (see story below). They are setting a new standard with affordable luxury and more diversified experiences that other types of location-based entertainment (LBE) businesses will need to follow to stay competitive.
Vol. VIII, No. 3, May/June 2008
---
---