Vol. VIII, No. 3, May/June 2008
---
---
Editor's travelogue
The past 1.5 months have taken me to two very different countries in Asia -- Kazakhstan and Singapore - to work with new clients.
Kazakhstan is a former Soviet republic and only 18 years old as a self-governing country. South of Russia, it adjoins China on its eastern border. The country is quite large, 1,150 miles from east to west and 650 miles from north to south. Kazakhstan's land area is the combined size of the seven largest European states -- France, Spain, Sweden, Germany, Finland, Italy and Great Britain, or about four times the size of Texas. It is the ninth largest country in the world by land area, yet has a population of only about 16 million, with a population density of just 15 people per square mile. This compares with 76 people per square mile in the United States.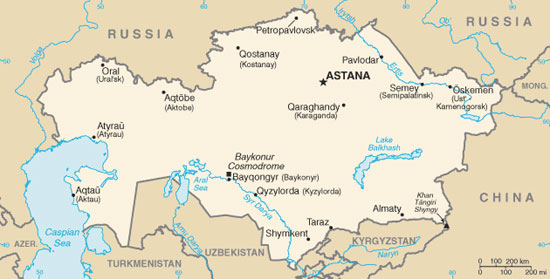 I had a chance to visit three Kazakhstan cities, all quite different. Uralsk (Oral) is in the far west with a population of about 425,000. Its culture is basically Russian, although the architecture, with the exception of a few churches, does not have a strong Russian influence like that seen many of the eastern ex-Soviet republics. The city is becoming a vacation or retreat area for the many oil company employees who work in Kazakhstan's oil region around Atyrau, about a five-hour drive south. That area is rather bleak and barren, offering little in the way of recreation, because it was once part of the seabed of the Caspian Sea, which has retreated over many centuries.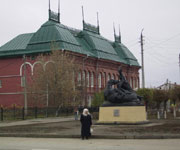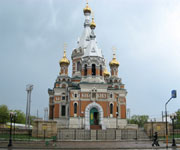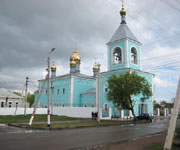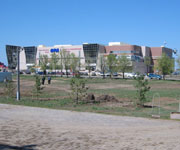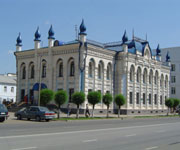 Photos of Uralks
The second city I visited was Petropavlovsk, a smaller farm town at the far north of Kazakhstan. To visit, we drove north for about six hours from Astana. During the trip I saw vast farm areas with countryside best described as both Kansas and Montana in character. The drive gave me a strong sense of just how large and vast the country is.
Astana, the capital of Kazakhstan, is not what you might expect. It is a booming and rapidly growing city that reminded me of many rapidly expanding Middle East cities. Construction cranes were everywhere. There was an eclectic mix of Islamic, Soviet, Western and wacky futuristic architecture. The capital used to be in Almaty, but was moved to the middle of the country 10 years ago. The city is booming from the country's vast oil, natural gas and mineral resources. The government is reportedly pouring 8% of its budget into making the city an international showplace.
One of the most interesting projects under construction in Astana is Khan Shatyr, a 1 million-square-foot complex. The center is a mini-city that will include streets, beaches, canals, gardens, a concert hall, small golf course, swimming pools and a wide range of shops and restaurants. Its top section, which is 500 feet tall and resembles a gigantic tent upon a manmade mountain, will be covered by a vast curtain made of ETFE. London architecture firm Foster + Partners, the project's architect, says the ETFE will let in light while protecting people from the area's harsh climate, enabling use throughout the year.
Astana's population has doubled since 1998 to about 600,000 today, and its growth is projected to continue at a similar rate. The population is a mixture of Russians and Mongolians, with the Mongolians probably in the majority. Residents primarily have good incomes, and most own newer cars. In Uralsk, only about 40% of the population owns cars.
One unusual aspect of Kazakhstan cuisine is the prevalence of horse meat. When I explained to my host that Americans would be appalled to eat horse meat, he was dumfounded. He explained that the breed of horse they eat is different than breeds of horses they ride. I ate horse meat on a number of occasions and enjoyed it. A lean dark meat, it is a little like dark turkey meat, but a bit dryer, with a slight gamey taste.
The other country I visited, Singapore, is at the other extreme from Kazakhstan as it's quite small. Singaporeans refer to their country as the red dot on the world map. It is only 26 miles east to west and 22 miles north to south, containing just 268 square miles. It is located on the southern tip of Malaysia.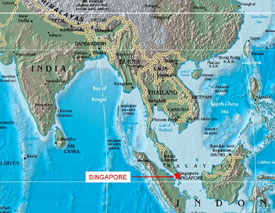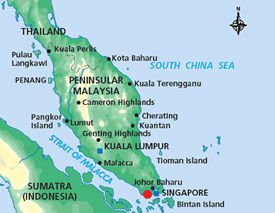 Although small in land area, Singapore is home to 3.5 million permanent residents, which makes building development more vertical than horizontal. But surprisingly, for such a compact country (actually, more like just a city), Singapore is extremely green. Areas of vegetation and trees have been mixed into all developed areas. And just one degree of longitude from the equator, the country's warm, rainy climate produces lush vegetation.
Singapore is very prosperous. It's the 17th wealthiest country in the world in terms of GDP per capita, but not due to natural resources like oil. The one natural resource it has is the sea, so the country has been developed as a major Asian transportation hub, positioned on many sea and air trade routes. The Port of Singapore was the world's busiest port in 2005 in terms of shipping tonnage handled and containerized traffic. The unemployment rate in Singapore is only 2%.


View of the Singapore
One thing Singaporeans love to do is go out to eat. I have never seen so many restaurants. I thought the United States held the record for dining away from home, but I am now convinced Singapore is the titleholder. Singaporean cuisine is an example of diversity, with a fusion of Chinese, Indian, Malaysian and Tamil influences. In Singapore's hawker centres and mall food courts, a wide range of good quality and inexpensive food can be found. In one food court, I counted more than 20 stalls. I ate lunch there for just a little over $3. Sure beats McDonald's!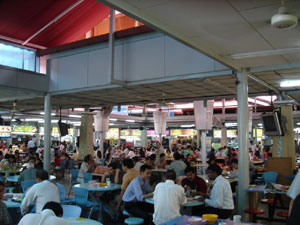 In addition to the food courts and hawker centres, restaurants of every possible description can be found, including many American fast food chains, and America's other food and beverage invader, Starbucks.
Singapore has the world's tallest observation Ferris wheel, the Singapore Flyer. Opened earlier this year at 541 feet tall, it took the record away from China's 525-foot Star of Nanchang. The 28 gondolas each hold up to 28 passengers, and over a 30-minute ride, passengers can see Indonesia and Malaysia.
We are working in Singapore for the Singapore Productivity Association (SPA), assisting the organization in its pro-family business initiative supported by the Singapore government to make businesses in Singapore customer family-friendly. While there, I gave the keynote speech, Developing World-Class Pro-Family Businesses, at SPA's Pro-Family Inaugural Conference. I also conducted mini family-friendly audits of seven different businesses.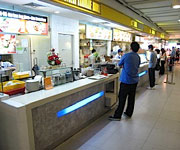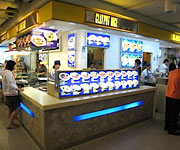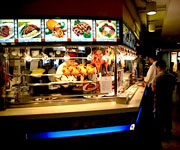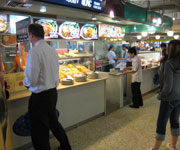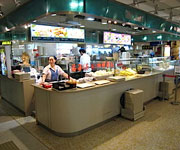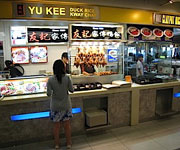 One interesting business I audited was Sol ~ Playground Café. The restaurant features affordable Spanish cuisine and tapas, has an indoor play area for toddlers and an outdoor seating area with a playground. Being the only restaurant of its kind in Singapore, it is very popular with stay-at-home mothers during the week and families on weekends. In some ways, it reminded me of the many restaurants I have visited in Mexico and Spain that have a playground area for children -- even white-tablecloth restaurants.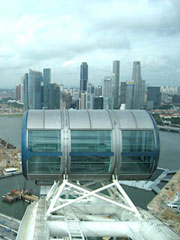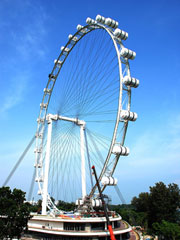 I also audited the Luge & Skyride at Sentosa Island. To get to the top to ride the Luge, you need to take a ski lift. And of course, for a true audit, I had to ride both the ski lift and take a luge ride down the 2,100-foot-long luge run. Yes, that's me in the last photo.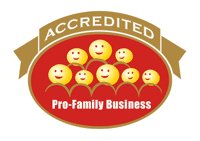 SPA has developed an accreditation program for pro-family businesses. Accredited businesses get to display and use the Pro-Family Business Brand Mark in marketing their businesses to families.
Pro-family, or family-friendly, has a different meaning in Singapore than in much of the West. There, families typically have three or four generations in them, so "family" means not only parents and children, but also grandparents and great-grandparents. Families are referred to as 2G (two generation), 3G or 4G. So becoming family-friendly includes being elderly-friendly as well.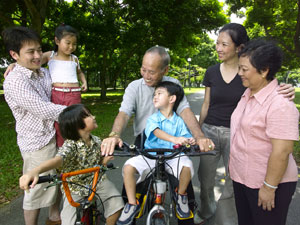 In a future issue, I hope to include an article on family-friendly, as it is not a fully understood concept. Many businesses, including restaurants and location-based-leisure (LBL) venues, really don't do such a good job of it, despite the fact they are targeting families.
Randy White
Editor
Vol. VIII, No. 3, May/June 2008
---
---