Vol. VIII, No. 3, May/June 2008
---
---
Social Engagement identified as a major trend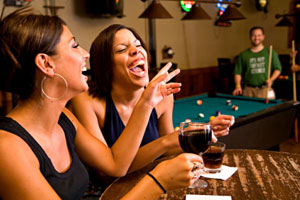 The majority of visits to eatertainment and dining venues with family or friends are really about more than just the food and fun. Visits are highly motivated by the opportunity for guests to socialize. Too often, venues focus too much on the food and entertainment and fail to design the guest experience to facilitate socialization. One of the reasons why miniature golf, bowling and billiards continue to have high appeal is because they promote socialization. It takes a group of people to play. While one person takes their turn, the other group members watch and socialize with each other as well as with the player.
Yankelovich, Inc., one of the world's most respected consumer research firms, has identified Social Engagement as one of the big trends today. The company defines Social Engagement as "the active pursuit of connection, interaction, and affiliation with other individuals to enable the sharing of ideas, opinions, and passions. It is, quite simply, the act of engaging in conversations with others - live or virtual - to strengthen bonds between individuals and foster emotional comforts of connection." Yankelovich sees Social Engagement as the biggest of the big trends today and as part of a broader social trend, Hiving, the growing, strengthening revival of interest in connections, engagement and interaction. Peter Rose, Yankelovich partner, says, "It is about people looking for opportunities to celebrate, to connect, to cherish, and to include others whom we deem important." You win when your location-based leisure (LBL) venue's experience facilitates the ability for people to engage and connect with one another, to have social interaction and to celebrate.
The challenge today for LBLs is to compete with Social Engagement and Hiving opportunities offered by the Internet, with its social networks and virtual worlds. The LBL experience needs to be richer and more fulfilling than the at-home electronic experience if you are going to motivate people to leave their homes and part with their money.
More at www.ieuw.org/resources/The Importance of Social Engagement (verbal).pdf.
Vol. VIII, No. 3, May/June 2008
---
---