Vol. VI, No. 3, June/July 2006
---
---
Child-friendly skies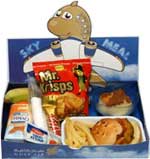 You often hear the term family-friendly or child-friendly, but rarely is it more than marketing hype. In the Middle East, and especially in the Arabian Gulf or GCC region, family- and child-friendly takes on real meaning, probably because the entire culture centers on the family. Arab singles over the age of the late 20s are very rare. And families are large.
One great example of being a family-friendly business is Gulf Air, the airline owned by Bahrain and Oman, and its Sky Nannies service. On all long-haul flights, there is a professionally trained nanny who gives special attention to children and infants. Gulf Air is currently the only airline in the world to offer such a service.
Gulf Air has also launched a new menu specially designed for children. The kid meals come in brightly colored boxes. The meals, created by Gulf Air's Sky Chefs, take into consideration the special dietary requirements of children and are modular so they can be easily customized. "If a parent does not want the child to have a particular component of the meal, it can be replaced with another more suitable snack, according to the instructions of the parent," according to Michael Kent, Head of Inflight Services.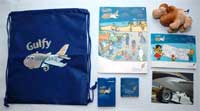 Children on medium and long-range Gulf Air flights also receive a special backpack. The backpacks come in two types. The one for 3- to 5-year-olds includes a camel-soft toy, an activity books, crayons, a memory game, a sticker book, a cap and a postcard. For children between 6 and 10, there's a camel-soft toy, a pair of sunglasses, a Lego game, a wallet, an activity book, a 3D puzzle, a Magic Match puzzle, a pencil and a cap.
Vol. VI, No. 3, June/July 2006
---
---