Vol. VI, No. 4, August/September 2006
---
---
New projects
Sun Mountain Fun Center, Bend, Oregon, U.S.A.
Ten years ago we conducted the feasibility study and developed the master plan for expansion of a stand-alone bowling center into an indoor-outdoor family entertainment center. The owners have retained us to undertake an audit of the center to evaluate its operation and make recommendations for upgrades and expansion. Website: www.sunmountainfun.com
Enclosed mall, Texas, U.S.A
White Hutchinson has been retained as design managers to oversee the renovation of a one-million-square-foot (93,000 sm) enclosed mall that will include adding an open-air lifestyle component. Work will include design and development of a children's edutainment center.
Al Ghariyan Resort, Qatar
We conducted an evaluation of this seaside family resort and recommended a redevelopment and expansion master plan program.
At-home mom's café, Philadelphia, Pennsylvania, U.S.A.
We are assisting a developer with site evaluation, feasibility and lease negotiations for an at-home moms café.
Family pizza buffet-entertainment center, Midwest, U.S.A.
Our company is conducting feasibility, concept development and preliminary plans for an 85,000-square-foot indoor, one-acre outdoor family pizza buffet-entertainment center that will be an entertainment anchor of a new 800,000-square-foot retail-tainment project.
Grand Targhee Resort, Alta, Wyoming, U.S.A.
We prepared renovated plans for the child care facility used by families visiting this summer and winter resort in the Teton Mountains. Work included new floor plans, children's furniture specifications, new flooring, new check-in area and acoustical treatments for the rooms. The child care center is located at the base of the Teton Mountains in a two-room log cabin used for children under the age of 5 during ski season and used for summer camps sponsored by the Grand Targhee Institute, which provides environmentally-based programs for local children during June, July and August. Grand Targhee Resort website: www.grandtarghee.com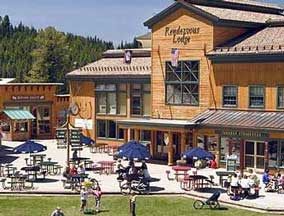 Vol. VI, No. 4, August/September 2006
---
---