Vol. VI, No. 4, August/September 2006
---
---
Thematic food
Any restaurant or eatertainment facility needs to offer some menu variety for regular repeat guests. Sometimes this is accomplished with daily or weekly specials or seasonal menus. The Souplantation/Sweet Tomatoes buffet restaurant chain uses a really smart approach to this issue: during the growing season, have a monthly theme based upon seasonal produce.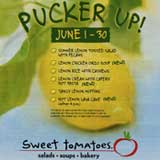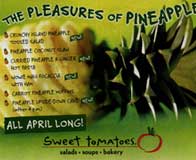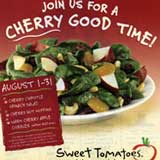 Highlighting the August Cherry Good Time menu was an all new cherry Chipotle spinach with cashews tossed salad, which combined fresh, vitamin-rich green spinach with juicy red apples, tangy Mandarin oranges, protein packed cashews, and of course, dried cherries. The salad was then tossed in a zesty, made-from-scratch cherry-Chipotle vinaigrette. Other cherry recipes included tangy, made-from-scratch cherry nut muffins, and after 4 p.m., delicious warm cherry apple cobbler.
Now that it's fall, they have switched to cultural themes. September's theme is Greek.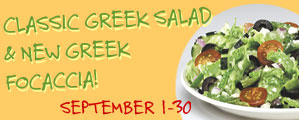 Vol. VI, No. 4, August/September 2006
---
---