Vol. VI, No. 2, April / May 2006
---
---
Foundations Entertainment University #9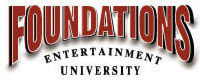 It's hard to believe. We've already held eight Foundation Entertainment Universities and #9 is coming up in Chicago April 25-27. During the past Foundations, we have helped hundreds of entrepreneurs, as well as existing location-based entertainment owners and managers learn the ropes of successfully developing and operating location-based entertainment facilities.
Our Chicago Foundations has proved to be the most popular. During Tuesday evening, attendees will have the option of touring either Enchanted Castle or Sugar Grove Family Fun Center.
"I am a business management major. I learned more in 3 days [at Foundations] than I have in 3 years. Foundations has given me everything I need, except money, to start my business. Thank you."

Mario Davis

"Just the networking paid for itself 5 times over, not to mention an enormous amount of information on the industry."

Darnell Daniels, FunCare Family Center
Don't miss out on this opportunity to attend the crème de la crème of educational seminars in the location-based entertainment industry and to learn from five of the world's most respected top professionals.
Learn more or register at www.foundationsuniversity.com. The registration fee increases $100 after April 9.

Vol. VI, No. 2, April / May 2006
---
---