Vol. VI, No. 1, Jan-Mar 2006
---
---
Chuck E. Cheese's winning strategy: good or bad for kids?
After the failed summer promotion, (see Chuck E. Cheese's article in the Aug.-Sept. '05 issue) the world's largest chain of children's fun emporiums has launched a new promotion, Every Kid's a Winner! Every kid that visits a Chuck E. Cheese's gets a peel-off card that wins him or her 5 to 20 free tokens.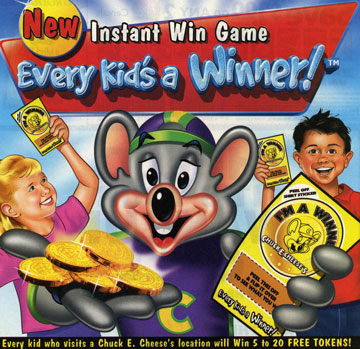 The odds of winning vary from 1 in 10 for 20 free tokens to 4 in 10 for 5 free tokens. Some 18 million game pieces will be distributed and must be redeemed by April 30, 2006. Only children 12 and younger are eligible to receive one free game piece per visit.
Sure, everyone likes to win. But is it really winning, or just a bribe, like the toys in kids' meals? Amazingly, the card has similarities to lottery scratch cards. Could this be children's introductory lesson to gambling? We're sure some parents out there will feel so.

Vol. VI, No. 1, Jan-Mar 2006
---
---