Vol. VI, No. 1, Jan-Mar 2006
---
---
Sega revamps GameWorks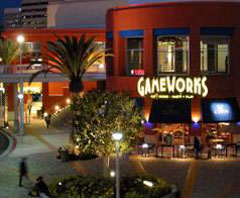 The big boys and girls don't necessarily get it right. Eight-year-old GameWorks is a great example of how throwing corporate money at a concept doesn't automatically assure its success.
The GameWorks brand was originally created in 1997 by Steven Spielberg as a cutting-edge video arcade. Spielberg's company DreamWorks SKG was partnered with Universal Studios and Sega.
Based on research instituted by its then new president in 2001, GameWorks concluded that one reason the facilities were performing poorly was GameWorks' failure to match the offering to the targeted market of young adults (back then it was functioning as a great teenage gameroom). Believing that a quality food and beverage component was also lacking, (all they had was a snack bar), they rolled out a new concept with greater appeal to young adults featuring a destination mid-scale restaurant.
Then in 2004, GameWorks filed for Chapter IX bankruptcy protection.
Well, here we are in 2006, and GameWorks is still struggling. So last November, Sega Entertainment USA, Inc., a new division of Japanese-based Sega Corp., completed a $10 million purchase of the 17-unit chain's assets from Universal Studios and DreamWorks as part of the strategic plan by Sega to expand its electronic-games business in the United States.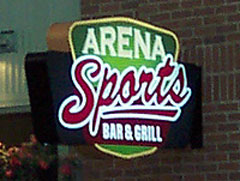 Sega has disclosed plans to revamp and expand the food service component of GameWorks. So far, GameWorks' food service as gone from the original in-arcade snack bar to GameWorks Grills, then to Jax Grills, and in some locations Hopscotch Grill, offering a broader menu and full bar with signature cocktails. Sega is now converting locations to a new concept, Arena Sports Bar & Grill. Their hope is to appeal to family-oriented sports fans with giant plasma televisions and sports-related video games. Some of the units are already converted. Sega Entertainment's U.S. division's senior vice president of sales and marketing, Clint Manny, said all the units will be converted to the Arena concept by the end of 2006. He said that Sega is also looking for locations to open stand-alone Arena Sports Bar & Grills, at the rate of three to five units a year. Manny also noted that between 14% and 18% of revenues come from group sales. Sega is planning to position GameWorks as a prime location for corporate office parties, bar mitzvahs and bachelor parties.
Video game-based venues have suffered in recent years due to the sophistication of home video game entertainment systems. The new, improved GameWorks will offer network game play, allowing guests to compete with other players located in any of the units. Manny says, "That will bring back the social aspect, and that's an element you can't find when you play at home. Now it's a social thing to go have lunch or go have a beer with friends and play these great games."
The new Sega Entertainment division may possibly introduce other eatertainment concepts to the U.S. that have been successful for Sega in Asia. Candidates range from the youth-oriented Sonic Town, which has food, to Bee, a pool and darts theme restaurant and bar targeting the nightclub crowd.
Additional reading:
Vol. VI, No. 1, Jan-Mar 2006
---
---