Vol. VI, No. 1, Jan-Mar 2006
---
---
Book quote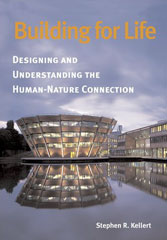 Sustainable design has made great strides in recent years; unfortunately, it still falls short of fully integrating nature into our built environment. Through a groundbreaking new paradigm of "restorative environmental design," award-winning author Stephen R. Kellert proposes a new design model of sustainability.
In his new book, Building For Life, Kellert examines the fundamental interconnectedness of people and nature and how the loss of this connection results in a diminished quality of life.
This thoughtful new work illustrates how architects and designers can use simple methods and design techniques to address our innate needs for contact with nature. These design techniques foster intellectual development, relaxation, and physical and emotional well-being. Ultimately, Kellert views our fractured relationship with nature as a design problem, rather than an unavoidable aspect of modern life. He proposes many practical and creative solutions for cultivating a more rewarding experience with nature in our built environment.
We are honored that Kellert cites one or our research papers, Young Children's Relationship with Nature: Its Importance to Children's Development and the Earth's Future, and a quote from it in his book.
This is the third major book that has cited our writings and projects. Just last year, another of our research articles was cited by Richard Louv in his book, Last Child in the Woods. In their groundbreaking book, The Experience Economy, published in 1999, Joseph Pine and James Gilmore used our Bamboola children's edutainment center as an example of a venue that stages edutainment experiences. Our work has also been cited in Time magazine, the Wall Street Journal and on the Food Network.
Vol. VI, No. 1, Jan-Mar 2006
---
---