Vol. VI, No. 1, Jan-Mar 2006
---
---
Stargate FEC
Dubai-based real estate development group Osus has announced the development of Stargate, a family entertainment center that will be located in the center of Dubai's Zabeel Park. Stargate will be developed by Osus in partnership with Dubai Municipality and plans to open in December with a mix of world-class education and wholesome family entertainment. Covering a total area of 260,000 square feet (24,155 sm), the multimillion dollar project will be built in the form of a spaceship.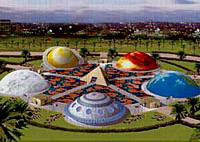 An artist's impression of the Stargate Family Edutainment Center.
The overall theme is centered on two animated characters called Ajeeb and Ghareeb, who captain a spaceship, code-named Stargate. Disoriented and lost, they ask the on-board computer to find the most dynamic location on the best planet in the whole galaxy and the computer directs the spaceship to Dubai, landing rather heavily in Zabeel Park, with half of the spaceship lodged underground. The adventures and antics of Ajeeb and Ghareeb will form the cornerstone of Stargate's marketing strategy, which will target both children and adults, but specifically children 4-14 years old.
The main attractions will be spread across five domes, each one offering a unique experience. Inside one dome will be the "D3D" hi-tech edutainment theatre offering laser shows, 2D immersive video, 3D shows, 3D interactive games and corporate events. Lunar Snow will lead children into a world beyond imagination where they can have fun with real snow all year round. In the Zero Gravity kids zone, kids can enjoy rock-wall climbing, roller-skating or the ultimate in soft indoor rides. There is also No Speed Limit, a high-speed electric go-karting and a head-spinning family rollercoaster appropriately called the Spinning Earth, along with the "9D Journey," 2D + 3D + 4D virtual rides in a row with one admission.

Other features include the Children's Academy, the Bermuda Triangle of hi-tech mazes and the fun-filled Leisure Triangle. Stargate will have a multi-cuisine food court under a glazed pyramid that will provide a natural ambience, both day and night. A combination of internationally recognized cafes and health bars will also be located throughout the complex.

Five corridors or wings of the spaceship will provide exhibition and retail spaces. The 500-meter Foot Coaster will be Dubai's first completely indoor jogging, walking and cycling track in a climate-controlled environment.

Another unique attraction of Stargate will be a train in the basement level that will run along the entire outer perimeter, stopping at each Dome. Stargate will also house the Space Mall, offering a complete shopping experience in a futuristic setting exclusively for children.
All staff members will wear spaceship-themed space uniforms, and for extra security and safety, children can obtain a 'locator device' worn as a watch or pendant. Parents can then locate their children via special terminals strategically positioned throughout the complex.

Faisal Bin Abdullah Al Khaldi, Osus CEO, said, "Stargate family edutainment center is designed to enhance healthy family bonds. This world-class project of unparalleled magnitude will herald the high-tech future of education fun and entertainment, or as we call it, edutainment."

Vol. VI, No. 1, Jan-Mar 2006
---
---