---
Reinventing bowling
The bowling industry isn't what it used to be and is undergoing a major transformation, at least those bowling establishments that are reinventing themselves for the 21st century market. Those establishments that aren't reinventing themselves are basically terminal and suffering a slow but certain death.
The lanes are still the same size. The bowling balls are basically the same, although there is always some entrepreneur out there tweaking bowling ball design so he can market the balls as better scoring, such a the latest fragrance bowling balls. (Yes, that's right, bowling balls with a fragrance.) The game is still scored the same. So what is the transformation all about? It's about the customers and how they have changed.
You see, not all that many years ago, 70% or more of a bowling center's (or back then, the term was bowling alley) customers were league bowlers who signed up to be there at the same time every week for 30-plus weeks straight. Bowling proprietors thought they had it made. In the late summer there was a big push to sign up the league bowlers, and then it was coasting from then through the next spring, with a steady stream of customers basically guaranteed. Keep the center sort of clean, the beer cold, the lanes properly oiled, the pinsetters in good condition and a steady flow of cash showed up every week.
And if you were a family or two couples who just wanted to have fun with a night of bowling (known in the bowling industry as the open-play customer), tough luck. You were a second-rate customer. Maybe after 9 PM there would be some lanes free for you to use. That is, of course, if you were willing to put up with the cigarette smoke.
Well, society has changed, and so has the bowling market. There are a lot less people interested in making a commitment to bowl in a league, whether it is for 32 weeks, or even 8 weeks (as the traditional league market started to wither, bowling center proprietors came up with variations on leagues to try hold onto their market). Making a multi-week commitment is now difficult - even downright impossible - for many people. The number of league bowlers has dropped from an all-time high of 9.7 million league and competitive bowlers in 1980 to 3.1 million in July 2004. The decline is expected to continue at a rate of 3% or more annually, even though the overall population is growing. Peoples' lifestyles have changed. There are a lot fewer shift workers with regular work schedules. Most women work, cutting into the day league business. Today, league bowlers make up less than half of many bowling centers' business, and the percentage continues to drop.
The number of bowling centers has declined with the number of league bowlers. Bowling centers peaked in the early 1960s when there were approximately 10,000 centers with 157,000 lanes. Today, there are about 6,200 centers with 120,000 lanes.
But while people don't want to commit for leagues, there are families, couples and singles still interested in going bowling to have fun together, given the right conditions. In fact, bowling continues to remain America's most popular form of indoor recreation and 55 million people 6 years and older bowled last year. You see, bowling is a perfect form of socialization. When people go out as a group, on a date or with friends, they want to do something other than sit and eat or stand around with a drink. One person bowls while the others watch and socialize. You can play competitively, or just for the fun of spending time together with your family or friends in a shared activity. And thanks to bumper bowling, (or as we call it, ricochet bowling) bowling is truly intergenerational. The 3-year-old, 14-year-old, parents and grandparents can all participate. Few other activities meet those requirements.
So the smart bowling proprietors, the ones in touch with the contemporary customer and market, are transforming their bowling alleys into entertainment centers to court the open-play customers and their dollars. In fact, some proprietors are even doing away with the word customer and recognizing their bowlers as guests, as well as eliminating the concept of the control counter (who ever really thought you could control the customer?) and calling it guest services. They no long look at every open-play guest that walks through the door as a possible convert to a league bowler, but rather as someone they need to continue to attract on a repeat basis with ambiance, a socializing environment, fun and food.
This transformation requires not only a realignment of the business' primary focus and culture from recruiting and serving leagues to attracting the general public, but also a physical transformation of the bowling center. In reality, in the last 50 years, the bowling environment has changed little, other than maybe brighter lighting, more contemporary décor, bumper bowling and cosmic (glow in the dark) effects. Now, a new generation of bowling proprietors is making changes to the basic bowling environment to attract the open-play crowd.
First to go is smoking. If you want to attract families and young adults, you need to be a smoke-free establishment. Next is making the facility more than a place for just bowling, by adding quality food and other attractions to make it a family or young adult dining, socialization and entertainment venue. Bowling is still important to the mix, but it is no longer the sole focus. Depending on who their open-play target market is, these new bowling centers are adding modern contemporary gamerooms with redemption and activities like upscale billiards, laser tag, miniature golf, rides, interactive play equipment, and destination food. Some are building from scratch, such as the Main Event chain in Texas with mega-centers of 60,000 square feet. These centers no longer even offer league bowling - they do the majority of their business with corporate and birthday parties. Other new facilities, some boutique-size, like Garage Bowl in Seattle, Washington, or the Lucky Strike chain, are offering the over-21 crowd nightlife ambience with plush furnishings, state-of-the-art multi-screen videos, expensive sound and light systems, D.J. booths and sophisticated and upscale foods (see Twentysomethings article about the food sophistication of young adults), along with their pins and lanes. Some even have private party rooms with dedicated lanes. These young adult venues are sometimes referred to as urban hipster bowling or bowling lounges - essentially, they are nightclubs with social bowling.
Many proprietors are remodeling their existing bowling centers, sometimes removing some lanes or expanding to target the family market during the day and early evening and the teenage and young adult market later into the evening. They are still offering leagues, but no longer are leagues their primary focus. In fact, they often don't accommodate leagues on Friday evenings and Saturdays to make room for their open-play market. These centers are adding destination dining, gamerooms and other attractions to become true multi-anchor family entertainment, or sometimes eatertainment, centers.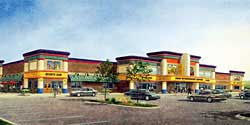 PinHeads is the name of the new family-oriented 56,000-square-foot bowling center scheduled to open in August in the Fishers area in Indianapolis, Indiana. The center will be smoke-free and include 40 lanes of bowling, games, a children's play area and a sports grill.
Our company has been active in the bowling industry from our very start in the location-based entertainment industry. Our first project was the design and reconstruction of a bowling center that burned to the ground in 1989 and reopened in 1990, winning many first place design awards. That is where we first learned how successful the concept of matching the product to the market could be: the center's business doubled after reopening, while nothing in the marketplace had changed. You can read about it at www.whitehutchinson.com/aboutus. During the past 16 years, we have continued to work with many bowling centers, assisting them with market repositioning and designs for remodeling and expansion.



Our company's first entertainment project was the design and reconstruction of Olathe Lanes East that burned to the ground in 1989. The new center featured Charlie's Diner with Kansas City's first trompe l'oeil (a realistic form of mural painting meaning 'trick of the eye') on the center's exterior (only the door and three of the windows are real, the rest is painted on the block).
We are currently working with a bowling chain that has very traditional bowling centers in the upper Midwest. The chain has seen its league bowling drop to below 50% of business and has decided the time has arrived to reposition itself for the future to attract the open-play market. We are evaluating the market area for each center to determine whether it is sufficient to support a family-oriented remodeled and expanded center, evaluating each property for remodel/expansion possibilities and developing recommendations for the overall concept and mix for each. One center is being evaluated for redevelopment as a family pizza buffet-entertainment center, with bowling being the primary entertainment activity.
It will probably be about a decade or more before bowling makes its full transformation. By then, the bowling centers that haven't remade themselves will be closed, and the new concepts will be thriving, probably resulting in an increase to bowling's overall participation rate.

---