Vol. IV, No. 11, November 2004
---
---
Cherry-Crest Farm
Our newest agritainment client is Cherry-Crest Farm in Rohn, Pennsylvania, located in the heart of Pennsylvania Dutch Country, just east of Lancaster. (See this issue's Old MacDonald Had a Booming Agritainment Business article for more on agritainment). INSERT CHERRY-CREST LOGO
Cherry-Crest Farm had its beginning in the late 1600s when the Ferree family immigrated to the United States. The original 1,000-acre family farm was subdivided a number of times among family members, with the existing 112-acre farm under the ownership of Cornelius Ferree, a well-known maker of Conestoga wagons. The farm became a stopover for early travelers heading west from Philadelphia to the Indian outpost in Carlisle, Pennsylvania. They would stop at the farm to have their wagons repaired and to replenish their supplies.
The existing Cherry-Crest stone farmhouse and barn were built in 1774 using limestone from the property.
Jack and Donna Coleman are the current owners of Cherry-Crest Farm. They purchased the farm in 1987. Up until 2003, it was primarily a dairy farm. However, the high cost of milk production and low wholesale price forced them to sell their dairy herd and switch their farm operations to raising dairy heifers and 250,000 chicken broilers a year for Tyson Foods.
The Colemans moved into agritainment (also called agri-tourism) to supplement their regular farm income in 1996 when they opened their first The Amazing Maize Maze. The first year's corn maze theme was a locomotive, in honor of the Strasburg Rail Road, America's oldest operating short-line railroad that runs right through the farm. The maze theme changes each year. This year's theme was "Giddy Up and Get Lost," featuring the Conestoga wagon.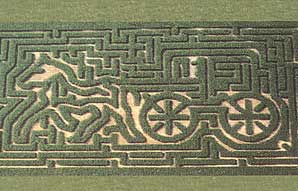 Over the past nine years, the agritainment area has grown not only to include a 5-acre maze, but many additional family attractions including a petting zoo, hayrides and farm tours, U-pick pumpkins and popcorn, a giant hay chute slide, pumpkin sling-shots, rope logic maze, straw bale logic maze, hay bale tunnel maze, peddle go-karts, gift shop and a concession area. The entire agritainment area now encompasses 10 acres. The operating season is July 3 until Halloween, Oct. 31.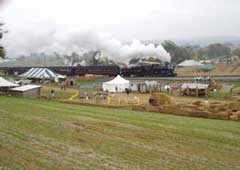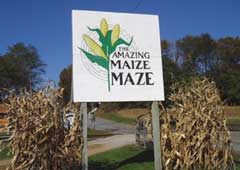 We will be working with Cherry-Crest Farm to develop a new master plan that expands the attractions, enhances per capita sales, and allows the owners to extend their season with a children's discovery play farm(sm) that can operate as an independent stand-alone attraction from spring into the fall. We will also be working on pricing issues, including food profitability.
Vol. IV, No. 11, November 2004
---
---