Vol. IV, No. 11, November 2004
---
---
Family Pizza Buffet/Entertainment Center Under Design
For several years our company has been working with a number of clients on perfecting a nascent type of eatertainment concept we call a family pizza buffet/entertainment center. We have been perfecting layout, entertainment mix, menus and food presentation among other things.
A family pizza buffet/entertainment center (FPBEC) features a one-price, all-you-can-eat buffet with pizza, pasta, salads and other foods combined with family entertainment. FPBECs target families with children age 12 and younger. What differentiates a FPBEC from a family entertainment center that also includes food is that you must pay for the buffet to enter the facility. There are currently about 30 such centers throughout the U.S. that vary in size from 20,000 to 70,000 square feet.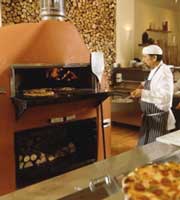 We have begun full design work on a 35,000-square-foot FPBEC that will be located in a southwest suburb of Milwaukee, Wisconsin. Earlier this year we completed the financial feasibility study and preliminary plans for our client. The FPBEC will have seating for about 450 in the buffet restaurant area in four themed dining rooms, one of which will be a Discovery Play Dining Room(sm), a unique concept we have developed to offer high appeal to parents and stay-at-home moms with preschool children. Unlike most existing FPBECs that cater to a more price-conscious market, this FPBEC will target upscale white-collar families.
We'll have more about this project and additional FPBECs we are working on in future issues.
Discovery Play Dining Room(sm) is a service mark of the White Hutchinson Leisure & Learning Group, Inc.

Vol. IV, No. 11, November 2004
---
---