Vol. IV, No. 8, August 2004
---
---
Kids' Menus Under Major Revision
The youngest diners cast big votes when their families are deciding where to eat. To gain a greater market share of the family with children market (see preceding story), restaurants have been undergoing a massive revision of their kids' menus. Many of the changes are being driven by a convergence of grownup restaurant menu trends toward healthier options that are now filtering down to children, who often mirror their parents' lead in their food preferences. Children today have been exposed to many flavors, and their taste preferences are much more diversified and sophisticated than the bland selections of yesterday. So kids' menus are becoming more ethnically diverse with a larger variety of choices.
In past issues, we have reported on the new kids' menus at a number of restaurant chains including Applebee's, Denny's, Ruby Tuesday, Red Lobster and Chili's. Here are some of the newest developments:
Wendy's is now offering the option of substituting either reduced fat (2%) white or low-fat (1%) chocolate milk and a mandarin fruit cup for soft drinks or French fries in Kids' Meals at no additional charge.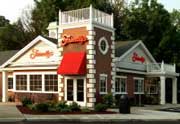 Friendly's Restaurants, which have twice been recognized as having the "Best Kids Menu in America," has created a new, two-sided kids' menu that offers complete meals - drink, entrée and dessert - specially tailored to two age groups. One side of the menu offers Big Kids' meals that cater to kids 8-12, a group often overlooked by traditional children's menus. The other side features meals designed for the younger crowd.
The new Friendly's kids' offerings include more healthy options, with kid-friendly side dishes such as applesauce, broccoli (many kids don't follow the lead of former President Bush Sr. and actually like broccoli), corn and mixed vegetables. Soup or salad can be added to any of the kids' meals for 99 cents. There are even healthier dessert options, including Friendly's new Carb Fabulous Vanilla Ice Cream and fat-free frozen yogurt.
And kids are not ignored on the breakfast menu. Two of the new offerings are tie-dyed pancakes and French toast sticks.
Friendly's new menu was tested for six months at 30 locations and more than 1,800 kids and parents were surveyed for their opinions. Larry Rusinko, Senior Vice President of Friendly's, said, "Kids and parents appreciated that portion sizes were appropriate for both bigger and smaller kids and that we had a greater variety of vegetables and salads." Friendly's is really smart when it comes to attracting families with children to its restaurants. That is why the company's 540 restaurants attract 10 million youngsters each year.
Gloria Jean's Gourmet Coffees, predominately a haunt for women in malls, has realized that a lot of customers are mothers with kids. The chain has introduced a new line of Arctic Koolerz as a soda alternative for kids aged 10 and under. "Rather than having moms come to us for their coffee and then have to go to the food court for something for the kids, we wanted to offer children something when they come in with mom," says Diane Hay-Hoag, vice president of marketing.
The Koolerz come in four flavors: Banana Bubble Blast, Smashin' Strawberry, Ragin' Red Melon and Purple Plunge. "Kids like brightly colored drinks and intense flavors, three times as much as adults," Hay-Hoag says. Gloria Jean's is currently working on the development of other drinks for older kids.
Vol. IV, No. 8, August 2004
---
---