Vol. IV, No. 8, August 2004
---
---
Pal's Sudden Service Drive-Through
On a recent trip through eastern Tennessee, we ran across a very unusual drive-through restaurant we can't resist sharing with you. The picture below is clearly worth more than a thousand words.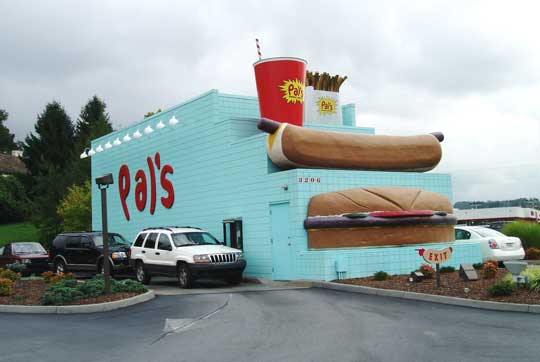 Every time we drove past this Pal's Sudden Service in Johnson City, Tennessee, the line of cars stretched completely around the building: you order at the window on the right and drive counter-clockwise around the back of the building to the pick-up window on the left. So we decided to see what we could learn about this architectural novelty, which is obviously a successful concept. What we found was fascinating, so we will share a capsule of it with you.
The inspiration for Pal's Sudden Service was a restaurant call 2-J's that Fred "Pal" Barger noticed when he was stationed in Austin, Texas, in the Air Force in 1952.
While at the National Restaurant Association Convention in Chicago in 1955 researching equipment for his first restaurant, Pal met two men who were opening a restaurant they thought sounded similar to what Pal was planning. They invited Pal to visit their restaurant, which was under construction in Des Plains, Illinois. The two men were Ray Kroc and Fred Turner, and the restaurant Pal visited was to become the first McDonald's.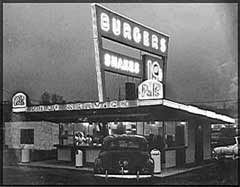 The first Pal's Sudden Service opened in 1956 in Kingsport, Tennessee. The original menu consisted of Sauceburgers, Frenchie Fries, milk shakes and Cokes. For service, you walked up to the front of the building, placed your order and then moved along the front counter to a pickup window.
The first Pal's drive-through-only restaurant was designed on the back of a napkin. Pal was having dinner with artists/designers Karen and Tony Barone when he explained his concept of a drive-through-only restaurant to them. Pal asked Tony's opinion of what the restaurant should look like. On the back of a napkin, Tony sketched a building design that is exactly how Pal's restaurants look today. The first Pal's drive-through opened in 1985 in Colonial Heights, Tennessee.
Besides its attention-getting architecture, Pal's holds the distinction of being the first and only restaurant company to win the Malcolm Baldrige National Quality Award from the U.S. Department of Commerce.
Pal's Sudden Service currently operates 17 restaurants throughout eastern Tennessee and southern West Virginia. The menu features hot dogs, hamburgers, Sauceburgers, chicken, chipped ham and toasted cheese sandwiches, milkshakes and beverages, as well as a breakfast menu. The most expensive item is a $3.44 Double Big Pal (hamburger) with cheese. Pal's famous iced tea is only 74¢.
Vol. IV, No. 8, August 2004
---
---