Vol. IV, No. 3, March 2004
---
---
Is this an Example of Egomania?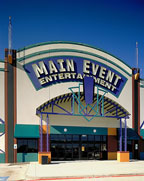 Frisco, Texas, a suburb north of Dallas, is about to become the home of two new family entertainment centers, located just 2 miles apart. One center is projected to cost $6 million and will have 43,000 square feet with 32 lanes of bowling, laser tag and a game room. The other, to be called The Fuse, will have 72,000 square feet with 32 lanes of bowling, indoor batting cages, 18 holes of indoor miniature golf and a gameroom at a cost $8 million. It appears that the development of at least one of the centers has been spurred by the success of the Main Event Entertainment Center in Plano, Texas, only 11 miles away.
We took a quick look at the Frisco market using the same special programs we use to conduct a preliminary market feasibility analysis. What we found did not indicate the Frisco market can support $14 million and 115,000 square feet of similar entertainment projects.
When representatives from the two projects were recently interviewed by both the Dallas Business Journal and the Dallas News, their comments were rather cavalier in response to their competition. One can only wonder whether this is an example of ego getting in the way of sound business judgment. Feel lucky it's not your money on the line for one of these projects. As for their futures, time will tell.

Vol. IV, No. 3, March 2004
---
---