Vol. IV, No. 3, March 2004
---
---
Foundations Entertainment University Gets Glowing Endorsement
This recently arrived unsolicited in our e-mail.
"I just received your newsletter in which you quoted some comments from attendees at Stone Mountain [Foundations Entertainment University in February]. I had intended to respond also, and welcome your use of my comments regarding the seminar if you so desire.
"Having had a long career and retired as a Senior Executive from the world's largest company, Wal*Mart Stores, I could be deemed as someone who might consider it rather simple to open a family entertainment facility. With a proposed venture of this type in the works, I attended my first IAAPA show in Orlando recently, and quickly realized this was a specialty industry requiring expertise with which I was unfamiliar. I was a bit skeptical when invited to attend the Foundations Entertainment University by one of your presenters.
"Having attended the seminar, I must say that anyone considering a family entertainment venture without attending one of your presentations would be foolish. The frank and open dialogue, sharing of printed information and diversity of presenters all resulted in an unusually valuable experience for me. Your presenter's experience and various areas of expertise confirmed some of my decisions and/or pointed out mistakes I was about to make. Thank you for a very worthwhile experience."
Ron Loveless
XPO Mall and Integrity Marketing
Rogers, Arkansas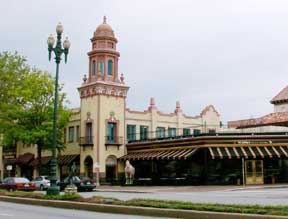 Foundations Entertainment University will be held on the Country Club Plaza,
Kansas City's premier entertainment, dining and shopping district.
The next Foundations Entertainment University will be held April 20-22 in Kansas City, Missouri. Learn more and register at www.FoundationsUniversity.com.
The April Foundations will include a number of new additions:
Alan Fluke will explain the "Building Blocks of Management," a step-by-step process for setting up your center's management to deliver exceptional guest experiences and profitability. This will be a participatory session where everyone will be involved in setting up management processes for one aspect of a hypothetical center.

Tuesday evening there will be a special tour of Paradise Park, Family Fun & Adventure

Wednesday evening there will be a number of special optional sessions:


A tour of Advanced Laser Tag, one of the nation's newest laser tag arenas.
A two-hour, in-depth presentation on children's edutainment and enrichment centers by Randy White. Randy is no longer presenting a seminar on children's edutainment at FunExpo. If you are interested in this fast-growing segment of the industry, Foundations is now the only educational program where you will learn about it (the Tuesday tour at Paradise Park includes the children's edutainment center in that facility).
A one-on-one sit-down with Peter Olesen, the world's leading go-kart, miniature golf and bumper boat designer, to review your fun center business plan and design.
Meet one-on-one with Frank Seninsky (Frank the Crank) to review your plans, including your gameroom layout.
Have a private session with Jerry Merola to review your business projections.
Meet one-on-one with Alan Fluke to discuss your management structure, policies and procedures and other operational plans.
Vol. IV, No. 3, March 2004
---
---