Vol. IV, No. 3, March 2004
---
---
Ruby Tuesday Leads the Industry & the Panache Factor
The Ruby Tuesday chain that operates 700 restaurants nationwide was one of the first to offer a wide menu of health and diet conscious offerings. (see our article, It's the Personality that Counts, in this issue)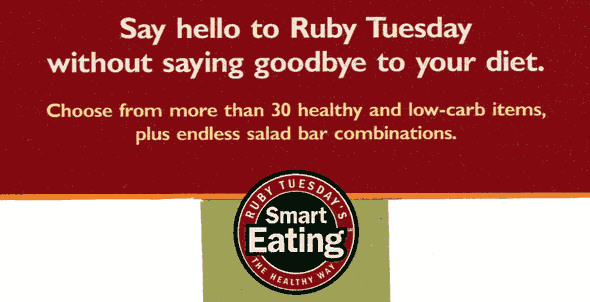 By next month, the company will expand their current 30 Smart Eating choices with even more lower-fat, lower-calorie, lower-carb and healthy items. And it will be the first national casual dining restaurant chain to provide comprehensive nutritional information on all food items on its main menu. Ruby Tuesday will provide the information in a Smart Eating Guide that is a supplement to the company's main menu and will remain on the table throughout the meal. It will have information about total calories, total grams of fat, net grams of carbohydrates and total grams of dietary fiber, as well as information about healthy eating. (Learn more at www.rubytuesday.com/SE).
The Obesity in America Study published recently by Restaurants & Institutions found that 67% of women (the key family decision-makers) want restaurants to post nutrition information about foods served. And 77% of all respondents to the survey said they think it should be published on the menu, while 85% of the respondents said restaurants and schools have a great deal of responsibility for serving nutritionally balanced foods. And 95% believe the food they cook in their own kitchens is better than what they get in restaurants (that sure doesn't bode well for away-from-home dining in an increasingly healthy conscious society).
Ann Katz, MD, a national health and wellness expert on healthier lifestyle and dietary habits, says, "People dine at restaurants for many different reasons. For many, a visit to a restaurant marks a special occasion where they want to order something they don't typically eat. For others, restaurant eating is a routine part of their lifestyle, something they do many times a week. This information will let them match what they order to their lifestyle."
Ruby Tuesday is smart, very smart. The company recognizes, as does Starbucks, that America, as well as many other parts of the world, is becoming a land of ultra-selective eaters - gimme-a-world-of-choices-so-I-can-customize-my-diet and gimme-the-information-to-do-it. Some say this is a trend of "rejection of mass society," a trend of "people wanting to feel special."
The National Restaurant Association says that 70% of diners customized their orders in 2003. NRA has defined a term for consumers' exorbitantly sophisticated palette: the panache factor. Just take a look at Starbucks. It has more than 19,000 ways it can serve a cup of coffee and five kinds of milk to stir into it: whole, non-fat, half&half, organic and soy.
Pam Murtaugh, a brand consultant, says, "We're ever-pickier eaters as a way to get some control over what's happening to us." Saying "Hold the foam," "Hold the bread," or "Hold the mayo," gives consumers a powerful sense of control. "We define ourselves by our pop-culture tastes," says Larry Samuel, author of The Ten Commandments. "What you eat is now a measure of your hipness." (see It's the Personality that Counts article in this issue for more on this).
What Consumer's Are Worried About When They Dine Out
| Component | % Concerned |
| --- | --- |
| Total fat | 66% |
| Saturated fat | 64% |
| Calories | 61% |
| Sugar | 58% |
| Carbohydrates | 55% |
Source: Study of 1,600 consumers by Technomic
Give-it-to-me-my-way is the consumer perspective on a concept known as mass customization. Mass customization is basically the personalization of products and services for individual customers at a mass production price. Dell computers are just one example. The concept was first conceived by Stan Davis in Future Perfect and then refined further by Joseph Pine in both a 1993 Harvard Business Review article, Making Mass Customization Work and the 1993 book Mass Customization - The New Frontier in Business Competition. Pine further expanded the concept in his 2000 book with James Gilmore, Markets of One - Creating Customer-Unique Value through Mass Customization.
Mass customization is a new paradigm in business design and strategy, as it moves away from product-driven mass production and toward satisfying individual customer needs and wants with variety and customization.
We continue to wait for the location-based-entertainment industry to GET IT with where consumers are today in their away-from-home dining preferences and give-it-to-them-the-way-they-want it. LBEs' failure to meet the consumers' food and diet preferences and choices will only result in an erosion of market share, and in some cases, fatal roadkill.
Vol. IV, No. 3, March 2004
---
---