Vol. III, No. 10, November 2003
---
---
Editor's Corner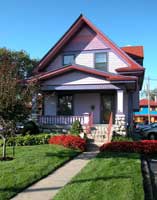 On Oct. 30 we moved from our almost 10-year stay at an office location in Westport in Kansas City, MO, to our new office, just four blocks away. Our new home is a two-story house built in the 1920s. The architectural style is Greene & Greene, named after two West Coast architects (yes, you guessed it, both named Greene) who developed a style that was a bit of a rebellion against Victorian architecture so prominent during the late 1800s and early 1900s.
It's amazing how much stuff you can accumulate in almost 10 years. It's also amazing how practical you can get in eliminating the stuff when faced with the choice of packing and unpacking it versus tossing it. I'm sure I hauled at least a ton of discards to the dumpster. Even then, it still took six movers, two moving vans and 10 hours to complete the move.
The move went smoothly, the phones and DSL lines worked (although it took SBC two days to get our fax line to work), and we're back in business. Our new mailing address is:
4036 Baltimore Avenue
Kansas City, MO 64111 USA
Our phone, fax and e-mail remain the same.
This marks the first eNewsletter distributed through a new e-mail service, Mailermailer.com. Our number of subscribers outgrew the e-mail distribution capabilities of our Web hosting service. We hope Mailermailer will solve some problems we've had sending out partial HTML eNewsletters.
It's been a hectic month or so, not just with the move, but also with work and extensive travel for projects. Nevertheless, I found time to write about several topics of interest to anyone starting, operating or working in a destination entertainment facility: an article on the mega-trend of healthy restaurant food (part of our continuing coverage of food service) and an article on the root cause of industry roadkill and poorly performing projects. And if you've always dreamed of being a family entertainment center owner, but it's been beyond your means, we'll tell you how your $50 investment will buy a piece of a very successful FEC chain. Read on...

Vol. III, No. 10, November 2003
---
---