Vol. XIX, No. 7, August 2019
---
---
Cathedral-tainment
We have written about how e-commerce is causing a continuing decline of brick-and-mortar retail and how landlords are adding entertainment to not only fill vacant stores, but more importantly to drive traffic due to the loss of anchor stores, including department stores. In July we published our most recent white paper on this, Can Entertainment Save Malls and Shopping Centers?. Then in last month's issue in our article What's new with community leisure venues?, we featured two churches that have added entertainment facilities for use by both their members and the greater public.
Well, it appears that not only malls and shopping centers are losing their footfall. The Church of England in the U.K. is experiencing falling membership and attendance. Members have dropping from 31% of all Brits in 2002 to only 14% in 2018. And regular Sunday attendance at Anglican churches has declined by 15% between 2007 and 2017.
As a result, rather than add on entertainment venues, some of the U.K.'s churches have gone to the extreme of bringing entertainment into the very interior of their historic cathedrals.
The Norwich Cathedral in the east of England has installed a colorful 55-foot-tall slide named helter skelter. For 2 pounds (about $2.40), people can climb to the top and slide down, hopefully also admiring the church.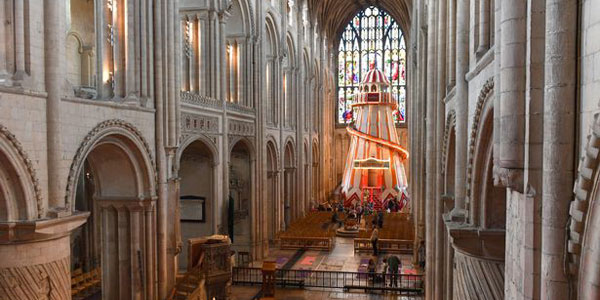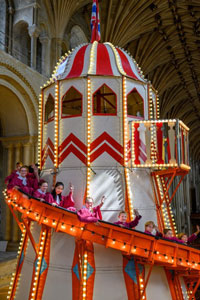 The 55-foot-tall helter skelter slide at the Norwich Cathedral
The Rev. Canon Andy Bryant, Norwich Cathedral's canon for mission, said it offered visitors a new perspective on the ornate ceilings and more generally on the faith. "This is a deliberate attempt to help people engage with our cathedral," he said. "There is this idea that the helter skelter makes it all brash and noisy, but people are going on to see the cathedral in all of its glory."
Over at Rochester Cathedral in southeastern England, you can play crazy miniature golf in the church's medieval nave. The nine-hole course has a bridge theme which is intended to spark conversations about spiritual bridge-building.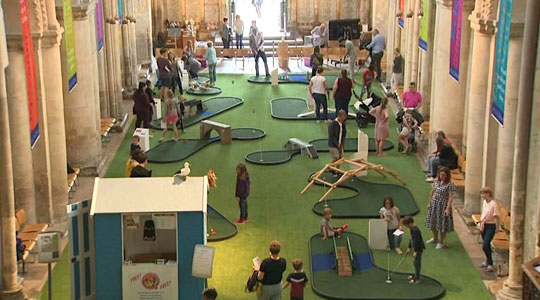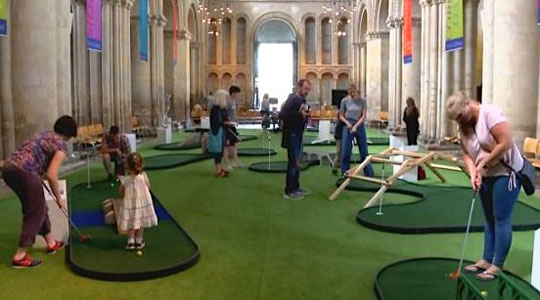 Miniature golf in Rochester Cathedral in England
We're not totally sure what to call this new and unique use of participatory entertainment - perhaps 'cathedral-tainment,' or perhaps 'spiritual entertainment'? Regardless, they just continue to add to the overcrowded out-of-home leisure/entertainment landscape.
Vol. XIX, No. 7, August 2019
---
---