Vol. XIX, No. 7, August 2019
---
---
Is the obsession with beer justified?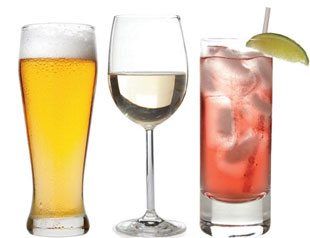 There is a beer obsession across America based upon all the restaurants selling wide selections of draft beers and the expanding number of craft and microbreweries, taproom breweries, brewpubs and beer halls. Yes, 38% of Americans who drink say they drink beer most often. But that doesn't mean everyone who drinks alcohol prefers beer. In fact, there is a large segment of the population that don't - women. Whereas 55% of men drink beer most often, only 21% of women do. Women's preferred drink is wine at 45%.
| | Drink beer most often | Drink wine most often |
| --- | --- | --- |
| Men | 55% | 15% |
| Women | 21% | 45% |
For adults age 18-34, 41% prefer beer, but coming in a very close second is liquor at 39%. With older adults, the preference for beer and liquor declines while the preference for wine increases to 44% for age 55 and older.
The preference for beer and liquor declines with higher education levels while the preference for wine increases.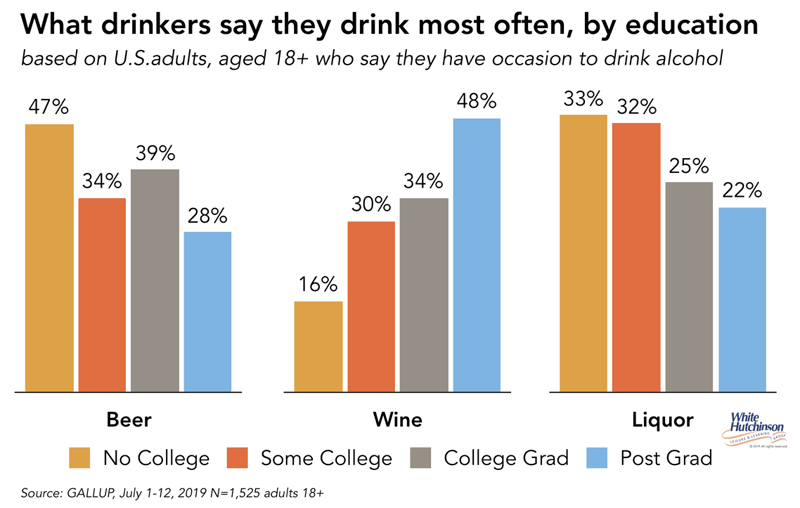 The same shift in preferences is true as income increases.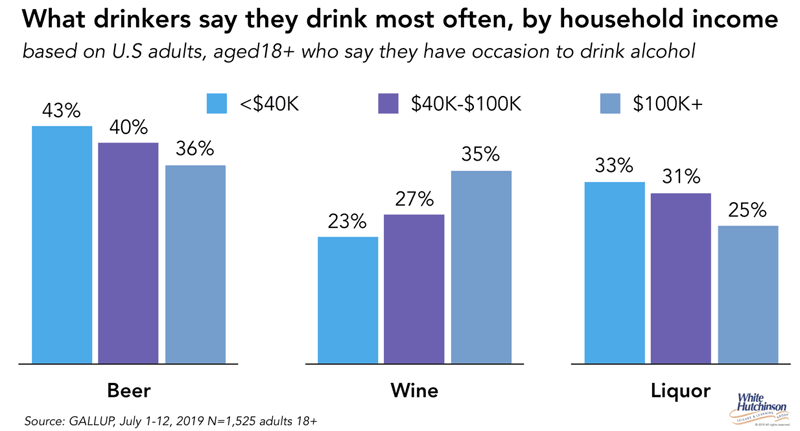 What all this means is that any community leisure venue (CLV), which includes not only sit-down restaurants as well as entertainment, and especially eatertainment venues, that overly focusing on beer misses out on pleasing a large segment of the population, especially women and higher socioeconomic adults.
Too many CLVs seem to think that the answer to pleasing drinking guests is to offer a broad selection of draft and bottle beers, while their wine selection is dismal. For CVLs that only have a beer and wine liquor license, a broad quality selection of wine by the glass becomes even more important as twice as many women prefer wine over beer. And since higher socioeconomic households account for the lions' share of all spending at CLVs (it's 71% of all CLV spending by bachelor+ households), offering a wine selection on par with the beer selection is just as important to repeat business and success, as that target market are the sweet spot guests for CLVs.
Although the July 2019 survey results did not examine the preference for low-alcohol drinks (low ABV), it is a fast-emerging trend, especially amount younger adults. The trend is sometimes referred to as the "sobriety shift." As well as offering a balanced well-rounded selection of beer and wine, today it is important to offer low-alcohol selections as well. And if liquor is part of the offering, then non-alcoholic (NA) cocktails and similar craft drinks also need to be offered for the non-alcoholic crowd. It is important to offer these type no-ABV drinks to satisfy both non-alcoholic drinkers as well as mindful drinkers on a sobriety shift.
Additional reading:
Vol. XIX, No. 7, August 2019
---
---