Vol. XIX, No. 7, August 2019
---
---
Review of Bar K - a multispecies social eatertainment venue by Linda Beckring
by Linda Beckring
We've given Linda in our office the tough job of visiting and reviewing all the new, different and unique out-of-home entertainment and leisure venues popping up in our hometown of Kansas City, all of which are now competing and taking market share from legacy model location-based entertainment venues, such as FECs. In our last issue, she reported on her art-inspired mini golf and picnic experience at the Nelson Atkins Art Museum. Here's her take on Bar K.
So, I have a confession to make, I love my dog. Having the opportunity to make her happy is one of the more fulfilling ways that I can spend my leisure time. And apparently, I am not the only one who feels that way as the rise in popularity of dog-centric leisure activities can attest.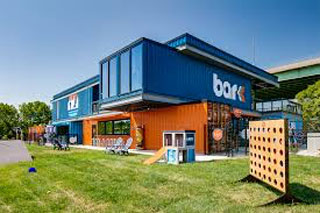 In our hometown of Kansas City one of the newest eatertainment venues in the metro is a dog-centric facility cleverly named Bar K and it has been enjoying great success. In the year since opening it has brought 140,000 people (and 100,000 dogs) to the riverfront area. According to Mariah Shields with Port Authority of Kansas City, drawing that kind of impressive foot traffic into the first stages of the redevelopment of the riverfront is boosting momentum for the entire area. "Every developer we talk to, they talked about Bar K," Shields said. "It's just been an incredible boom for the amount of people coming to the riverfront." Its amazing success is helping to turn around an area of the city. It also won Pets+ 2019 Coolest Stores award.
So, what is Bar K? In essence Bar K is a 2-acre off-leash dog park, yet it is also a restaurant, a bar, a coffeehouse, an entertainment venue and a conference and meeting space. And even that doesn't begin to describe it. In order to get a better understanding of what Bar K is all about, I grabbed my dog and my husband and headed out there myself.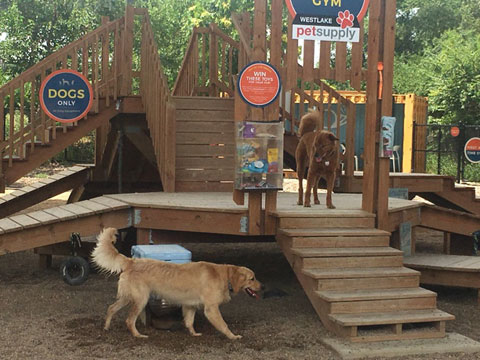 Arriving at Bar K, the first step is registration. If you are bringing your dog, and why wouldn't you, you need to give them some basic information and sign a waiver. Admissions for dogs is $10. Human admission is free. The facility is essentially divided into 3 types of sections: interior areas labelled "Humans Only" where you can eat and drink without your dog (if you are wondering what to do with your dog while your inside we'll get to that), an exterior two-story patio that offers food and drink and allows dogs on leashes, and an off-leash area where your dog can roam free and although you cannot bring food into this area, you can bring a beverage.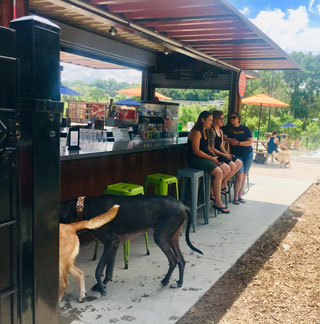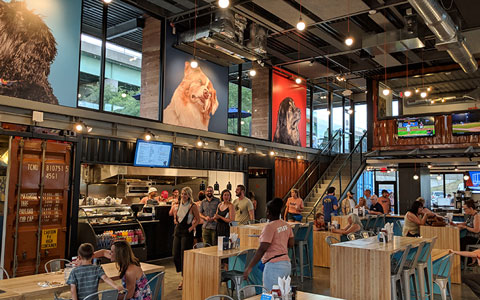 Where Bar K truly outshines any other dog-friendly restaurant or dog park is in the details. Most dog parks I have visited have a secure double gate system and a separate dog park for small dogs, but Bar K also includes a vodka bottle-shaped wading pool, a giant dog bowl filled with tennis balls and ample water stations. And speaking of drinking, did I mention there is a BAR IN THE DOG PARK. That's right in addition to the many other seating areas complete with social games like Connect 4, there is a nice-sized bar within the dog park area where you can sit, enjoy a cocktail and watch your dog frolic with his friends.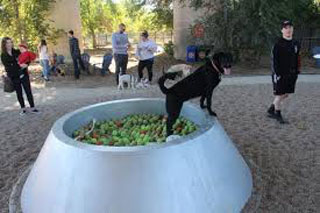 My personal pet peeve at other dog parks are the inattentive owners, chatting with their friends or glued to their phones while their dogs run wild. This isn't a problem at Bar K. Throughout the dog park are dog attendants charmingly called "Dogtenders" who watch the dogs and keep them out of trouble. While you can spend as much time as you want in the dog park with your dog, and with the in-park bar it is tempting to do so, you can also go inside to watch the game or enjoy a meal knowing your dog is safe and happy outside.
So, let's talk food for a minute. If you are a regular reader of this eNewsletter you have heard White Hutchinson talk about the continually rising bar in terms of quality food at entertainment venues. Therefore, it should come as no surprise that the food here is very good. On my visit I had their grilled cheese with a delicious side salad featuring bleu cheese, egg, avocado and a smoked tomato vinaigrette, while my husband enjoyed their loaded chips, smothered in ale cheddar, pickled chilies, tomatoes and scallions (we're both vegetarians). Other items included a tuna poke bowl, a quinoa salad and chicken and waffles as well as bar staples such as a blended burger, pretzel sticks and a buffalo chicken wrap. There were several dairy-free, gluten-free and/or vegetarian options. There is also an extensive beer, wine and cocktail menu. You can check out their entire menu here
But remember humans are only half of the customer base, so naturally there is a dog menu as well. Your four-legged friend can dine on chicken risotto, beef stew or turkey and sweet potato meatballs (a favorite with my pup), and if they save room for dessert there is locally made ice cream or two types of cookies to choose from. And if you just can't choose, how about a dog flight - a selection of any three items from the dog menu? They even have (non-alcoholic) dog beer!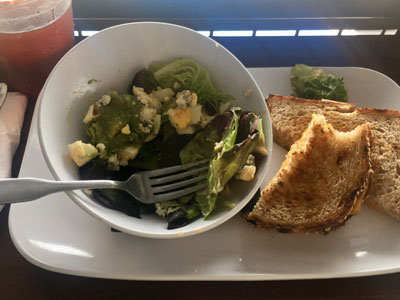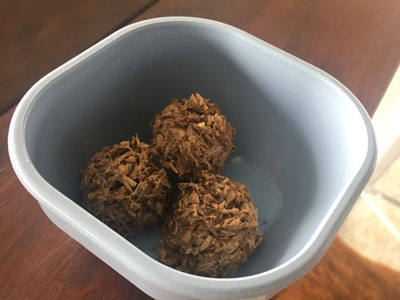 Grilled Cheese & Salad from the Human Menu and Cookies from the Dog Menu
On our visit we ate a nice meal on the patio with my dog, Goose, and then spent about an hour sitting in the shade and watching her and the other dogs play in the off-leash dog park, but there are many other amenities you can take advantage of if you choose. There is an on-site groomer and an extensive calendar of events including everything from live music, pet massages and training classes. They serve brunch on Sundays, have trivia nights on Tuesday and have "yappy hour" weekdays from 4-6pm. And if you are looking for a unique place to host a work meeting, bachelorette party or your dog's next birthday bash, there is meeting space for rent as well.
While a completely unique venue, it still hit all the basic qualifications of good food, excellent service and a fantastic opportunity for socialization both in two-legged and four-legged forms. I am not surprised by the buzz Bar K has caused and I think it is an excellent example of the type thoughtful, high-quality and niche-focused form of eatertainment venue that can thrive when so many other venues are struggling to survive. You have to always be looking forward to staying ahead of the pack, after all….it's a dog eat dog world!
Vol. XIX, No. 7, August 2019
---
---