Vol. XV, No. 10, December 2015
---
---
Editor's travelogue - Bogotá, Colombia
Earlier this month I visited Bogotá, Colombia to begin work on feasibility and concept development for a new eatertainment project there. I was very surprised by what I found.
The years of violence and instability caused by paramilitaries, armed rebels and drug cartels are (largely) a thing of the past in Colombia, with the country focused on bringing a final peace to the decades of conflict with the Fuerzas Armadas Revolucionarias de Colombia (FARC; Revolutionary Armed Forces of Colombia) rebels, which still unfortunately define the country to many people.

In the mid-1990s, Bogotá was considered one of the most violent cities in the world. That has all changed for the better. Today Bogotá is considered safe and secure. I felt completely safe walking the streets in the nicer areas of town. Of course, as in any large city, you need to be street smart and know where the safe and not so safe areas of the city are. Colombia was listed among Forbes magazines 10 coolest places to visit in 2015.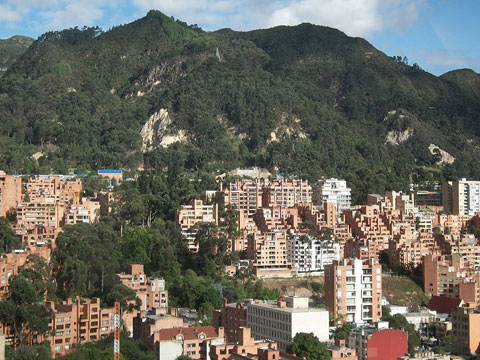 Bogotá is quite large. Its metropolitan area has a 2015 population estimated at over 13 million. It is the fastest growing major city in Latin America and is expected to grow to around 25 million residents by 2040.
The city is very cosmopolitan. With the exception of the Spanish language and signage, you would not necessarily know you are in a Latin American city unless you went to some of the older parts of the city. Almost all the residential buildings are constructed of brick. That reminded me of cities in the U.S. northeast.
The city is bordered on the east by hills, with mid-rise residential buildings built as high up the hills as possible.
It is also a very pedestrian-, bike- and public transportation-friendly city with dedicated bike paths and decided bus lanes and roads for the integrated citywide private bus system.

One thing that surprised me was that the city is at an 8,660 feet (2,640 meters) elevation above sea level. That's almost 1 and 2/3 miles high. However, the weather is not what you might expect high up in the mountains. Over the course of a year, the temperature typically varies from 44°F to 67°F and is rarely below 36°F or above 71°F. The warm season lasts from late December to late March with an average daily high temperature above 66°F. The hottest day of the year is February 7, with an average high of 67°F and low of 45°F. The cold season lasts from late June to late August with an average daily high temperature below 65°F. The coldest day of the year is January 5, with an average low of 44°F and high of 66°F.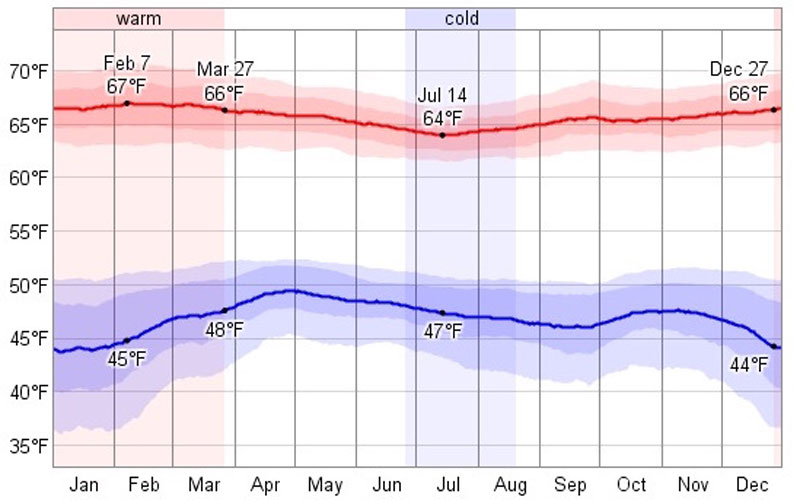 Daily high and low temperature in Bogotá
Over three days there I visited eleven malls, two restaurant districts and just about every FEC, bowling, children's entertainment and eatertainment center there. Chuck E. Cheese's is now franchising internationally. I visited the first one in Columba that had just opened on the 4th level of Atlantis Plaza Mall in the urban Zona Rosa district. It was similar to American CECs, except this one didn't have the open birthday party area, but rather two private birthday party rooms.
Our client took me to lunch at a very unique restaurant, what you might call an eatertainment venue on steroids, Andrés DC .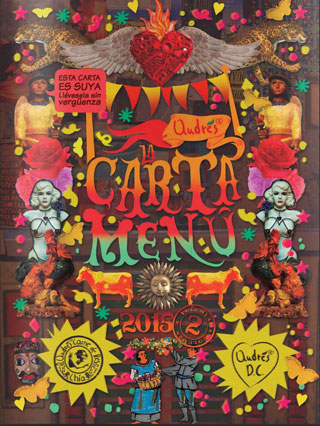 This extremely well known and popular eatery in the heart of Bogotá covers four stories and is open for lunch and dinner seven days a week. It is rambunctious and rowdy, and every staff member from the dishwasher to the general manager is an entertainer. The best way to describe Andrés DC may be as a restaurant disguised as a circus…or perhaps, maybe a circus disguised as a restaurant.
The décor is an eclectic mix, something like steam-punk meets Ringling Brothers, and even though the restaurant is towering and gigantic—a truly huge venue, it fills up quickly and consistently, so reservations are necessary at all but the slowest times. The restaurant is so big that after the first floor entry, there are elevators with operators who take you up to your assigned floor. It is loud, rambunctious, and rowdy, the ultimate eatertainment experience.
Most restaurants try to keep menus limited and simple. Andrés DC breaks the rule; the menu is a whopping 32 pages and offers more than 800 options. That's far larger than even Cheesecake Factory's.


Andrés DC in the urban Zona Rosa district of Bogotá
Andrés has an even larger and more sprawling facility named Andrés Carne de Res, its original, about a 40-minute drive outside of Bogotá in the town of Chia. That location encompasses 11 dining areas, two dance floors, more than five kitchens, and a climbing wall.
Hopefully I'll be able to share more with you about Bogotá and the project there in a future issue. Right now details about the project are confidential.
Current projects
Besides our Bogotá project, we are quite busy with projects. Our active projects include:
Wishing you a joyous holiday season and prosperous New Year.

Vol. XV, No. 10, December 2015
---
---