Vol. XIII, No. 7, September 2013
---
---
Bocce, the horseshoes for hipsters
Bocce is a game that is credited to have been invented by the Romans. The game's primary objective of trying to get big balls as near as possible a small ball hasn't changed over the centuries.
During an uptick in popularity in the late 16th Century, the Catholic Church banned priests from playing bocce after deciding it was a gateway pastime to gambling.
In the early 1900s, Italians from the northern end of the peninsula in the area around Liguria immigrated to America and brought the game of bocce with them. Children and women were not allowed to play, as bocce was a way for the men to get away from the wife and kids and gave them a place where they could drink, smoke, cuss and gamble. Since then the stereotype has been that it is a game for old, Italian men.
In recent years all that has changed. What was once a game for old men has now become a game for younger people and that includes the women. Why? Because the game fits the times as being social, fun and easy for anyone to play. While women don't feel comfortable playing traditional bar games such as darts and pool because they think they won't be as good at it as the men, with bocce, that is never an issue. The game is simple enough for the athletically challenged to understand and succeed at.
Bocce is popping up in backyards, in bars and restaurants and in some unusual places such as a seven-night bocce cruise through the Caribbean called Bocce at Sea. High schools across the country have begun to offer bocce as a varsity sport that disabled students can letter in. In Maryland, 68 schools now field 100 bocce teams.
The D.C. area is currently at the forefront of the game's domestic growth. DC Bocce, a for-profit league now has over 2,500 players with an average age of 29 (it's no longer an old man's sport). Vendetta, a food/drink/bocce establishment was the first to open in the H Street Corridor. A number of other combination bocce-bars and bocce-restaurants have since opened in the D.C. area. The country's first publicly-funded bocce courts are being installed just across the river in Arlington, Virginia in a small park.
Bocce restaurants first appeared in California with Campo di Bocce with two locations in Livermore and Los Gatos. Since then several more establishments have opened in California. Bocce bars and restaurants can now also be found in New York City, Cleveland, the Detroit area, Atlanta, New Hampshire, Ohio, St. Louis and Seattle.
Pinstripes, a chain of restaurant-bar-bocce-bowling facilities got its start in 2007. It features both indoor and outdoor bocce courts. It has now expanded to four locations in the Minneapolis and Chicago areas with two more under development in Georgetown, D.C. and Kansas City.
Why is bocce's popularity growing? It's rather simple. It's a very approachable social game and allows you to hold a ball in one hand and a drink in the other. That's what makes it such a great game with young adults.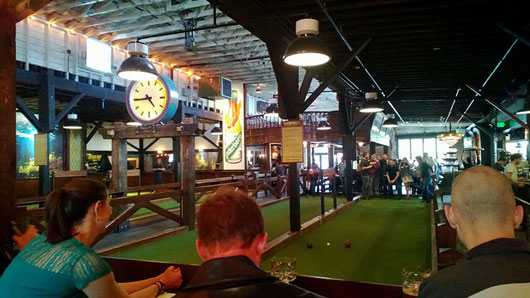 Indoor bocce ball at Von Trapp's in Seattle, WA.
Vol. XIII, No. 7, September 2013
---
---