Vol. XIII, No. 7, September 2013
---
---
Wine about to overtake beer in popularity
Over the past 20 years the popularity of beer has been on the decline as the popularity of wine has been growing. Today, Americans who drink alcohol (60% based on the latest July Gallup poll) are about equally likely to say they most often drink wine (35%) as beer (36%).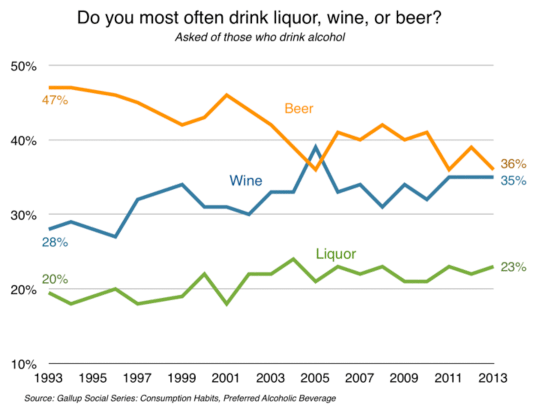 This trend is corroborated by changes in annual per capita beer and wine consumption by adults. Since 2006, per capita beer consumption is down by 6% while per capita wine consumption has increased by one-sixth (16%).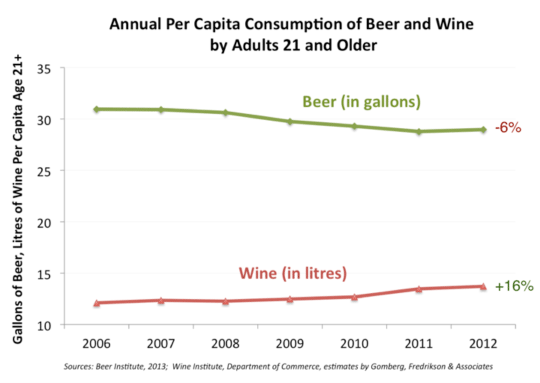 Overall, annual per capita wine consumption in America has been on the increase from 16 liters per adult in 2006 to 18 liters in 2012, whereas adult per capita beer consumption has declined from 31 gallons to 29 gallons (that's 297 12oz beers a year, slightly less than an average of a bottle a day per adult).
There is considerable variation of alcohol preference by age. The young prefer beer and, to a lesser extent, liquor while older adults prefer wine.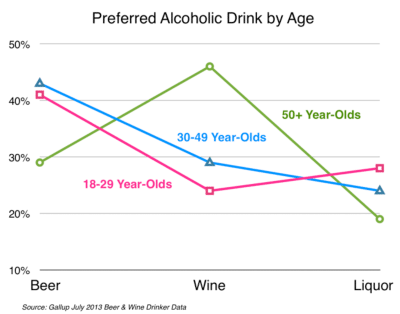 There is a definite gender divide for the preferred alcoholic beverage. Women prefer wine while men prefer beer. Since the early 1990s, men's preference for beer has declined by eleven percent points, with their shift going equally to wine and liquor. The number of women preferring beer has declined by nine percentage points since the early 1990s with an offsetting increase of nine percentage points in their preference for wine.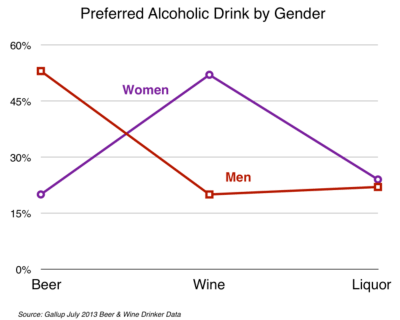 Americans who drink generally do so on a semi-frequent basis; 35% report having a drink within the last 24 hours, 29% within the past week and 35% over one week ago. The frequency of drinking is now higher than it was in the 1990s. The mean number of drinks has also increase for those that drink alcohol within the past 7 days, from 2.8 drinks a week in 1996 to 3.8 drinks in 2013.
The percentage of adults drinking alcohol increases with socioeconomic status. According to a 2011 survey by the CDC National Center for Health Statistics, the percentage of households with $100,000+ incomes that drink is 40% higher than for households with incomes below $35,000.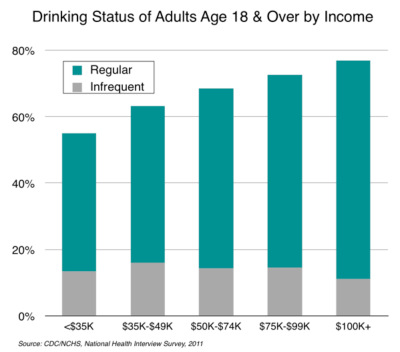 That same survey found that a greater percentage of young adults drink alcohol than older adults.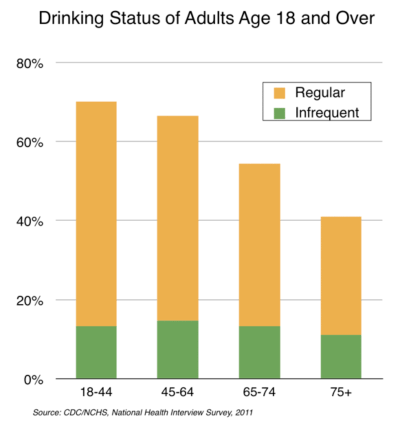 What all this boils down to is rather simple. If you offer alcohol at your entertainment venue, don't overlook wine and consider it secondary to beer. Just having a generic red, white and pink wine selection no longer cuts it. More and more Americans prefer wine and their wine drinking sophistication is growing. They expect a reasonably wide selection of wine by both the glass and bottle.
While for years we've had restaurants offering a wide variety of beers, perhaps Yard House being one of the best known with 130 beers on tap, we are now seeing restaurants such as Cooper's Hawk offering a wide variety of over three dozen wines available by the glass. This has recently become possible by new wine dispensing and preservation systems that prevent bottle wines that have been opened from oxidizing and spoiling. Keeping a wide variety of wines that can be offered by the glass is no longer a challenge for restaurants.
An import reason to give wine as much attention as beer is that women prefer wine to any other type of alcohol. So a great wine selection can help your venue become the top choice of entertainment destinations for women. And where the women want to go, both the family and men usually follow.
Vol. XIII, No. 7, September 2013
---
---