Vol. V, No. 2, February / March 2005
---
---
Kids go healthy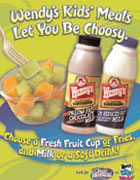 The conventional wisdom, at least among a large number of food service operators, is that younger children prefer sodas and French fries. Well, the little munchkins are proving that wisdom wrong in restaurants. Not that long ago both McDonald's and Wendy's did away with those boring paper carton milk containers and replaced them with jazzy, colorful 8-ounce plastic bottles, sometimes called grab-and-go containers. The pint-size customers responded by producing the most dramatic sales increase of any non-discounted item in fast-food history. Milk sales at Wendy's increased 15-fold from 65,000 containers a week to over 1 million a week. At McDonald's, milk sales doubled.
McDonald's, Wendy's, Burger King and many other chains are offering children's milk in different flavors, including strawberry and chocolate. According to a 2004 Kids Milk Tracking Study by GfK Custom Research, 71% of kids aged 6 to 8 said chocolate milk is their favorite drink, and most kids said they liked the taste of chocolate milk (88%).

Repackaged milk arrived about the same time McDonald's introduced Apple Dippers, slices of apples with a caramel dipping sauce, as a replacement for French fries in Happy Meals. McDonald's has now become the largest apple purchaser in the food service industry - 50,000 Gala apples a day. That's over 18 million apples a year. Wendy's has introduced sectioned Mandarin oranges as an alternative to French fries with kids' meals, and the chain is now selling 425,000 cups a week.
Children's interest in the new milk containers and fruit isn't at all surprising, considering that children often make food choices with their eyes and love any foods they can dip because it puts them in control.
Additional reading:
Vol. V, No. 2, February / March 2005
---
---