Vol. III, No. 9, October 2003
---
---
The Fast-casual Food Concept
The restaurant industry's fast-casual concept continues to grow. Industry leaders see no real slowdown in the booming growth of fast-casual concepts. Some restaurant analysts predict that fast-casual restaurants will account for more than half of all foodservice growth over the next decade. Our company believes fast-casual defines how most community-based entertainment destinations need to position their food and beverage offerings.
Industry leaders tend to define quick-service as having the following elements:
Fresh menu offerings served quickly
Display cooking, where customers can see their food being prepared
Counter-order (some restaurants have food runners)
The perception of better-quality, fresher food than quick-service (fast food) restaurants offer
Upscale ambiance
Price points between $6 to $10.
Fast-casual is positioned in the middle ground between fast food and full-service restaurants.
Keith Robinson, chief brand development officer of Boston Market, says that the fast-casual concept is "about as on-trend as you can get" in matching consumer demands for convenience and better quality at an affordable price. Ronald Shaich, chairman and CEO of the 450-store Panera chain, one of the largest and fast growing players in the fast-casual market, says, "We think quick-casual is a paradigm, not a category." Panera's newest stores are averaging $2.1 million in sales, far more than the average fast food restaurant. Harry Balzer, VP of NPD Group, a market research and information company, feels the fast-casual format is one of the major changes in the restaurant industry in the past 25 years. Joe Pawlak with Technomic, a restaurant consulting firm, estimates that 75% of fast-casual customers are switching over from fast-food restaurants.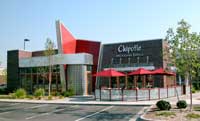 In addition to Panera, major fast-casual restaurant players include Atlanta Bread Co., Chipotle Mexican Grill and Boston Market (both owned by McDonalds), Baja Fresh Mexican Grill, Qdoba Mexican Grill, Pick Up Stix, Noodles & Company, Pei Wei Asian Diner and Taco Cabana. Boston Market just recently launched a second fast-casual concept called Boston Market Rotisserie Grill.
Ambiance is a key differentiator of fast-casual restaurants. John Glass, restaurant analyst with CIBC World Markets in Boston, says, "The attraction of these companies is in the quality of the experience as well as the quality of the food." In a sense, fast-casual is doing for quick-service food what Starbuck's did for coffee -- repackaging it in a distinctive, upscale and attractive environment to turn it into an experience, not just a purchase.
Not only is fast-casual defining the new paradigm of Americans' affordable dining expectations, the ambiance of the restaurants is also raising Americans' expectations for the ambiance at community-based entertainment facilities, including family and children's entertainment centers and bowling centers. Those location-based entertainment centers that meet and exceed those experience expectations will prosper. Those that don't will quickly join the roadkill graveyard.
Vol. III, No. 9, October 2003
---
---