Vol. III, No. 9, October 2003
---
---
White Hutchinson Moves to New Home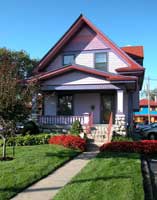 We've been in our present offices in the historic Westport area of Kansas City, MO, for almost ten years. Westport got its name in the 1800s as the 'last port West.' It was the starting point and last stop before entering Indian territory, where wagon caravans taking the Oregon, California and Santa Fe trails could stock up on supplies. Just one mile west was the border of Missouri and the beginning of Indian territory (this was before Kansas was even a territory and then a state).
We love the ambiance of Westport with its dozens of restaurants and shops we can walk to, but decided it was time to move. We have found a wonderful historic home in Westport just three blocks from our present location. Effective November 1st, we will be making it our new home. The house has all its original historic features, including a tile fireplace, wood moldings, large windows and a sunroom/sleeping porch.
Our new address will be:
4036 Baltimore
Kansas City, MO 64111
Our Web site, e-mail addresses and phone and fax numbers will remain the same.
If you are ever in the Kansas City area, we welcome you to stop by and visit us.
Vol. III, No. 9, October 2003
---
---