Vol. XXIII, No. 1, January 2023
---
---
The influence of food, its evolving trends, and the success of LBEs
Many community location-based entertainment centers (LBEs), and especially traditional-type family entertainment centers (FECs), continue to be handicapped by a myth, a widely held paradigm that dates back to the early years of the industry. When FECs first emerged, the formula was simple; have a good mix of entertainment attractions and add a snack bar. That myth continues today, with many operators still believing that when a group of people visits an LBE/FEC, they come primarily for the entertainment.
The IAAPA, Amusement Expo International, and other LBE industry trade shows continue perpetuating this myth to existing operators and new developers. The show floors are full of companies hawking their many entertainment attractions, whether games, bowling, laser tag, VR arenas; the list is endless. Yes, there are a few food vendors there, and most are basically only offering versions of what would traditionally be sold in a snack bar.
Think back to the FECs in the early days of the industry. Few, if any, predominately entertainment-oriented type centers (with just a concession/snack bar at most) have survived, let alone continue to prosper. You might not remember the Mountasia & Malibu Grand Prix FEC chain as just one example. That is because it was all about "entertainment" and therefore didn't last. But two concepts have stood the test of time for 40 or more years, Dave & Buster's and Chuck E. Cheese's. Why? Because food and beverage are a significant part of their mix, often around 50% of their revenues. Yes, the two chains with 'legs' concepts were basically eatertainment centers, with far higher per-square-foot sales than the centers that didn't focus on food and beverage as a significant part of their mix, just not secondary to the entertainment. Other concepts, such as bowling centers that incorporated a variety of restaurant food and a bar, have, as a category of LBE, survived as well for many decades.
It's really about socializing
When people choose to visit most LBEs, they are coming for the total experience. The type of experience most are looking for is a social experience, an experience that facilitates socialization with family or friends. The entertainment, depending on the type, gives them a way to socialize. Research by the National Endowment for the Arts has found that socialization is the primary reason people visit dance performances, music concerts, plays, and arts and craft shows; it's not for the entertainment. The entertainment is the secondary reason they attend. As humans, we are hardwired to seek out real-world social interactions and connections. As evolutionary anthropologists will tell you, it was living in a family and tribe with all the social connections that bonded members that enabled our species to survive in its earliest days. That desire for socialization is coded into our genes and brains far stronger than any desire to engage in entertainment.
F&B creates social experiences
Sharing food and beverage, dining and drinking together is one of the best tools for creating social interactions. Setting aside drive-thru and fast-food restaurants, which are about getting refueled, most families and groups go out to dine for the social experience as much as, if not more so, than the sustenance.
It all goes back to early humankind sitting around the primal campfire as a group and eating that day's kill. Evolution has hardwired the appeal of the primal campfire social experience into our genes. Today in many dining instances, we substitute a candle for the campfire. People seem to need food or beverage to enjoy a social occasion. We are programmed by evolution to socialize around food and beverage. We need to eat and drink multiple times a day. We have no biological need to bowl, play games, or ride go-karts. That probably explains why the eatertainment venues have far outlasted many pure entertainment ones
This importance, the attraction of social dining with family or friends, was confirmed by research by Robin Dunbar at the University of Oxford's Experimental Psychology department in his paper, Breaking Bread: the Functions of Social Eating. His study found that social eating makes us feel happier, more satisfied with life, more trusting, and bonded to others when we socially share a meal. He also concluded that meals at which laughter and reminiscences occur and alcohol is drunk are especially likely to enhance feelings of closeness.
Good food, destination food, drives repeat business, the attendance every LBE/FEC needs to succeed. The average American eats at a restaurant almost four times each week (around 190 times a year depending on which research study you look at using pre-pandemic data). Compare this to the most popular form of location-based entertainment in America, going to the movies, which the average American only went to 3.9 times a year pre-pandemic, or slightly less than once every three months. Dave & Buster's, with all its popularity, only gets an average of 1.8 visits per year. On average, Americans walk in a restaurant's doors 48 times more often than they buy a movie ticket and 100, yes, one hundred more times than they visit a Dave & Buster's.
Our CEO will tell you, based on his extensive international work with clients and his other world travels, that humans have a hard time socializing unless they have a drink in their hand (in the West, it might be alcoholic, in the Middle East it might be tea), are eating something, or playing together by rolling or hitting a ball (think about bowling, golf, miniature golf, billiards, and bocce). Adding F&B to interactive group entertainment gives you the optimal socialization environment. It's getting back to early man sitting around the campfire, sharing food and telling stories. We're hardwired to seek out the equivalent in the modern world.
Pre-Covid, dining out had elevated to an experience that many younger adults considered more desirable than an out-of-home entertainment offering. A YPulse survey found that nearly 8 in 10 Millennials (78%) prefer going out to a restaurant more than other options, including various entertainment venues.

When YPulse asked Millennials what they prefer to spend their "extra" money on after all their bills are paid, and the fridge is stocked, a far greater percentage said dining out versus out-of-home entertainment.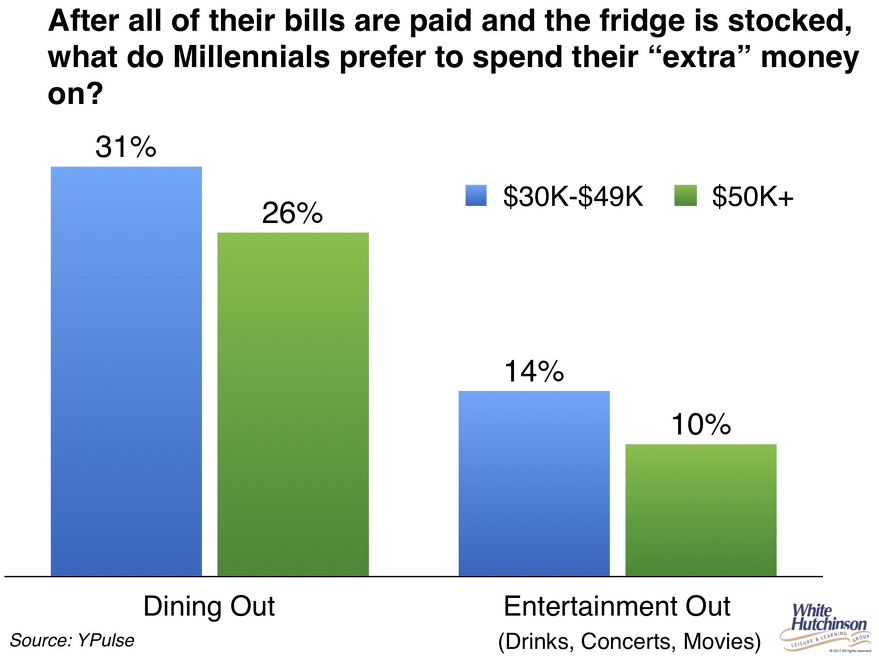 Looking for a sense of community
People never imagined they could be locked away or isolated from getting together for the better part of two years. So, their new attitude is, 'I'm going to live when I can live.' All the trends that were here pre-Covid are still present at an even greater level - meaning people's desire to spend on experiences and do things. Covid-19 has caused people to prioritize having experiences together, in-person connections, and in-person socialization. Now people are looking even more to strengthen that sense of connection and community.
According to the National Restaurant Association's 2023 What's Hot survey, consumers are looking for an experience and something that they cannot replicate at home. More than 70% of those surveyed are looking for an on-site experience, gathering at local neighborhood eateries for connections as well as sustenance.
Some of that sense of community is expressing itself with communal dining, not just dining together but also sharing food. For a long time during the pandemic, you couldn't reach into your friend's bag of chips or take a sip of their drink. Now people what to share foods to create that sense of community. We're seeing this expressed in new grocery products like Minis, a new snack from Frito-Lay. There are now tiny little Cheetos and SunChips in canisters designed to share and pour into friends' hands. We see appetizer towers, dessert towers, and large-format cocktails at restaurants. Even demand for things like charcuterie boards flows from the desire for communal eating.
Robin Dunbar, commenting on his research mentioned above, said, "This study suggests that social eating has an important role in the facilitation of social bonding and that communal eating may have even evolved as a mechanism for humans to do just that."
New LBE formula
People's post-pandemic elevated desire for highly social and sharable out-of-home experiences has shifted the formula for the optimal LBE experience. Unlike traditional eatertainment concepts such as Dave & Buster's or older-style bowling centers where dining and drinking and gaming are two sequential experiences, a recent high-fidelity out-of-home social experience LBE formula has evolved known as competitive socializing or socialized gaming. It combines very approachable, high-repeat appeal analog, interactive games (that might be technology-enhanced) played by a small group of people who don't have to be experienced players. Sometimes there isn't even actual competition; at best, it isn't taken seriously like in a sport. The games that work have a particular rhythm where one person plays while the other people watch, chat, and enjoy their F&B. Examples are bowling, darts, axe throwing, and billiards. Unlike most LBEs, socialized gaming includes trendy, high-quality, foodie-worthy food and beverage simultaneously consumed while the games are played in contemporary and upscale atmospheres. The F&B never plays second fiddle to the entertainment. Instead, it is as important, if not more so. The combination of enjoying the F&B while playing creates a high-fidelity, "social bonding," memorable experience that a simple restaurant or typical entertainment venue experience alone doesn't. Typically, food and drink generate around half or more of the venue's revenue.
The balance of this article examines how food culture has changed and the trends that should continue going forward, with a particular focus on adult Gen Z and Millennials, the primary target market for most LBEs.
Health and wellness
The pandemic may now be in the rear-view mirror, but its legacy has been to remind people of what is important in life - their health and wellness. To quote the late Rabbi Jonathan Sacks, "We've been coasting along for more than half a century in unprecedented affluence, freedom, and optimism. And all of a sudden we are facing the fragility and vulnerability of the human situation."
Plant-based eating
The pandemic has accelerated many health-driven food trends. One is reducetarianism or flexitarianism, meaning consumers who aren't quite ready to go completely vegetarian or vegan but want to reduce their consumption of meat and other animal products significantly.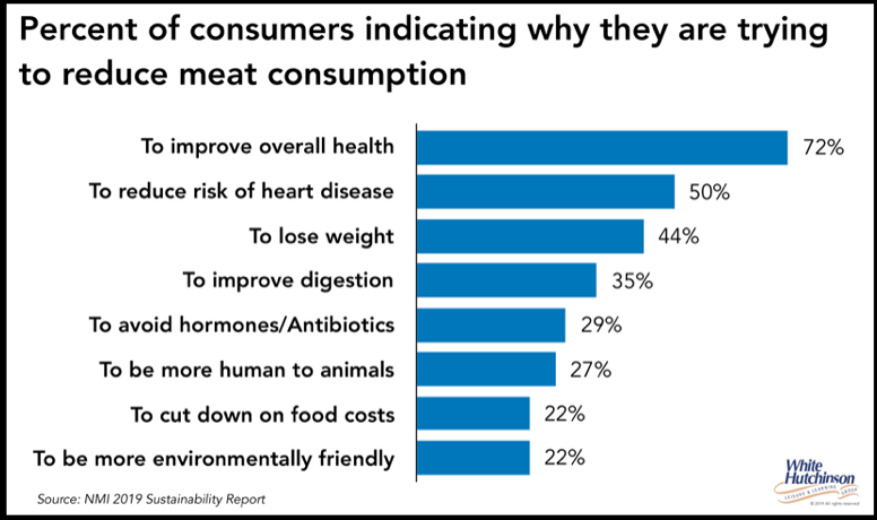 Health and wellness concerns are the primary motivation behind flexitarian eating, while environmentalism is a secondary driver.
A survey conducted by One Poll found that nearly half of age 24-39 respondents (47%) describe themselves as flexitarians. (This age group is a desired target market for most LBEs.) Datassential's research finds that of all adults, 29% are meat-limiters (flexitarian, pescatarian, vegetarian, or vegan). Datassential also found that 57% of consumers say they want to eat more fruits and vegetables, up 10% from 2021.
Predictions are that plant-based eating has not peaked but has grown from a trend into a lifestyle.
More Americans are not only eating with their own health in mind, but also the planet's health. Climatarian diets are on the rise as people embrace sustainability. With the growing awareness of the impacts of climate change, the New York Times predicts the new title for reducetarianism will be "regenivore" - younger gens will be looking for "food from companies that are actively healing the planet through carbon-reducing regenerative agriculture, reusing or 'upcycling' parts of foods previously discarded in the manufacturing process, more rigorous animal welfare policies, and equitable treatment of the people who grow and process food."
Plant-based eaters are not alone in sustainability demands. Meat-eaters are likewise opting for restaurants that champion local suppliers and opt for grass-fed beef and free-range chicken. For establishments that serve coffee, sourcing fair-trade, organic beans is a powerful demonstration of commitment to both quality and ethics. Research has consistently shown that consumers, especially Millennials and younger adults, are more than willing to pay a premium for sustainable and ethically sourced foods and beverages.
Gluten-free foods
Another post-pandemic health-driven food trend is gluten-free. Health benefits include weight loss and increased energy. In addition, people with celiac disease need to follow a gluten-free diet.
A July-August 2022 survey by CivicScience found that over a quarter of U.S. adults (27%) are on a gluten-free diet to some degree, but only 4% are on an entirely gluten-free diet for medical reasons. The survey found that 13% of adults are on a gluten-free diet for non-medical, meaning health reasons.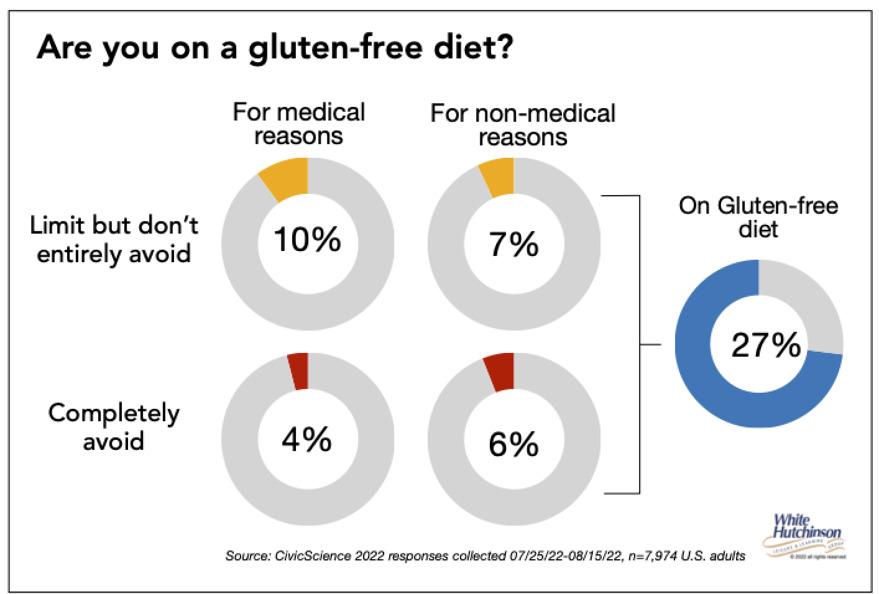 Interest in gluten-free foods is highest among adult Gen Zs - 38%, followed by younger Millennials - 30%.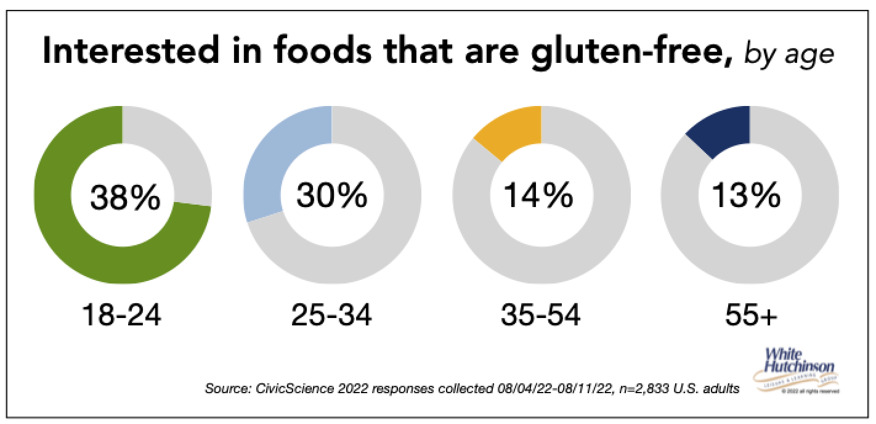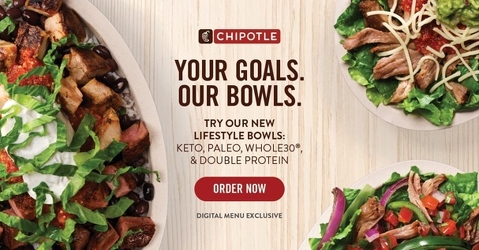 According to a Fall 2022 trend report by YPulse, the recent definition of health has shifted away from diet culture. Millennial and Gen Z consumers lean towards individualized, holistic interpretations of wellness. Three-quarters of 13- to 39-year-olds (76%) agree wellness can be anything that makes you feel good, and 90% of young people believe wellness looks different for everyone.
The growth of wellness-focused Millennials and Gen Z consumers is evidenced by this month's launch of Lifestyle Bowls by Chipotle Mexican Grill in the U.S. and Canada.
Clean foods
"Natural" and "clean" foods, which consumers associate with healthfulness, will continue to be a trend going forward. According to the 2022 Food and Health Survey, more Americans in 2022 vs. 2021 say they regularly buy products labeled as "natural" (39% vs. 33% in 2021) or "clean ingredients" (27% vs. 20% in 2021). When asked about which types of diets or eating patterns they're following, clean eating was the top choice.
Functional foods
In addition, functional foods (functional foods are foods that have a positive effect on health beyond basic nutrition) that address emotional needs like managing stress and anxiety and fighting depression, boosting immunity, warding off dementia, and supporting brain health are playing a more important role as consumers increasingly expect more out of their food and beverage choices. Products that cater to these needs can appeal to consumers' pent-up demand for upgraded and unique experiences with food and beverage.
While many consumers focus on what foods can do for their minds, others are also interested in what they can do for their guts. Probiotics have been steadily growing in popularity, with digestive/gut health being the third most commonly sought-after food and beverage benefit among Americans. Don't expect that interest to wane in the future, with probiotics in more and more foods beyond the yogurt section.
Exploration
The post-pandemic desire "to get out and live it up" has accelerated another food trend - exploration - globally-inspired foods beyond Italian, Mexican, and Chinese.
Datassential reports that Gen Z is the most adventurous among all generations in seeking out global flavors, with 58% saying they ate something globally-inspired while 48% of millennials, 34% of Gen X, and only 19% of baby boomers did.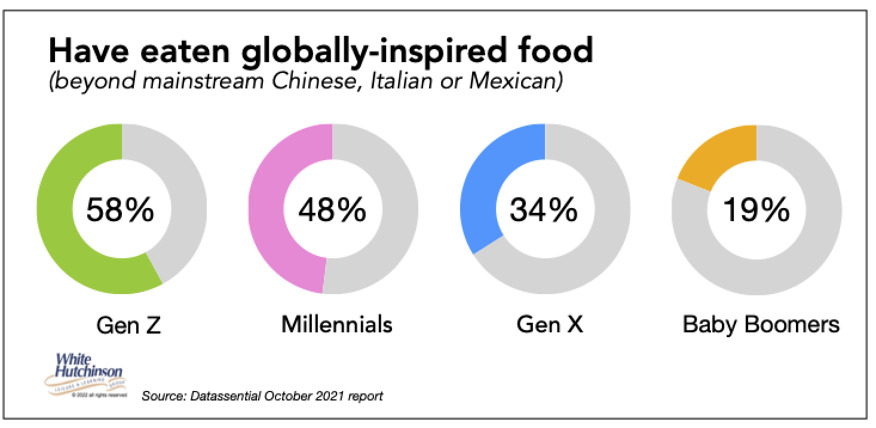 Gen Z I.S. is much more likely than other generations to order new flavor experiences on the menu. 2022 research by Datassential found that 51% will try a new food just because it sounds exciting and 44% love trying new foods - the crazier and more unique, the better.
What Pew Research calls 'generational imprints,' the cultural backdrop that helps define generations,' explains Gen Z's affinity for new flavor experiences, including global-inspired foods (and probably also to some extent for young Millennials). Gen Z is the most racially and ethnically diverse generation. They are true digital natives, regularly accessing information in the palm of their hands. These two generational imprints give Gen Z unparalleled comfort with multicultural influences and global flavors.
When Datassential asked people what foods they wanted to order 'away from home,' global foods rated extremely high across hundreds of dishes and included Japanese, Korean, Jamaican, French, Mediterranean, Argentinian, Indian, and Middle Eastern cuisines. The National Restaurant Association reports some of the notable trending global influences include Southeast Asian foods from the Philippines, Vietnam, and Singapore. Caribbean foods have also garnered a top spot, particularly from Puerto Rico, Cuba, and the Dominican Republic.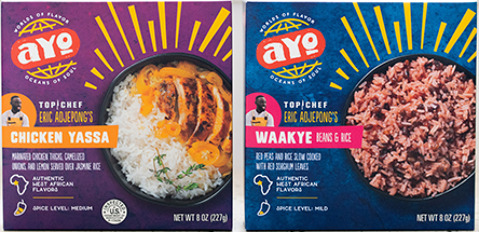 In their trends prediction report, consumer research firm Carbonate says, "West African food in general and Nigerian food, in particular, are attracting a wider audience and gaining prominence and prestige where it was once overlooked and under-represented." This trend is evidenced by a new brand, AYO, of frozen dishes inspired by 17 different West African countries now found in major supermarkets throughout the U.S.
Chaos cooking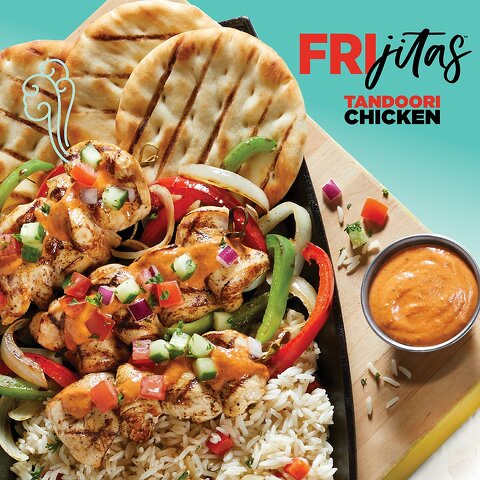 TGI Friday's tandoori-chicken fajita
A new, brash food style, part neo-fusion, part middle finger, called chaos cooking, is changing the face of restaurants. It's a style of food dishes that is more than just fusion that elevates the dining experience. Chaos cooking dishes are an aggressive mash-up of global flavors taken to high levels, like sashimi tostado, tandoori spaghetti, pastrami tacos, masala cheesesteaks, and biscuit and gravy pierogies. People are seeking novelty now that they're dining out again.
In a sense, it's part of a trend called flavor tourism, with consumers seeking to expand their palates with unique global fare and extremely globally inspired.
And chaos cooking is going mainstream. TGI Fridays has launched a tandoori-chicken fajita.
Changing foodie culture
Millennials created the foodie culture as we know it today. But Gen Z is taking a different approach. Where the older generation is all about well-lit photos of aesthetically pleasing meals, predominately on Instagram, Gen Z is more interested in food content on social media that's realistic and entertaining. When Gen Z posts food content, they're flocking to their favorite app, TikTok, unlike Millennials sticking to Instagram and Facebook.
Compared with two-thirds of Millennials considering themselves foodies (66%), only 54% of Gen Z do. And 64% of Gen Z who identify as foodies say that being a foodie is not that serious, and 85% agree you can be a foodie without posting about it.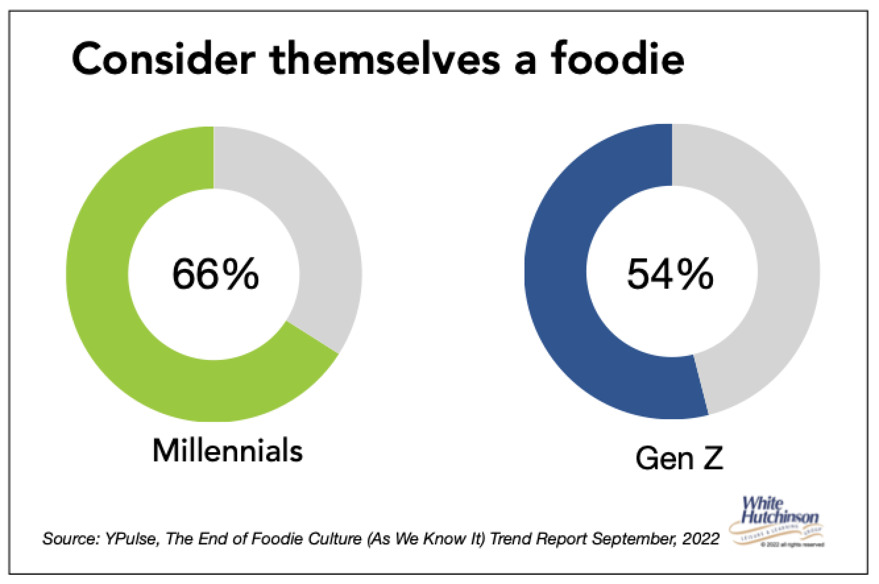 Whereas four in ten Millennials consider themselves a total foodie passionate about foodie culture (39%), only three in ten Gen Z do (29%).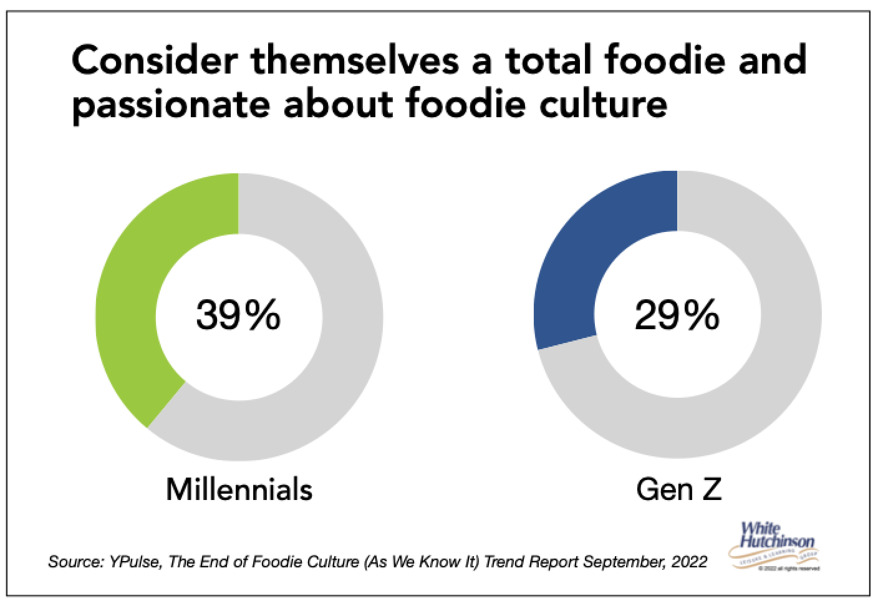 For Millennials, social media is central to being a foodie; hence their "phone eats first" mentality. They created the boom in "Instagrammable" food and restaurant décor to win the favor of aesthetically interested Millennial foodies. Those same efforts aren't winning over Gen Z, as far fewer are posting their food content on social media. Compared to the 71% of Millennials who have posted a food or beverage photo or video on social media, only 57% of Gen Z have. 'What I eat in a day' is more likely to catch Gen Z's attention than Millennial restaurant food photos.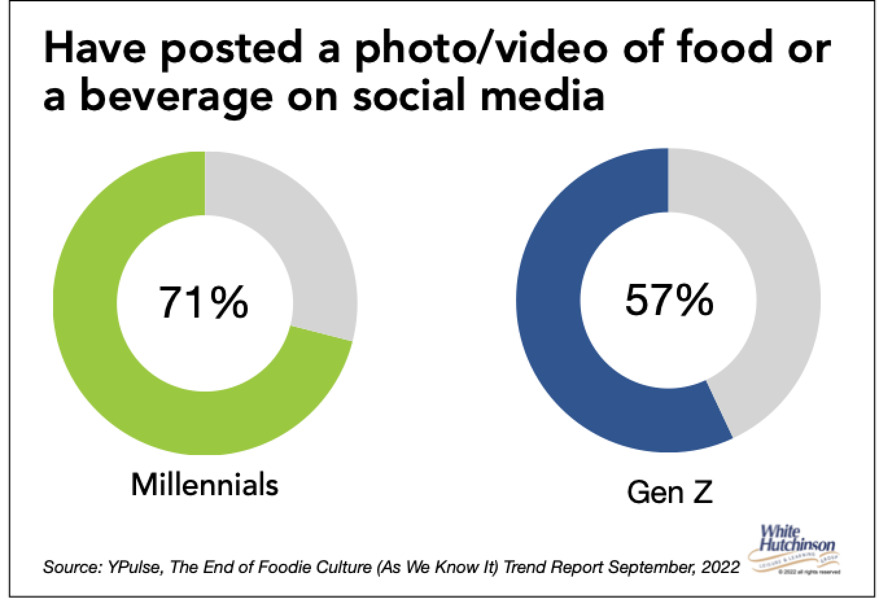 Although Instagram is still where we see most food images, the photo aesthetic is changing. Once plates were viewed from above, perfectly 'tablescaped,' and closer to a photo you might see on the restaurant's website. A more real aesthetic has emerged as the photo has evolved from perfection to a clumsy, blurred, end-of-the-night candid shot of a meal half-eaten. One writer on Eater referred to this as "Instagram food's laissez-faire era," a shift in both vibe and aesthetic underpinned by generational changes with Gen Z and younger Millennials, diversification of food creators by generation, and a long-simmering frustration with the platform's culture of curation.
In place of the original foodie perfection is food and food photography that feels weirder, messier, and more comfortable. It is mainly food that appears in a real setting - a dinner party, a weekday lunch - as opposed to food that looks studio-composed for a commercial. The London-based magazine AnOther describes this shift as "lo-fi food", emphasizing its focus on "minimal presentation and big flavor." It is food that looks like it will be eaten or has partially been eaten and enjoyed.
Implications
With the pandemic's impact on consumers seeking high-fidelity, out-of-home social experiences and the importance of on-trend food experiences needing to be a part of those experiences, LBEs/FECs need to break free from the industry paradigm it's all about the entertainment. Instead, they need to make their food offerings as important a destination driver, if not more so, than the entertainment. They also need to integrate the food and beverages with the entertainment as a simultaneous experience rather than have them sequential.
Vol. XXIII, No. 1, January 2023
---
---