---
Has the pandemic changed the importance of in-person socialization?
Despite the survey findings in this issue's article on how many people are back to their pre-pandemic normal, the truth is that returning to a pre-pandemic normal isn't possible. The coronavirus outbreak has permanently transformed many aspects of people's lives. Among many changes, for many people it has brought a new sense of trade-offs between protecting one's health and participating in social activities as part of daily life. It also has brought newly expanded options for socialization in the digital world and at home.
This impacts people's willingness to visit location-based entertainment venues (LBEs), restaurants, and other in-person gatherings. One of the reasons, typically the primary reason people visit venues, restaurants, and gatherings with their friends and family, is to socialize. We humans are social creatures by our very nature. Our brains are hard-wired to seek social experiences with family and friends. That is how we have survived as a species.
The Pew Research Center analyzed how Americans' priorities have shifted since the coronavirus outbreak. They asked almost 1,500 adults to describe in their own words what rose and fell in importance to them during the pandemic. Their results found that for many Americans, the pandemic has brought a new sense of trade-offs between protecting one's health and participating in social activities as part of daily life.
One-fifth of respondents (21%) said they have a renewed appreciation for social events. Most said participating in large gatherings, and in-person visits with family and friends were more important to them now than before the outbreak. One person described their shift in appreciation this way: "Quality time with the people I love, attending large events whenever the opportunity presents itself."
Conversely, over a third (35%) said socializing and going out had decreased in priority to them.
As a result, there is a net difference between social events being more important and less important, with 14% more people saying it is less important than more important.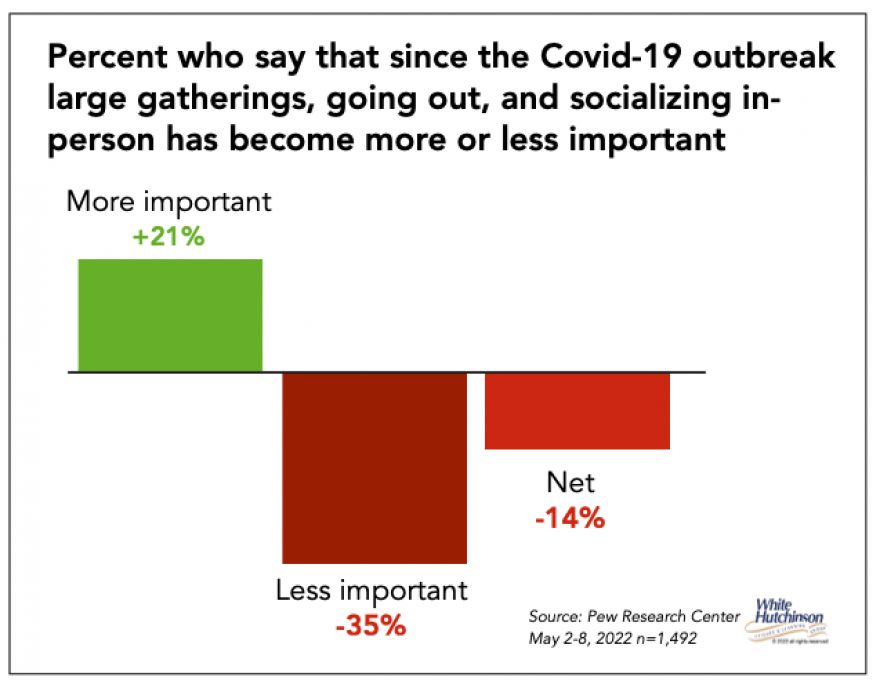 Pew found a sizeable partisan difference in changes to the importance of social gatherings. Republicans and people leaning toward the Republican party were almost the same between it becoming more important and less important, 20% more vs. 22% less. However, nearly twice as many Democrats and people leaning to the Democratic party said in-person socialization was now less important vs. more important, 45% less vs. 23% more. Blue areas of the U.S. are likely to see a more significant decrease in out-of-home socialization compared to red areas.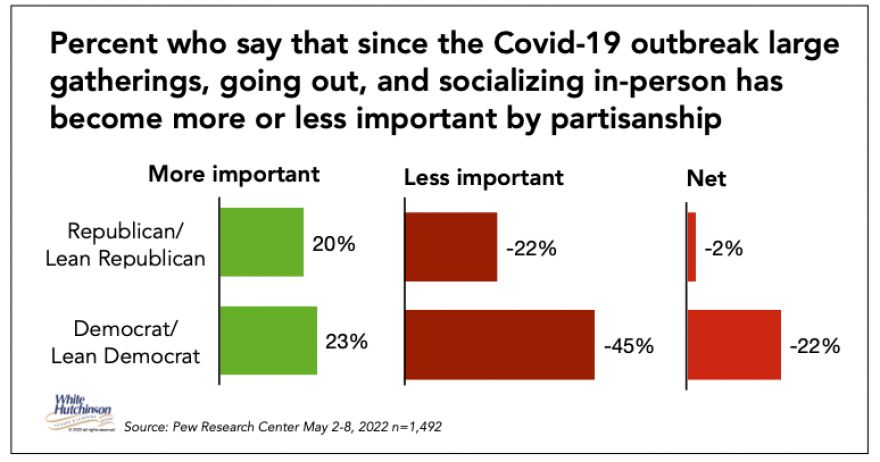 This could be a long-term trend considering all the digital socialization options that people acquired during the pandemic, most of which can take place at home, many of which may be new long-term habits. And a heightened awareness of catching a disease in public settings, whether it is coronavirus, the flu, or something else, may decreases the appeal of in-person social events for many people.
---