Vol. XXII, No. 3, March 2022
---
---
The post-pandemic out-of-home entertainment new normal
Hopefully, with the rapid drop in Omicron infections and the lifting of mask mandates in most parts of the country, we may be very close to the end of the pandemic. What will the "new normal" be for out-of-home entertainment when we are there? Inevitably, we won't be going back to the pre-pandemic 2019 normal. Two years into the crisis, the pandemic has permanently changed us. The pandemic has brought many once-in-a-lifetime changes to how we live, work, play, and stay healthy. Many will become part of the "new normal." Those changes are likely to include the entertainment we participated in during the pandemic, predominantly digital at-home entertainment.
Accurately predicting the future is impossible. We know that the pandemic accelerated many trends that were already underway. Examining pre-pandemic trends and some changes during the pandemic should give us some indication of where out-of-home entertainment is headed in the post-pandemic world.
Pre-pandemic, several long-term trends were already underway for participation, including the amount of time and the amount of money consumers were spending on digital and IRL out-of-home entertainment.
The percent of the population that participated in at-home digital entertainment on an average day increased by nearly one-third over the eleven years before the pandemic, from 18.6% to 24.4%.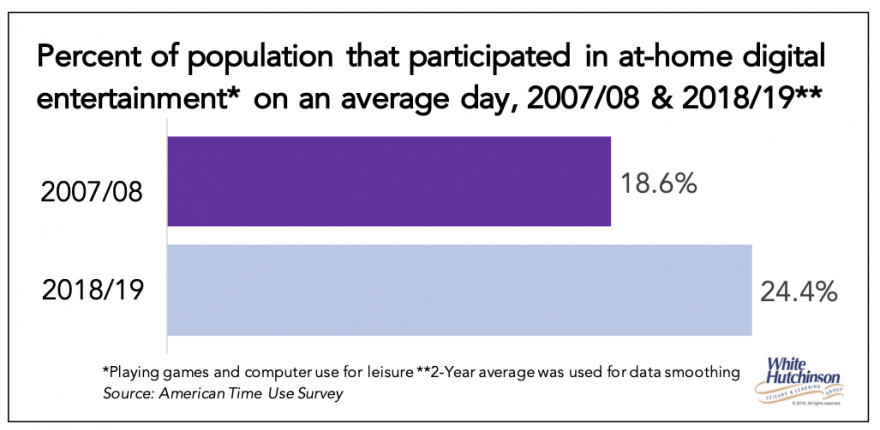 Not only was participation up, but the time spent on at-home digital entertainment increased as well.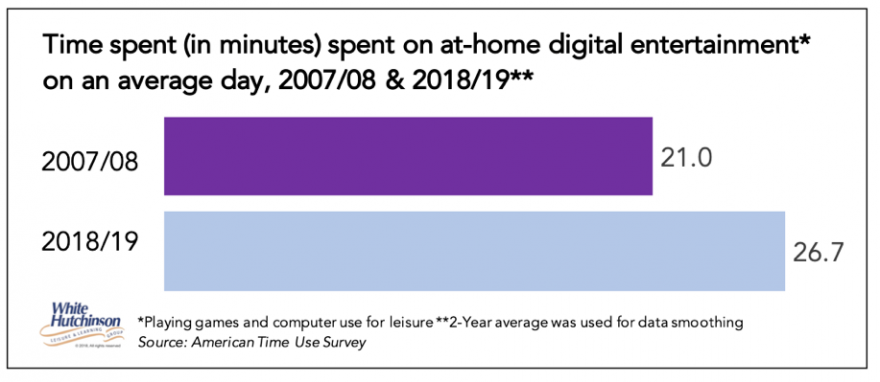 The most significant digital time increase was with ages 15-24. But ages 25+ also saw an increase.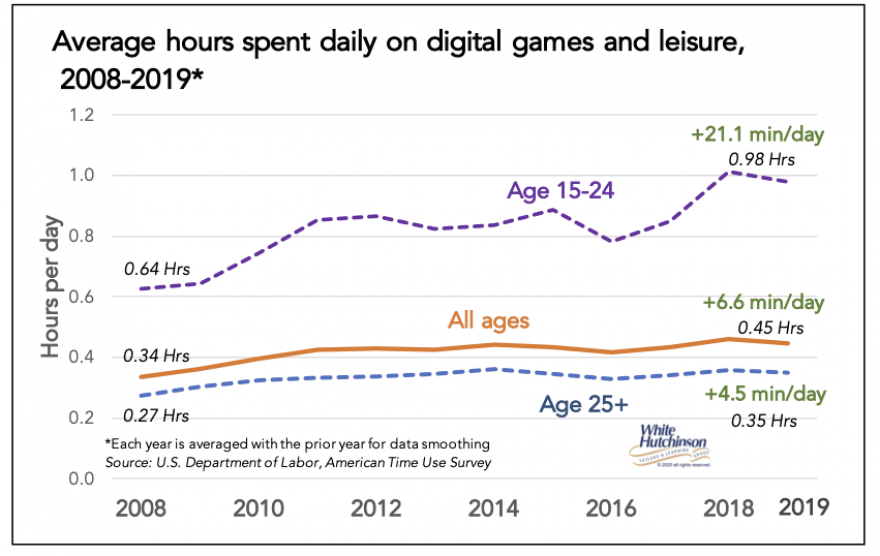 Spending on digital leisure and entertainment was up significantly for every age group.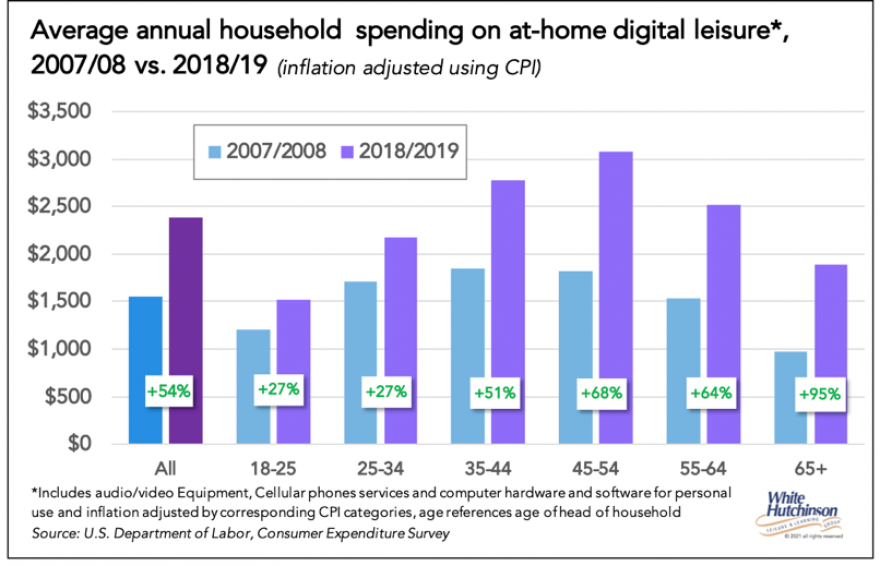 The use of digital socialization and entertainment increased during the pandemic and is highly likely to continue into the post-pandemic era. A Deloitte study found that more than two-thirds of consumers who have tried a new digital activity or subscription during the pandemic say they are likely to continue their new activity or subscription. A ForgeRock survey of Americans found nearly half of consumers said they would use more online services and apps post-pandemic than they did pre-pandemic.
Over those same pre-pandemic eleven years, the participating rate in out-of-home entertainment and arts declined.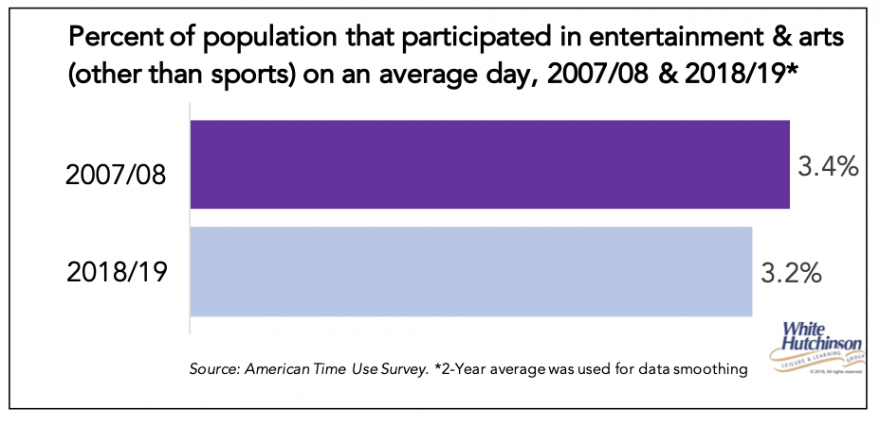 The time spent at out-of-home entertainment and arts increased for some age groups and declined for others. The most significant decline was for 15- to 19-year-olds.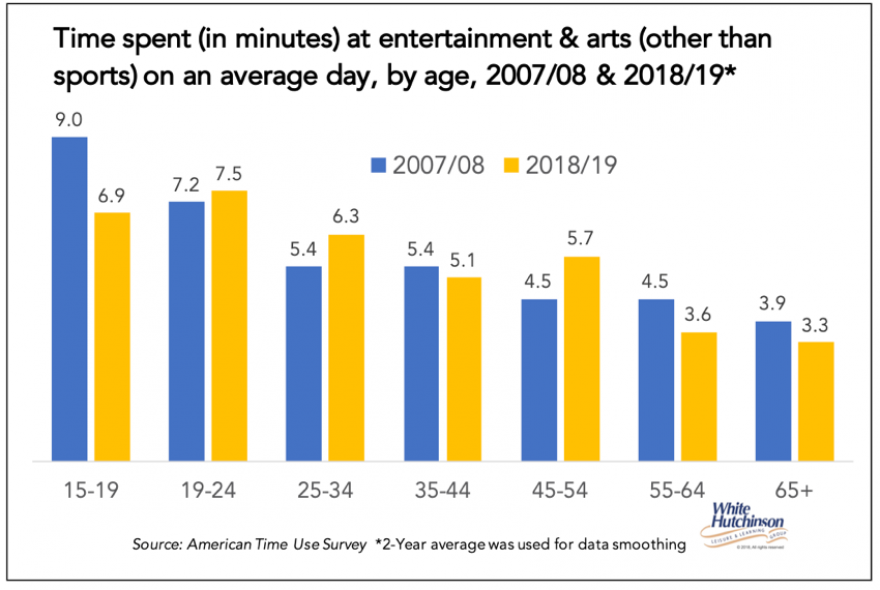 Over the eleven years, average annual household spending on entertainment and art fees and admission declined by seven percent, with declines in the 18-34 and 55+ age groups.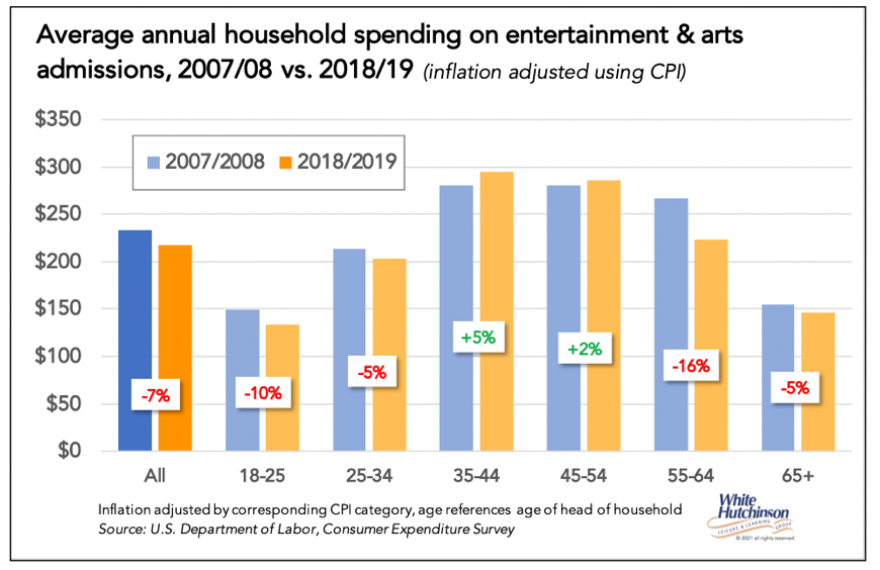 During the same time period, there was a significant gentrification shift, with an increasing share of spending for out-of-home entertainment and arts by bachelor's degree+ and higher-income households. They increased from slightly more than one-half of all spending to nearly three-quarters.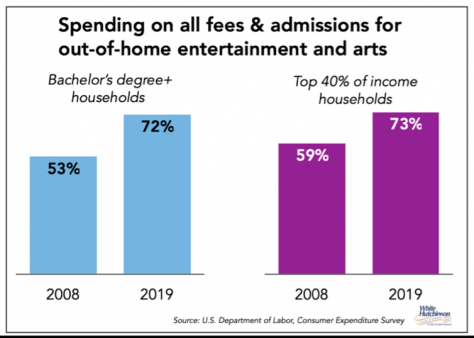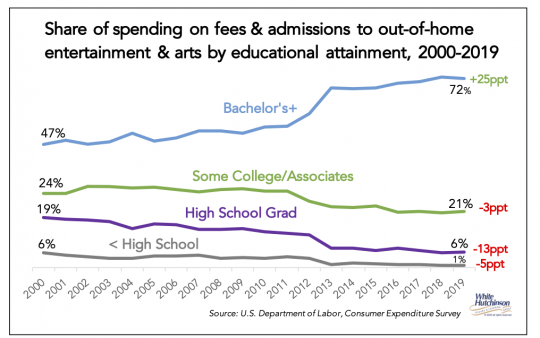 The decline in out-of-home entertainment and arts participation and spending is compounded by another pre-pandemic trend, an increasing percentage of people preferring to stay home on weekends. In 2011, 38% of people said they preferred to stay home on weekends. That increased to nearly one-half (49%) in 2019.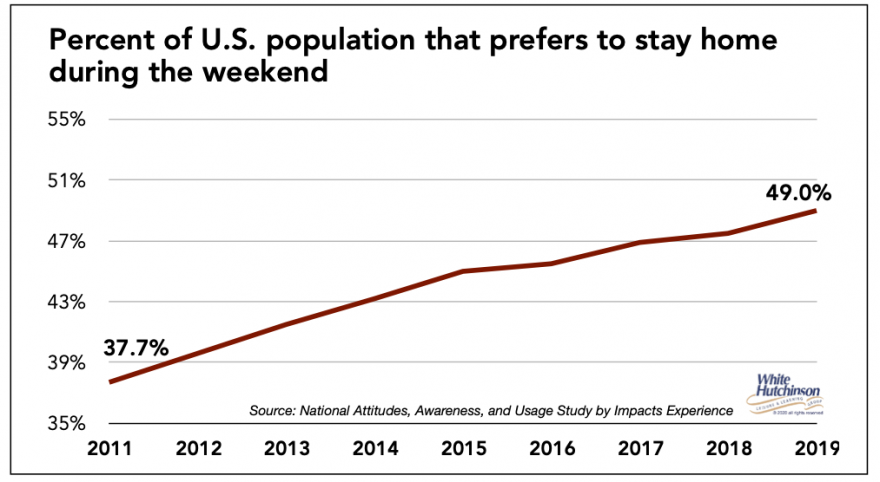 One survey during the pandemic indicates this trend will continue post-pandemic. People discovered a preference for not going out to venues for entertainment and socialization.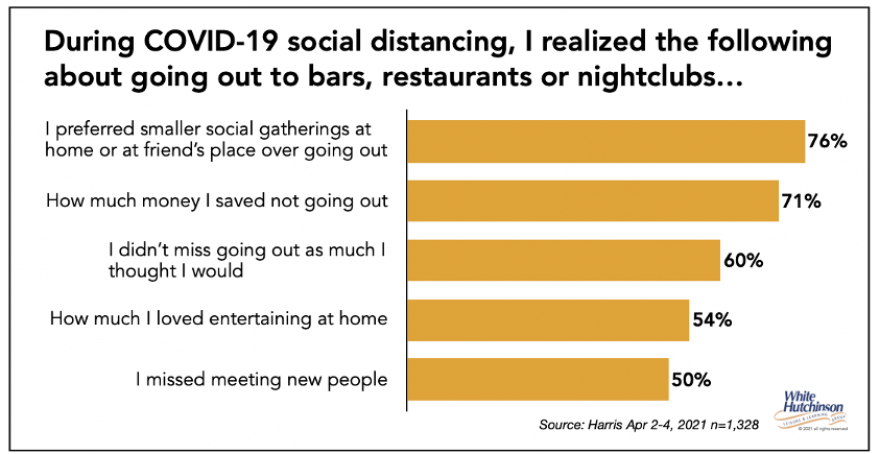 More than six in ten people said they expect to go out less and stay in more post-pandemic.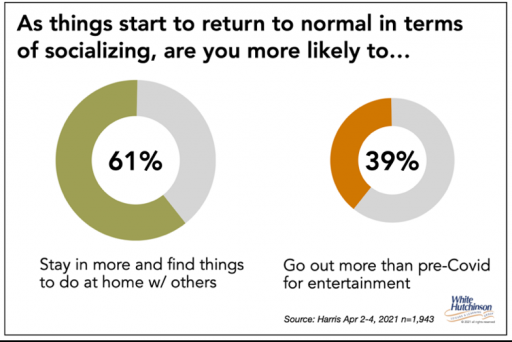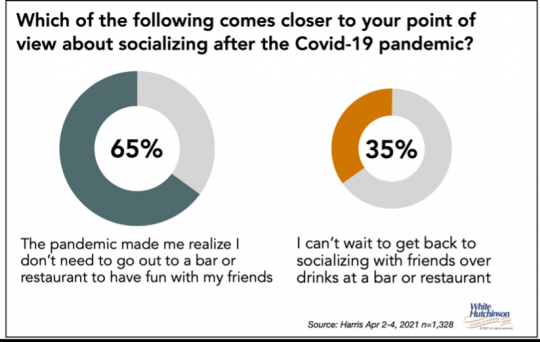 The pandemic's economics significantly increased income and financial inequality. The current inequality is evidenced by this January 26-February 2022 Census Bureau Household Pulse Survey. The lower socioeconomic were most impacted by a loss of income while the higher socioeconomic kept their jobs and increased their wealth in stocks and homeownership.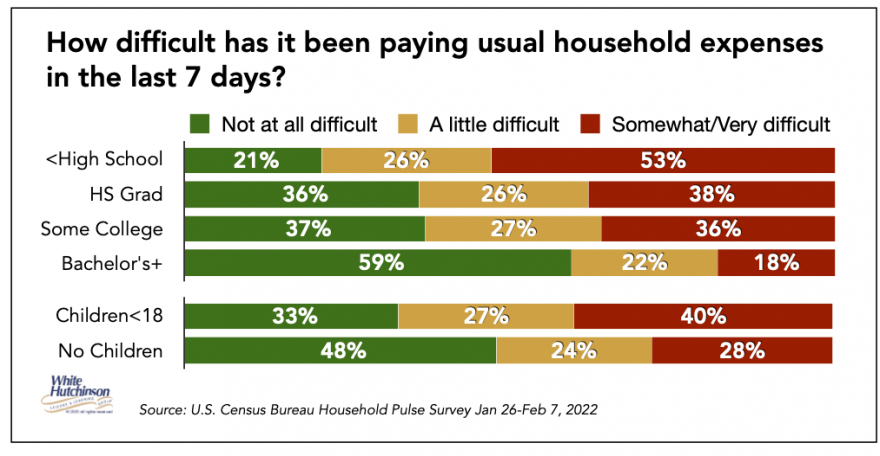 Implications
As a result of the increased income and financial inequality, for a large share of the middle and lower socioeconomic, their discretionary spending will likely be severely limited for many years, causing these financially challenged households to restrict their discretionary spending for out-of-home entertainment and further increase the bifurcation of out-of-home entertainment - the audience will become even more gentrified. The inflationary increase to the cost of out-of-home entertainment will also contribute to this. The middle-class will no longer be a viable market to target for most venues. The growing share of all attendance and spending for out-of-home entertainment will be coming from the higher socioeconomic in the post-pandemic era, requiring venues to cater to their higher standards, tastes, values, and preferences if they want to prosper.
We're likely to see a decline in total attendance at entertainment venues for the overall population due to a decrease by the middle and lower socioeconomic and the increasing use of at-home digital entertainment and socialization.
Another trend we predict is a shift in market share to competitive socializing venues that include premium and enhanced flavor profile food and beverage offerings (see competitive socializing and eating habits articles in this newsletter).
Vol. XXII, No. 3, March 2022
---
---