Vol. XXII, No. 2, February 2022
---
---
Leisure and sports time used by Gen X and Millennials; differences across time
A recent study by economist Michelle Freeman at the Bureau of Labor Statistics examined the time use of Gen Xers in 2003, when they were ages 23 to 38, comparing it with the time use of Millennials when they are ages 23-38 in 2019. There were some significant differences in their time use for leisure and sports.
The total time both generations spent in daily leisure and sports activities were almost identical - 4.32 hours for Gen X in 2003 compared with 4.30 hours for Millennials in 2019, about a minute difference. However, there were significant differences in how they spent that time.
Both generations spent the largest share of their leisure time watching TV on a given day, 2 hours and 11 minutes for Gen X in 2003 and 2 hours and 2 minutes for Millennials in 2019. Millennials spent significantly more time playing games in 2019 (predominately video games), 29 minutes on a given day compared with only 7 minutes for Gen X in 2003. The difference is mainly due to more than twice as many Millennials playing games on a typical day than Gen X, 12.5% compared to 5.9%. The increase in playing games by Millennials is certainly no surprise. The technological developments in video games starting in the early 2000s, especially the ability to interact with others online while playing, led to the growth of people playing and the time they spent playing
The same increase by Millennials is true for computer time use for leisure excluding games, 8 minutes per day for Gen X in 2003 compared with 12 minutes for Millennials, with nearly twice as many Millennials using the computer for computer leisure on a typical day.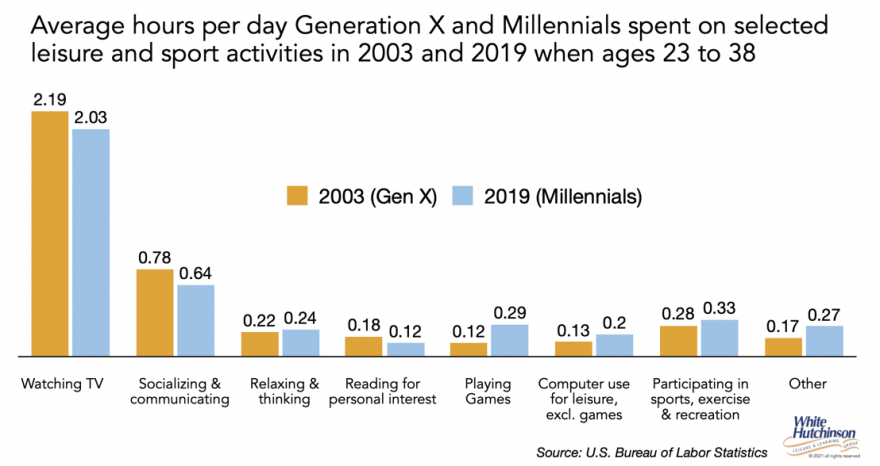 One other noticeable difference that the study found was that Millennials spent an average of 22 more minutes sleeping in 2019 than Gen X in 2003 (includes naps and spells of sleeplessness).
The pandemic will undoubtedly result in a post-pandemic increase in digital leisure.
Vol. XXII, No. 2, February 2022
---
---