Vol. XXII, No. 2, February 2022
---
---
The post-pandemic future of out-of-home entertainment
Our article in last month's issue, The metaverse and its implications for location-based leisure, discussed the future of digital 4thPlaces, the coming metaverse, and how they pose a real threat to the future of many IRL out-of-home leisure and entertainment venues.
Since that article, the race to the metaverse heated up with Microsoft's $69 billion deal to buy Activision Blizzard and their many popular video games, including "Call of Duty" and "World of Warcraft" to add to their subscription and cloud-based gaming services that includes "Minecraft." Even Apple is working on the AR/VR metaverse. The true metaverse is most likely to emerge from video games used by millions of people every day, where platforms like Roblox and games like "Fortnite" offer virtual worlds where people already socialize, buy things with virtual currency, and attend concerts and other events.
There is a growing attraction to virtual digital experiences that people can enjoy from their homes. The quality and number of offerings were greatly accelerated during the past two years of Covid-19. This is especially true for 4thPlaces, the digital substitutes we adopted during the pandemic to replace the IRL 3rdPlaces where we used to gather away from home and work to socialize, such as at bars, cafes, clubs, and even social-eatertainment venues that we could no longer visit. But as the pandemic continues to influence how we live, work, play and connect with each other, what is the future of out-of-home (OOH) entertainment experiences, especially for Gen Z and Millennials, the primary users of most out-of-home entertainment venues, including family entertainment centers (FECs)? Will the fear of being indoors in a crowded venue still keep them staying home in the post-pandemic era? Has fatigue from staring at a screen for the last two years created an unflappable apathy for logging into another virtual experience? Will the past two years of adopting digital habits and new digital technology permanently change young adults' preferences for OOH entertainment?
The Complex Collective conducted focus group research with Gen Zs and Millennials in September 2021 to see what answers they could find. Their focus was on the power of human connection and how it could be the driving force propelling Gen Z and Millennials into the new world as well as online in search of what was abruptly taken from them in early 2020. Here is a summary of some of their findings.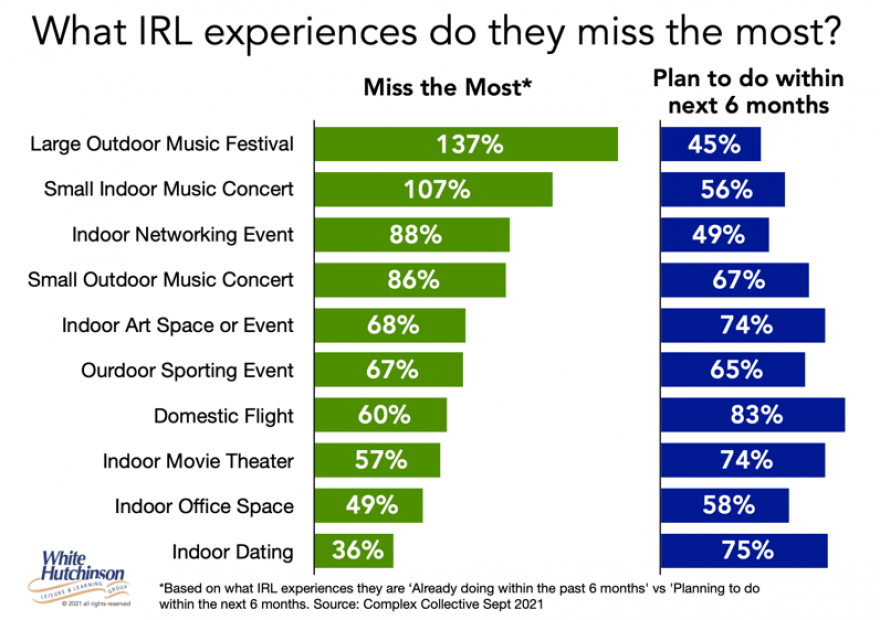 Experts have concluded that the pandemic reminded us that life is short and that each of us needs to make the most of it. As a result, there is evidence of a bucket-list trend. This trend is confirmed by a shift to visiting new IRL experiences. PGAV Destinology's 2022 Voice of the Visitor report found that half of the respondents (48%) indicated that they visited a specific attraction for the first time in 2021. There has been an increase in first-time visitors since 2019 consistent across all attraction types.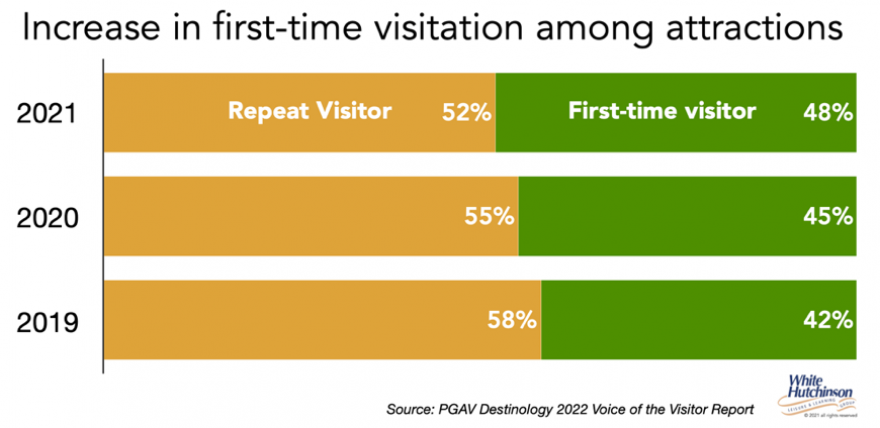 The bucket-list trend has accelerated a trend of declining repeat appeal that we first identified starting back in 2017 for OOH entertainment venues. Pre-pandemic, there were already several factors in play negatively impacting repeat attendance:
Satiation
The concept of satiation is the process whereby consumers enjoy an activity less, and their perception of its quality decreases as they engage in it more often. Even with a favorite experience where the level of enjoyment is initially high, people can ultimately become satiated when the experience is repeated too often or for too long a period.
Hedonic adaptation
Related to satiation, hedonic adaptation refers to the enjoyment of an experience, the satisfaction with it, which decreases after the experience is repeated. The 2nd time you have an experience, it is not as good as the first. The 3rd time you have an experience, it is not as good as the 2nd. Customers say, "been there, done that." Instead of repeating it, they move on to something new.
The more consumers become satiated with a particular experience and hedonic adaptation sets in, the more likely they will seek a new experience to enjoy.
Change to what is OOH entertainment
There has been a cultural shift in what is considered and valued as entertainment. More than half of Americans now consider themselves foodies. Foodies love food and are very interested in trying new and different types of food. They are on a quest for adventure and discovery with food and drink and the latest culinary trends. This has resulted in many dining-out occasions now being considered entertainment. Pre-pandemic, almost two-thirds of Millennials (62%), the prime age group for many forms of OOH entertainment, considered a good night out as more about the food, three times the percentage that rated live music as a good time out. Millennials prefer to go out to a restaurant over any other type of OOH entertainment, including the cinema, concerts, and live events.
Along with restaurant dining, there has been a growth in the number of limited-time live and special events and festivals where the focus or a significant component is food, beer, and wine. Pre-pandemic, 62% of Americans would go to an event just for the food. The craft brewery boom has resulted in many destination breweries. The number of destination wineries and distilleries is also growing across the country. Visits to many of these are now considered OOH entertainment.
Conspicuous leisure
Another influence is driving variety-seeking new experiences, including OOH entertainment, rather than repeat visits. In the experience economy, priorities for participation in leisure and entertainment experiences have changed. The dimension of status and self-identity, the measure of social capital has shifted from owning enviable material goods and stuff to participating in enviable experiences. Today, what you do now matters way more than what you own. Pre-pandemic, nearly three-quarters of Americans prioritized experiences over products. That percentage has likely increased due to the pandemic. Especially for younger adults, an impressive selfie capturing a memorable leisure experience is as enviable as a new car or fancy watch was to their parents.
The new experience economy means that the pursuit of experiences, including entertainment, has played a more prominent role in people's lives than in the past. People use experiences as "social signaling" - to express who they are or want to be, build their identity and status, and social capital on social media. Experiences are the ultimate status symbol, especially for young adults. Experiences, including OOH entertainment, are the new social currency.
Experiential checklist
Judy Wajcman, in her book Pressed for Time, argues that we live in a time where we want to make the most productive use of our leisure time, so we have an insatiable desire to pursue and experience as many options as possible from the vast array of leisure opportunities the world now offers. As a result, we seek a variety of collectible leisure experiences that we only do once. We want to check off items on our experiential checklist, move on to the next one and add to our collection in order to build our experiential CVs. This also makes us feel that we have used our time productively.
Almost limitless OOH leisure options
Amplifying the desire for new and unique OOH leisure experiences is the growing explosion of OOH options that are now almost limitless.
At the beginning of the 21stCentury, community-based entertainment venues were limited to a small variety of family entertainment centers. In the last decade, we have seen a massive expansion of new types of OOH entertainment.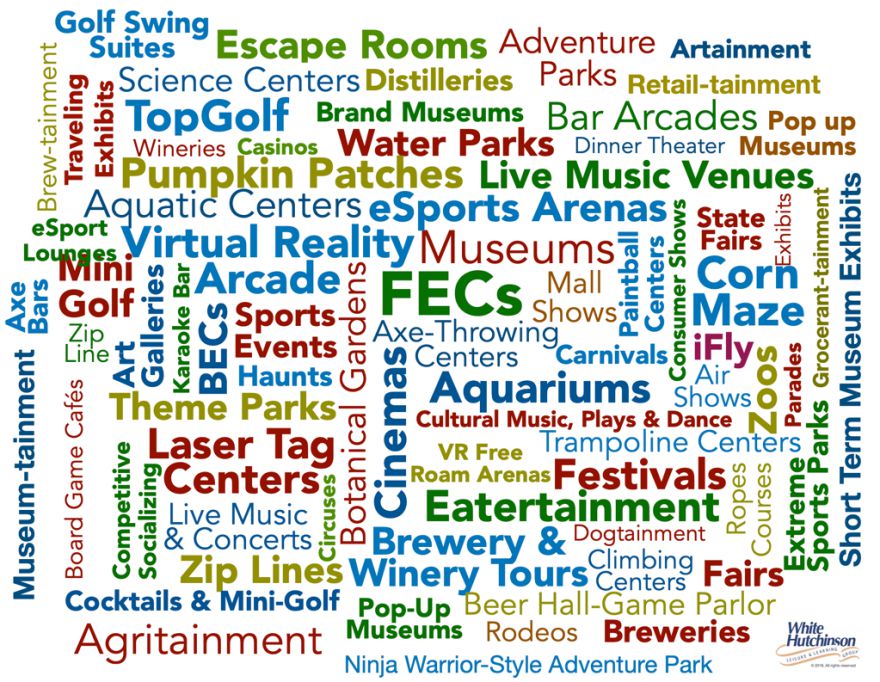 The newness effect
We are seeing a constant emergence of new OOH entertainment concepts and events. These new experiences have an appeal advantage over existing concepts due to what is called "the newness effect." In today's world, consumers seek the excitement of "newness" all the time. When people have so many OOH entertainment options, they will be attracted to the new ones. New wins out over old. The newness effect is constantly disrupting the OOH entertainment market.
Now there is little reason to repeat the visit to any OOH venue or event due to the growing expansion of the wide variety of options, including the growth of the number of festivals, live events, foodie-worthy restaurants, breweries, distilleries, and wineries that satisfy conspicuous leisure consumption and for posting on social media.
There is now a major shift to variety-seeking rather than repeat visits to the same OOH experience. Non-attractions - one- and limited-time events (O&LTEs) such as live events, festivals, and concerts - are now winning a more significant share of guests' time and wallets.
More than half of millennials say they go to festivals "to experience something new." And half of the attendees say they attend a live event, so they have something to share online. Many types of brick-and-mortar, fixed-attraction entertainment venues have lost their repeat appeal (been there, done that) to all the O&LTEs and new kinds of OOH entertainment that are posting-worthy on social media and can satisfy the appetite for conspicuous leisure.
A January report by YPulse on Gen Z and Millennials found that many are living in the limbo that Covid has created. Young people are still craving the IRL experiences they have been missing out on for so long, but they also adjusted in many ways to their much-closer-to-home normal. Most do not think we will return to pre-Covid life in 2022. With the mindset that Covid is not ending anytime soon, young people are slowly taking small steps back into the world as it exists now. In this in-between state, they invest in small ventures investing in self-expression and small joys.
It appears we are in the middle of a transition period from total lockdown to the freedom to venture into the real world once again freely. Some already are; others will be following.
The Axios-Ipsos poll of 1,049 adults for the week ending February 7 thfound that 56% of Americans feel it is a large or moderate risk to return to their normal pre-coronavirus life right now. That compares to 66% around this time last year.
Morning Consult's survey of 2,200 U.S. adults the week ending February 6, 2022 found between four in ten and six in ten adults say they feel comfortable going to the following venues right now.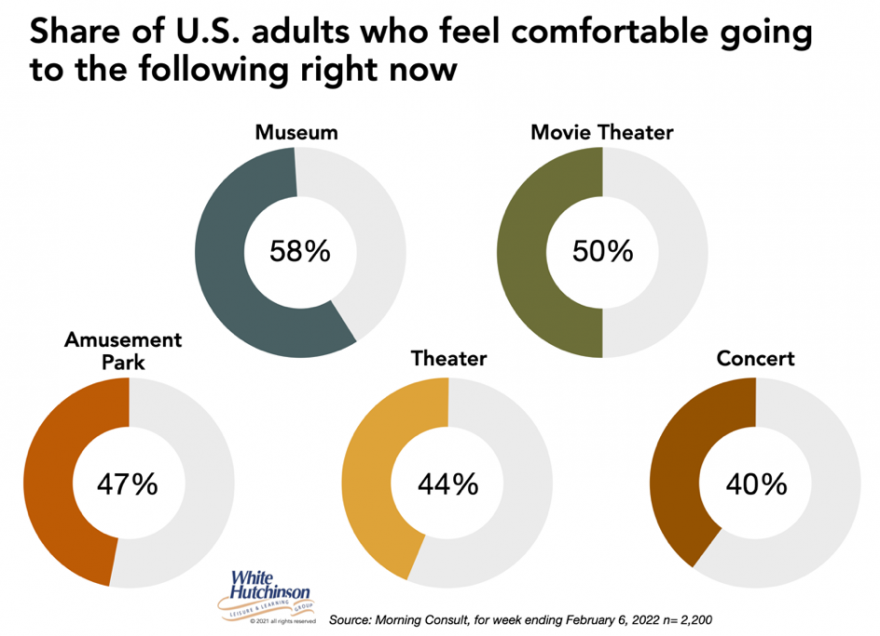 For indoor movies, younger adults feel the most comfortable going right now.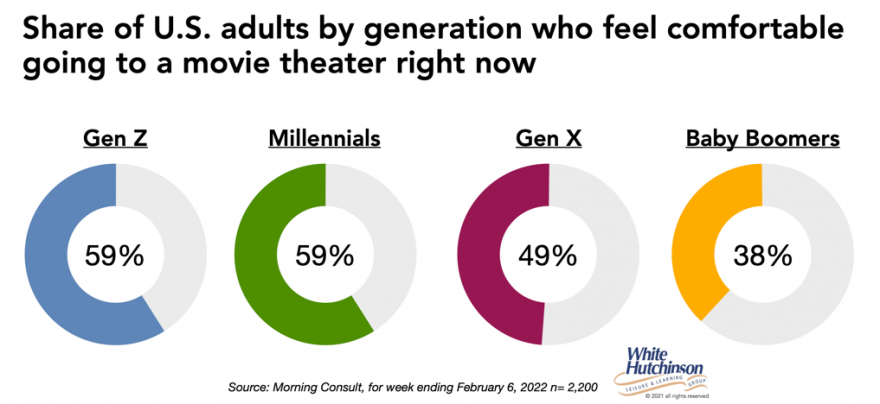 When young adults fully venture out into the world, will their preferences for IRL experiences be different than it was pre-pandemic? The research strongly suggests it will. Those experiences that facilitate face-to-face human connection, the highly social ones will be strongly preferred. However, with the continuous improvement and options for at-home 4 thPlace experiences and the emerging metaverse, the quality of the out-of-home leisure and entertainment experience young people choose to visit will need to be higher than ever to attract them.
The Fidelity-Convenience continuum
People make leisure and entertainment choices in terms of two key dimensions - the experience and convenience. It's a trade-off between Fidelity, the quality of the experience, and Convenience - the ease of access in time, effort, and money. To win, you need to be at one extreme or the other of the Fidelity-Convenience continuum. Being in the middle means it falls into the Fidelity Belly and has no or little appeal. The more Convenient digital screen-based entertainment and socialization becomes, the higher the Fidelity of an OOH experience needs to become to compete and attract people.
During the pandemic, digital entertainment and socialization dramatically improved in Convenience and appeal, including all the 4thPlace social options. The digital world evolved to become more meaningful and connected, replacing in-person experiences. People don't intend to stop attending virtual events when IRL in-person ones return. A survey by United Talent Agency among 1,000 U.S. adults age 18 to 54 found that 88% who participated in a virtual event during COVID-19 will continue to attend virtual events in the post-pandemic world.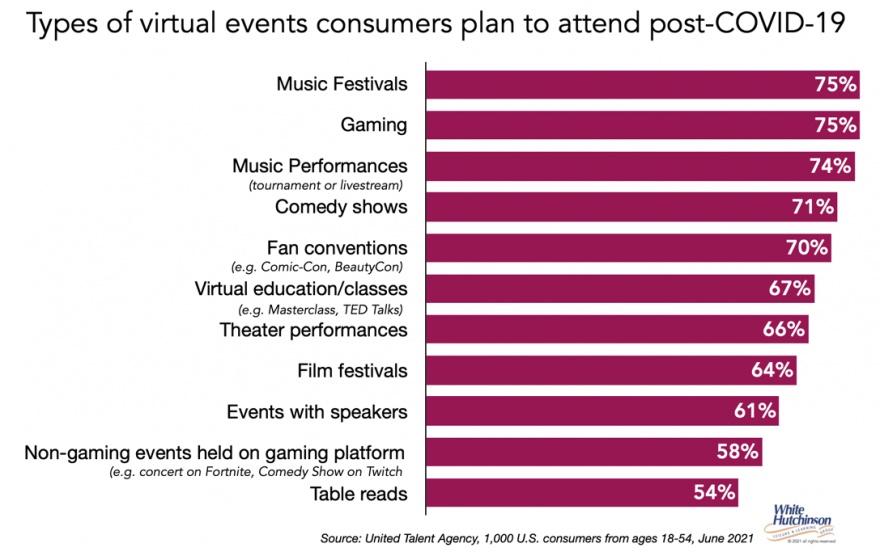 The top reasons to attend virtual events post-Covid are:
Virtual events generally cost less money and require less time than in-person experiences, so there's a lower barrier to entry. They are highly Convenient
The survey identified three factors that virtual experiences can't compete with that will drive eagerness to return to IRL events:
The entertainment people are most eager to attend is live entertainment - sporting events, concerts, and movies. The number one reason people want to experience live entertainment IRL vs. virtual is "to bond with family and friends."
The 4th Place virtual options and the coming metaverse are disputing the perceived value of many OOH experiences. What used to be a pre-pandemic High Fidelity experience may no longer be considered High Fidelity due to all the improved virtual Convenience alternatives and will find itself in the Fidelity Belly. Today and in the future, to win, the quality of IRL experiences will need to be much higher than in the past.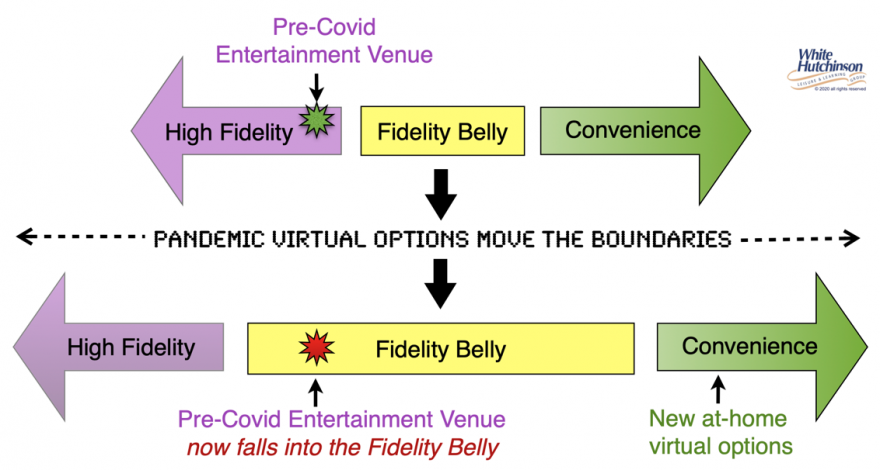 Currently, many entertainment venues are experiencing a surge of attendance and revenues from pent-up demand as people venture out IRL and try to catch up on what they missed for so long due to Covid restrictions and concerns. Operators need to be careful not to mistake this as a long-term trend when more and more entertainment options emerge, including new one- and limited-time ones.
The pandemic has permanently changed many people's preferences for out-of-home entertainment experiences. Post-pandemic, we will see a redistribution of demand for out-of-home entertainment. The future means a continuing decline in the repeat appeal of more static entertainment experiences and those that don't offer ever-changing and highly social and communal experiences. Many older business models will lose; many evolved, and new models that meet people's changing preferences will win. The pandemic has forever changed the formula for success for out-of-home entertainment.
Vol. XXII, No. 2, February 2022
---
---