Vol. XXI, No. 5, May 2021
---
---
A new type of transformational experience to drive in-person attendance
In-person experiences are returning, especially for young people. Research by VICE Media Group finds that 94% of young people plan to return to location-based entertainment and cultural experiences, including festivals, concerts, plays, museums, and other types of entertainment and art events. When people return, they will be bringing more than a year's worth of new thoughts, consciousness, and values. The pandemic has transformed their preferences for the events they will want to attend.
The pandemic gave rise to a mental health crisis. It incited a reevaluation of what it means to indeed be "well" and ignited an uncompromising pursuit of wellbeing with significant implications for the experience economy. Experiences will no longer be viewed simply as an enjoyable way to spend some time, but rather as an investment in longer-term emotional fulfillment and personal growth.
With emotional wellbeing now as the #1 focus of their lives, people may return to the same types of experiences, but they will do so with a new point-of-view. Young people will have a new mindset that will determine the out-of-home experiences they choose to attend.
Three-quarters of people say it will be good for their mental health to be around people again, and over two-thirds (69%) say it will be good for their mental health to try new things.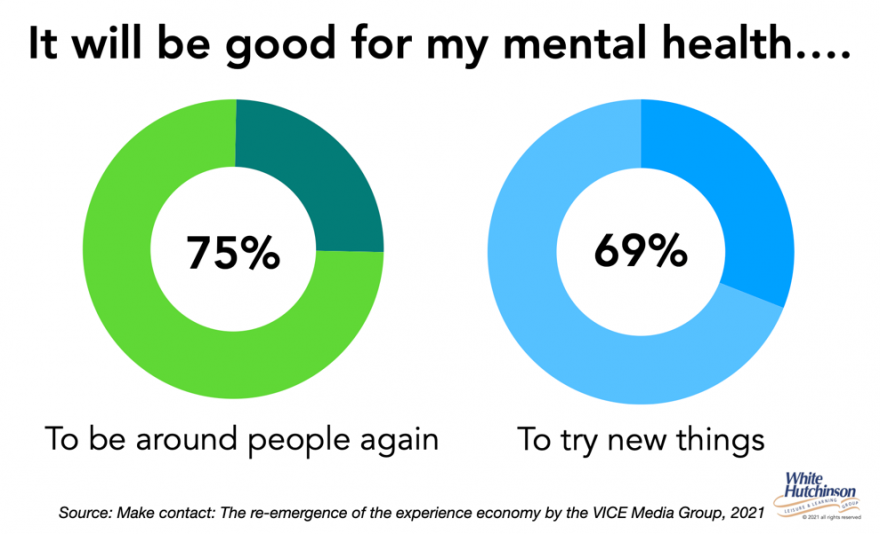 During the pandemic, young people were robbed of live social connections. Covid made the value of in-person human connection become acutely apparent and that won't be lost on young people in the future. While experiencing isolation, they also witnessed the power of community. They will now seek to strengthen their close ties and build meaningful new ones. And when they come together, they will gravitate to experiences that bring together people with shared values and facilitate authentic and intimate human connection.
One of the biggest drivers of attending experiences will be the opportunity to share moments with others. More than seven in ten young people say that what makes an experience fun is the opportunity to share moments with others. Young people will prioritize in-person human connection more than in the past as they now understand its more profound mental and emotional benefits.
There will be a shift to seeking community and belonging. Young people no longer necessarily want to feel like being a part of something big and splashy. Instead, they will seek experiences that are intimate and personal. This includes a priority on more local, community-based events. Six-in-ten say they will gravitate to smaller, more intimate, and curated events, and the same share say when choosing whether or not to attend, they will consider the impact the event has on its community.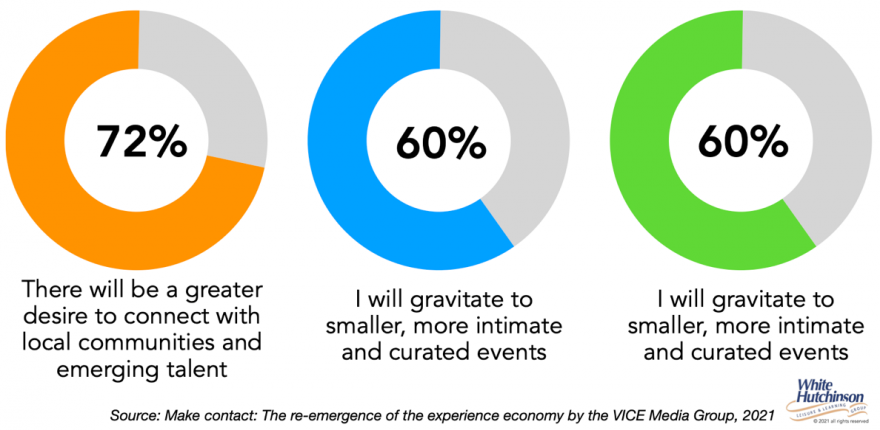 The pandemic and time spent at home gave people the time and space they needed to take stock of their lives. People had time for mindfulness to contemplate their life's purpose and meaning. Young people want to make a difference in the world for the better. Events will now have to have purpose to truly matter. Young people are now mission-driven and will intentionally choose experiences that have a clear mission or that help them advance their own. Those out-of-home experiences that offer more than just something to do, but something to learn, take action, or grow from will be the winners. The experience needs to be about more than just the impact on the attendee, but the impact on its community, society, the environment, and even the world. Experiences will need to be purpose-driven.
In a sense, we are seeing the emergence of a new category of transformational experience. In the past, we thought of a transformational experience as one that permanently changed a person at a personal level with knowledge, physical or mental improvements. Although the appeal of that type of transformational experience has not diminished, it now needs to be layered with experiences that contribute to the transformation of the local community, people, and the world. Even just plain fun and entertaining experiences that are not personally transformational will still need to offer this new category of transformational experience and the value it now represents to stand out from the competition. We are currently dealing with a new generation of values-driven visitor to out-of-home leisure experiences.
Vol. XXI, No. 5, May 2021
---
---